The first trailer for Batwoman premiered earlier this week, showing a look at the upcoming CW series' cast. However, the  Batwoman trailer now seems to be experiencing comment bombing on the YouTube.
https://youtu.be/vrIiPcv4_iY
Top comments on The First Trailer for Batwoman
As of writing, the video has already received over 3.1 million views, but it has over 196k dislikes. That is as compared to 53k likes. Sorting by the "top comments" yields the following results: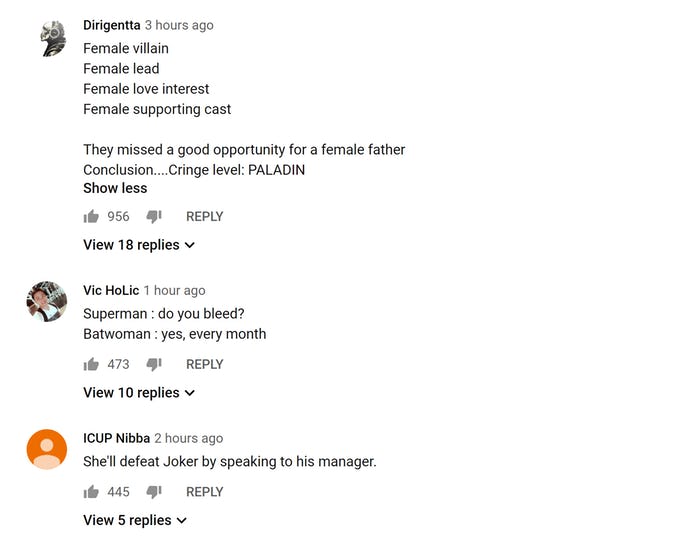 Criticism against the series' Feminist Agenda
In addition to these comments, there are many decrying Batwoman's "feminist agenda." The comments here are in many ways reminiscent of campaigns against such female-led movies as the Captain Marvel and the Ghostbusters reboot.
Also Read: HBO Releases "His Dark Materials" Series Trailer
Storyline: Batwoman
When the show picks up, Gotham City is in despair. In Batman's absence, the city has become overrun by crime. Even as her father Jacob makes desperate attempts to keep her very safe, Kate throws herself into danger when her ex-girlfriend is kidnapped by the Alice in Wonderland gang. With a little help from Luke Fox, who readjusts Bruce Wayne's Batman suit to fit her, Kate swings into action to save her ex-flame — and maybe Gotham in this process.
The Kate Kane iteration of Batwoman first appeared in 2011's Batwoman #1. The character is an out lesbian and was expelled from West Point due to Don't-Ask-Don't-Tell, a policy of the United States military that barred openly the LGBTQ people from serving. Its repeal was officially enacted in 2011.
Star cast
Written by Caroline Dries and developed by Bertlanti Productions and Warner Bros. Television, Batwoman stars Ruby Rose, Rachel Skarsten, Meagan Tandy, Camrus Johnson, Dougray Scott, Elizabeth Anweis and Nicole Kang. The series will air Sundays at 8 pm ET/PT this fall, though no premiere date has been announced yet.
Source: cbr
Thanks for your feedback!