Cardi B who is the winner of many musical awards is the most successful female rapper in the industry. Well, Cardi just lands her first acting role and its in none other than Fast & Furious franchise. Vin Diesel and Cardi B are teaming up together for Fast & Furious 9 and we couldn't ask for a more dynamic duo.
Vin Diesel's Post
Recently Vin Diesel dropped a Vlog post from the sets of Fast & Furious 9. The only thing that came as a surprise to the fans is the appearance of the special guest. You might as well ask who the special guest is? Well, it is none other than Cardi B.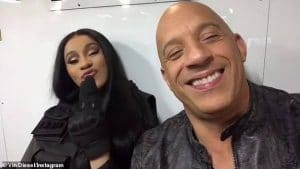 Vin Diesel seems to be rolling with exhaustion from the entire day's shoot is seen alongside Cardi B. 
Cardi B says, "I'm tired, but I can't wait. I ain't gonna front, I think this is going to be the best one. I need to take a nappy-nap. I'm ready to take my nappy-nap." Vin Diesel is seemingly enjoying Cardi's signature speech and Dr. Suess-like vocabulary. Apparently it is Day 86 of the F&F 9 shoot. Diesel joins in to confess, "I know I'm exhausted. We all literally gave every single thing we could for this movie – put it all on the table, put it all out there."
Check out the video uploaded on Twitter by Vin Diesel:
https://www.instagram.com/p/B37fP3wl9_y/?utm_source=ig_embed
Fast & Furious 9 Details
Fast & Furious 9 is slowly gaining attention. Previously released franchise of Fast &  Furious: Hobbs and Shaw is a box office hit. The casting on the current franchise is getting the fans excited. Cardi B who recently joined as cast that includes returning cast members Michelle Rodriguez, Nathalie Emmanuel, Jordana Brewster, Lucas Black, Tyrese Gibson, Ludacris, as well as Helen Mirren and Charlize Theron. Newcomers include Finn Cole, Michael Rooker, Amber Sienna, and John Cena.
Fast & Furious will hit the theatres on May 22, 2020.
Thanks for your feedback!