The MCU Fans are pretty much sure that they have seen a glimpse of Matt Murdock (Charlie Cox) in the recently released trailer of Spiderman: No Way Home.
One of the most prominent questions that sparks right after the release of Spiderman: No Way Home' trailer is that does it include Matt Murdock, AKA Daredevil or not? While the trailer has too much to discover, it is quite challenging to see and fall back in awe to catch your breath. But apparently, some fans have highlighted that they have had a glimpse of Daredevil and they're quite sure that Matt Murdock is back.
Check out the tweet posted by @kirkofdoom that claims the presence of Charlie Cox here.
The brief scene that occurs at the beginning of Spiderman: No Way Home's trailer, during which Tom Holland's Peter Parker is seemed to be getting interrogated, includes a mystery man. While Parker is possibly answering to defend some of his activities, the mystery man would be certainly giving him some legal advice…
Here is another fan's tweet that claims the 'mystery man' could be Matt Murdock.
Well, honestly speaking, the rumors of Charlie's return as the Netflix iteration of Daredevil have been around for a time now. While many believe that he'd return as a lawyer, keeping his abilities in a loop, others are hoping to encounter him beating guys with sticks on the screen.
With that said, here is another possible glimpse of Murdock's hands –
Some observant fans have tried to reconstruct the blurry images and the evidence is pretty much convincing. Check out the tweet by one such fan, @TheTreyinator, here.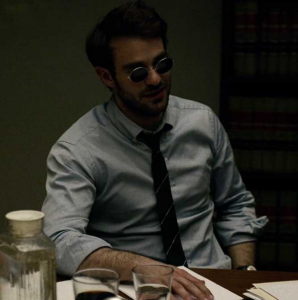 Of course, some remained skeptical since it is too good to be true. But they are willing to agree upon nonetheless. In this regard, here is a thread that took place between Leah Marilla Thomas and Kelsey Hammer on Twitter.
With that said, fans have been waiting to see Charlie Cox's return on screen ever since Netflix's Daredevil got canceled. The sudden cancellation came with some reports of reshoots for the Spiderman sequel. That is what made fans believe that Cox will once again suit up as Daredevil on screen, but this time, with MCU's most famous superhero, Spiderman.
Now that the rights of The Man Without Fear are reverted to the Marvel Studios, it is somewhat possible that the mystery man will be none another than Charlie Cox's Matt Murdock.
Directed by Jon Watts, Spiderman: No Way Home will include our hero Peter Parker sharing screen with Stephen Strange. They'd try to fix everything but apparently, the concept of Multiverses will become much more challenging and dangerous for Spiderman.
Spiderman: No Way Home is scheduled to get a theatrical release on December 17, 2021.
Check out the trailer here.