The excitement for Cowboy Bebop is high among fans especially the ones who have watched the anime! Recently, fans were able to see the trailer and now a new image from the same offers a revealing look at one of the show's antagonists.
The still was released by Netflix in anticipation of the new series. The image shows Alex Hassell as Viscous, a longtime thorn in the side of  John Cho's Spike Spiegel. Though fans did get a glimpse of the character from the first Cowboy Bebop trailer, the new look lets fans have a good look at his appearance and see all the details of the series' unique villain.
The image also gives some clues to the show's important settings.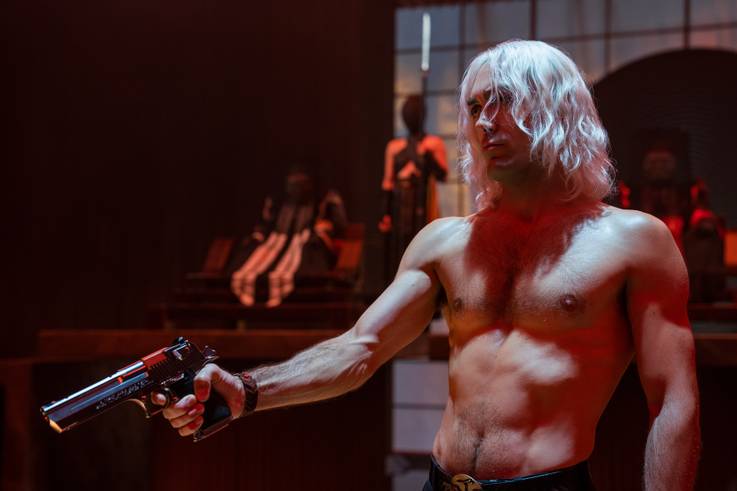 In the original anime, Vicious is a member of the Red Dragon Crime Syndicate. He has deep ties with Spike and also fought alongside him for years. But sadly, the two had a horrible falling before the events of the series and the dissolution of their friendship caused irreparable damage to Spike's life. Vicious is generally considered to be the main villain of the series because of his connections to Spike and even his multiple appearances throughout the series. But still, Vicious rarely comes across the characters directly, and only does when it is absolutely necessary (and when serves his agenda).
Alex Hassell is set to play Vicious in the live-action Cowboy Bebop series. The character's appearance in the show looks very similar to anime with Vicious retaining his platinum hair and physique. The photo also teases one of the most important settings from the series.
In the picture, there are many figures behind Vicious and one of them appears to be holding his signature sword. These figures seem to be in a designed attired and it is possible that the photo is of the headquarters of the Red Dragons.
Images are pouring in from the production of Cowboy Bebop and teasing the fans with their favorite characters brought to live-action for the first time. But fans have still not gotten a glimpse of Ed. In the anime, Ed is a non-binary child prodigy who helps the crew of the Bebop spaceship through many adventures with their intelligence.
Ed's absence from the series is still one of the biggest questions of the show and fans are wondering if the character will appear.
Cowboy Bebop's first season is set to premiere on November 19th on Netflix!