When the first season of the Titans released, fans were already waiting for the Nightwing to arrive. However, the first season barely showed the Titans in action. But after the Titans debuted its second season, people were waiting for Superboy, Krypto, Jericho and Rose aka Ravager's cameo in the show. Well, we were not disappointed, but it was Deathstroke's fight sequences that got us all pumped up. Still, there seemed to be something missing. Oh yeah, that's right, Nightwing still hasn't shown up. Well, the wait is over as Titans season 2 finale will finally debut Night wing.
Nightwing is Here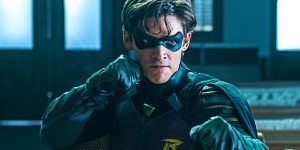 After his confrontation with Deathstroke, Dick Grayson goes to the prison. However, Dick realises that to take down Slade Wilson aka Deathstroke, he has to embrace his heroic destiny. After escaping the prison, Dick ends up at Stu's Handmade Shoes. When Grayson enters the store, Stu berates him for burning the Robin costume. Though, Dick calls it an emotional choice, Stu cannot stand someone to destroy his creation. 
Nightwing's Costume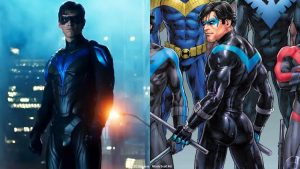 But Stu now knows that Grayson needs a new costume and identity, so he takes Dick to his hidden laboratory. Stu has many employees working secretly developing new armours and technologies for superheroes. However, twist in the tale is that Bruce Wayne, aka Batman had called ahead to assemble the costume for Dick.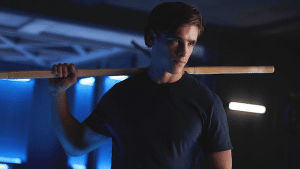 So this means, Batman too wants Grayson to become his hero. Nightwing's suit is described as a "Nomex, triple-weave Kevlar shell, electrically insulated and light-sensitive." The mantra associated with the design is "move more, get hit less," which allows Dick to use his acrobatic circus training. Dick is impressed with the costume and appreciates it. Finally, Grayson has come a long way from whining about working as Batman's shadow and becoming his hero.
The season finale of Titans will debut on DC Universe next Friday, November 29th.
Check out the teaser for Titans 2×13 Nightwing below:
Source: Comicbook