MCU fans were treated with Doctor Strange in the Multiverse of Madness trailer during the 2022 Super Bowl. And, we must say the trailer looked promising! If you liked Doctor Strange's first solo outing, we're sure you'd love his second (looking at the trailer!). Once again we'll see a few familiar faces in the movie, such as Stephen Strange (obviously), Wanda Maximoff, Wong, Christine Palmer, and a few new faces. The trailer is full of story secrets and reveals. Here are all of the 26 reveals and secrets. Check it out!
The Trailer Starts With Doctor Strange's Nightmare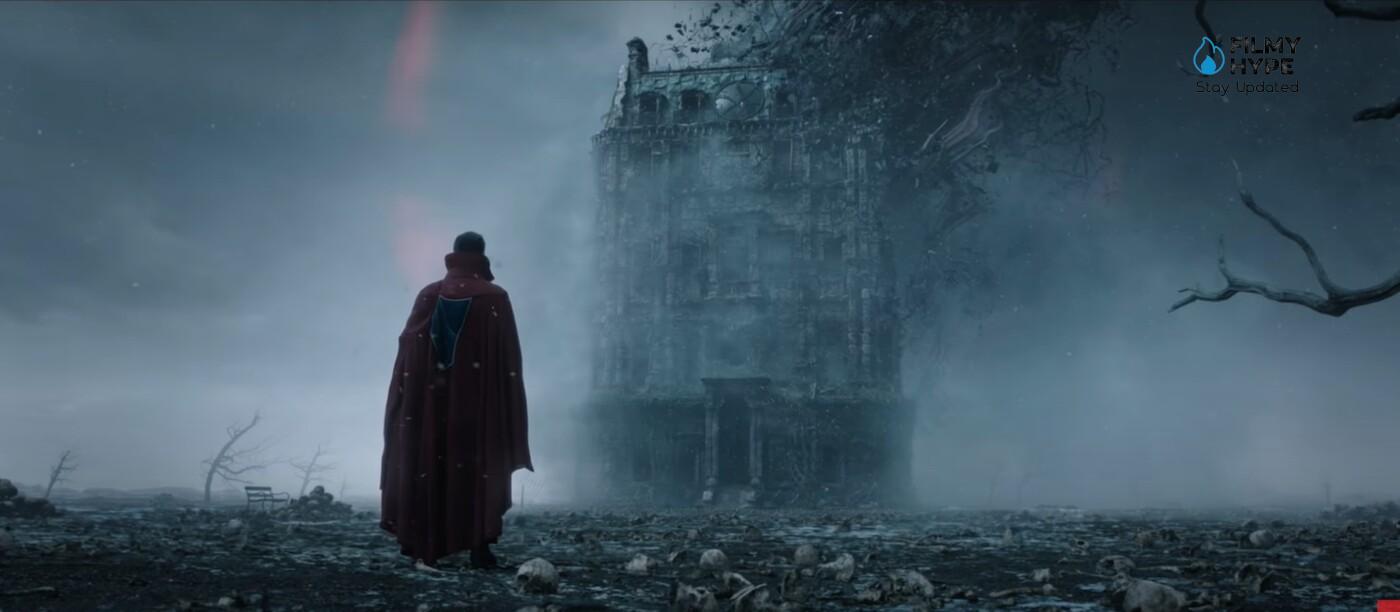 Doctor Strange 2's trailer starts with Stephen Strange (Benedict Cumberbatch) telling us about a recurring dream that haunts him. In the dream, he sees Sanctum Sanctorum in a ruined state with human skulls scattered around it. For those of you who don't know, this movie is said to be MCU's first horror movie. Thanks to Sam Raimi (also his return to superhero movies!) for bringing his style to MCU. Other than the Spider-Man trilogy, Raimi is also known for his work in the horror genre.
The Fall Of Kamar-Taj
Moving ahead in the trailer, you'll see shots where Kamar-Taj is under attack, and the sorcerers are losing it. It looks like some dark force is attacking Kamar-Taj.
Reveal Of America Chavez's Multiversal Powers
This movie introduces another addition to the MCU family from the comics, America Chavez (Xochitl Gomez). The trailer reveals her multiversal powers. At first, it seems like she is bounded by Doctor Strange's Crimson Bands of Cyttorak spell. However, if you look closely, it is some mysterious multiversal monster.
America Chavez v/s The Mysterious Multiversal Monster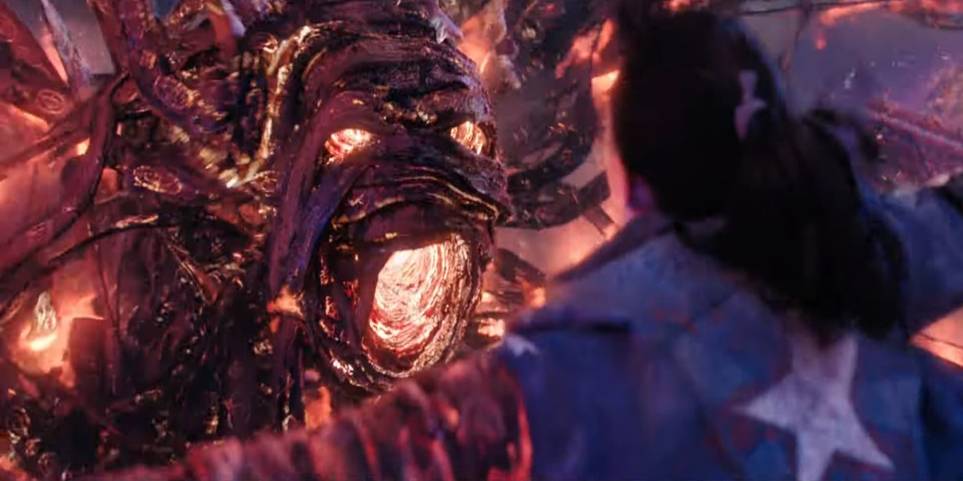 Initially in the trailer, we can see what Doctor Strange dreams of every night. And, that includes America Chavez singlehandedly fighting off a mysterious multiversal monster who tries to restrain her. Chavez can be seen almost throughout the trailer. We are not sure how MCU will define her origin story, but if we take a look at the comics, he is said to have powers of flight, interdimensional travel, and increased durability.
Defender Strange Revealed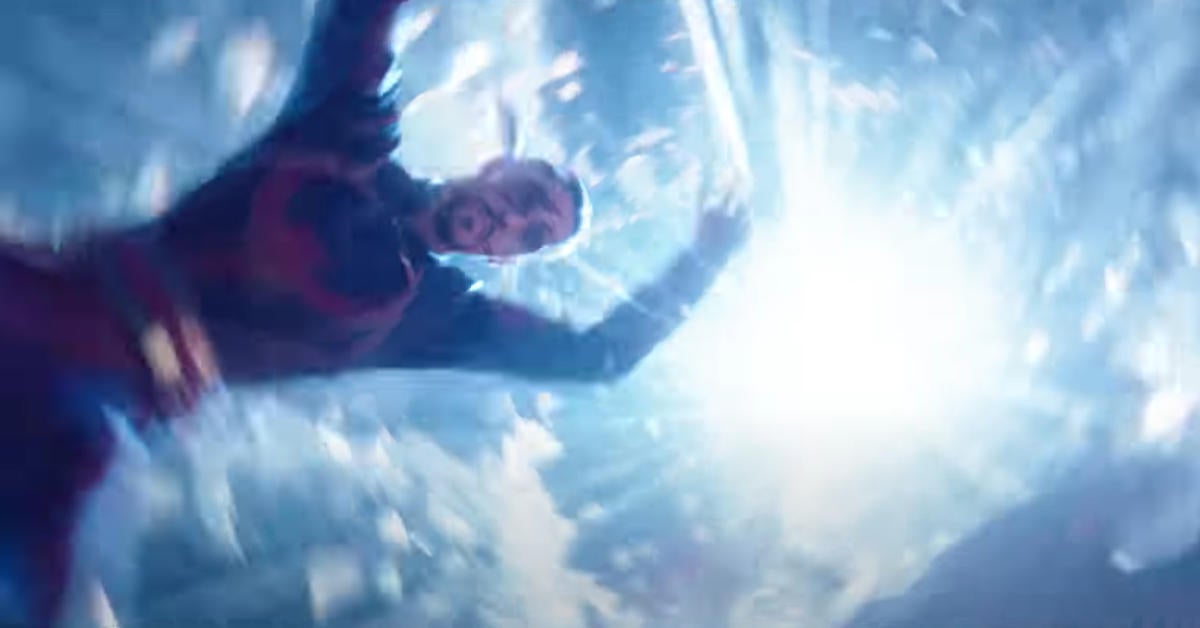 If you blink, you'll miss it! While America Chavez was restrained by the mysterious multiversal monster, you can see Stephen Strange's other multiverse identity, Defender Strange, sucked through one of Chavez's portals. The scar on his forehead could mean that he must've ended up fighting the monster too!
Aftermaths Of Spider-Man: No Way Home
When Doctor Strange's botched-up spell opened doors for villains of Spider-Man from multiple universes, it also allowed a few other entities to come in! Despite all the efforts of Strange to fix the problem, we can see in the trailer, things don't seem to be good. We can also see Wong saying to Strange that he cannot control everything, and nobody knows what will come in through the cracked doors of the multiverse.
A Beaten up Wong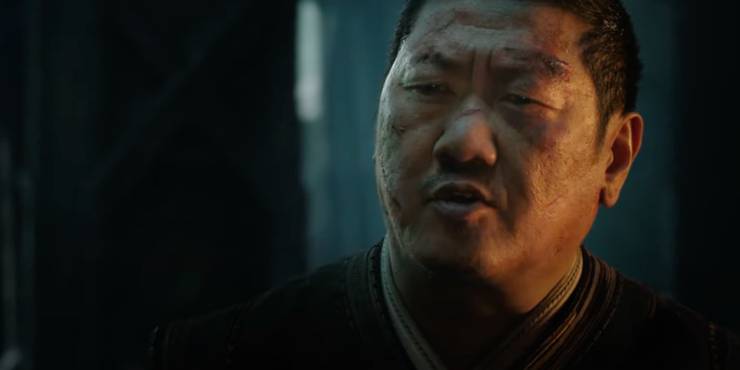 For a very brief moment, we can see Benedict Wong, who seems to be all beaten up! Who beat him, we don't know. But we assume, it must be due to the attack on the Kamar-Taj, or simply to show how dangerous the world has become because of multiversal threats.
Looks Like MCU Multiverse Is Now Finally Open For REAL!
In the trailer, we can see New York being destroyed due to the multiverse. Maybe, seeing his home and people in danger made Doctor Strange head to the multiverse to seek answers.
Dr. Christine Palmer's Comeback And Wedding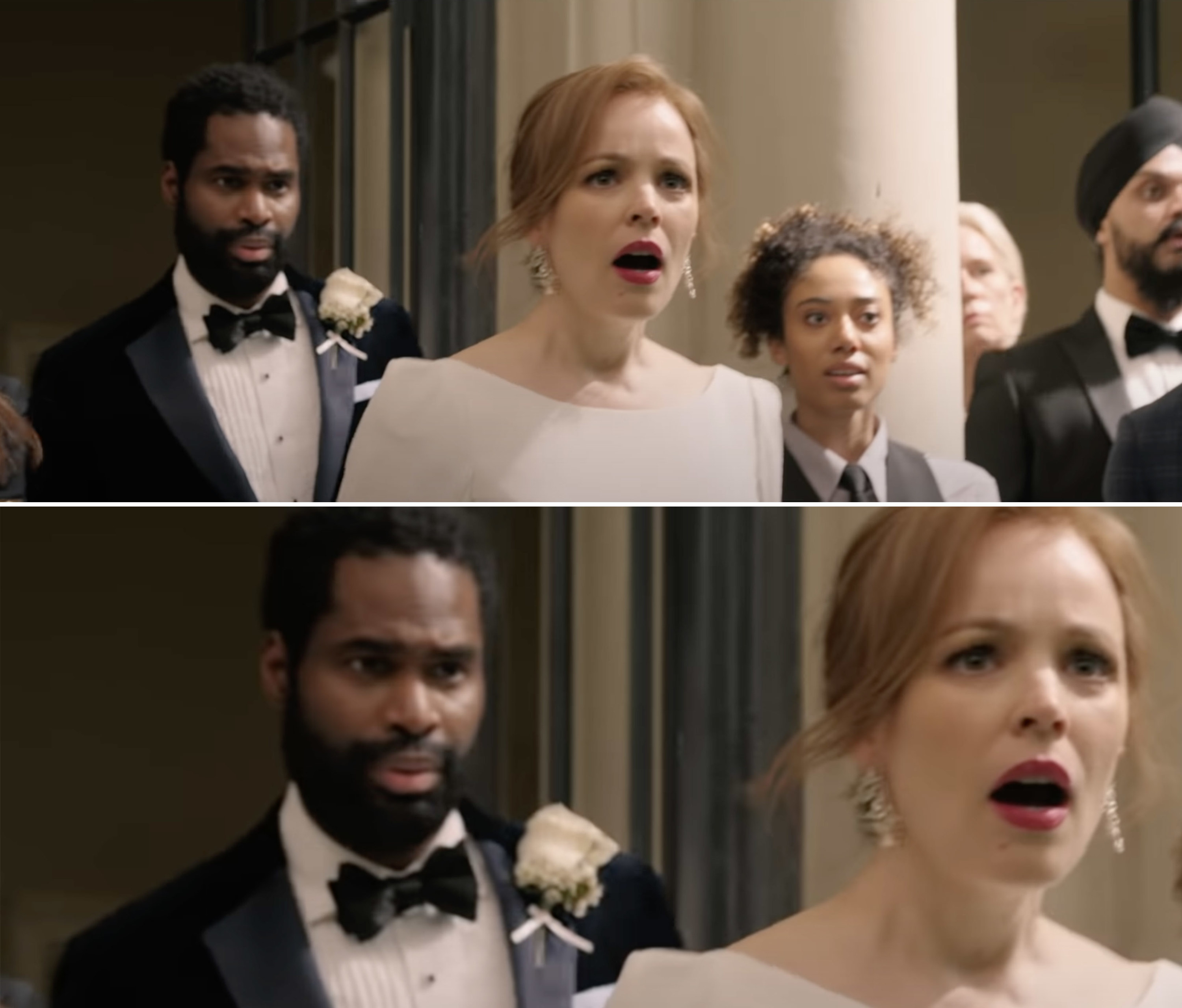 Right after we see New York being attacked, we are shown Dr. Christine Palmer in a wedding dress. Christine is Stephen Strange's colleague, friend, and love interest. However, Stephen isn't the groom she's marrying! In Strange's first solo outing we saw how madly Christine loved and cared about him. This wedding scene probably takes place earlier in the movie, before all the multiversal threats invading Strange's realities.
Rintrah Makes An Appearance In The Trailer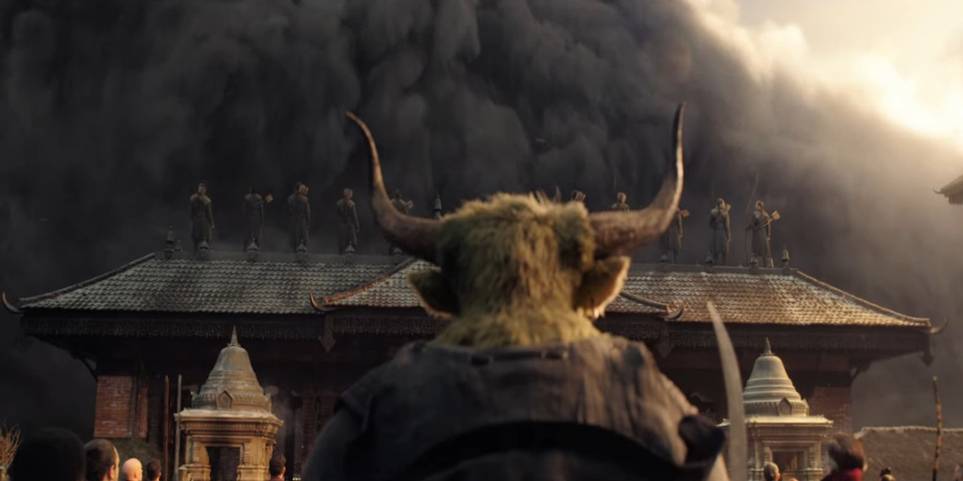 Another addition from the comics is Rintrah, a minotaur-like creature, who briefly served as Doctor Strange's apprentice. In the trailer, he can be seen preparing for the attack on Kamar-Taj as it was being attacked by some dark forces (in the form of dark clouds). However, it is still unclear how big of a role he will have in the movie yet!
Arrest Of Doctor Strange
Just when you thought calling out Doctor Strange for helping Peter Parker with his spell was being made a huge deal, look at the consequences now! He couldn't get away from tampering with the timeline, and hence, he was arrested in high-tech shackles by an authority bigger than the TVA. Who were they? That remains a mystery!
Use Of Iron Legion Drones
Whoever arrested Doctor Strange for tampering with the timeline, was using Tony Stark's Iron Legion drones that resemble Ultron. How did they get here? Well, some believe they were reprogrammed after the Sokovian Battle. While some believe they were brought from a timeline where Ultron hadn't corrupted them. If the latter is true, then it may be possible that Iron Man makes a return!
Debut Of Illuminati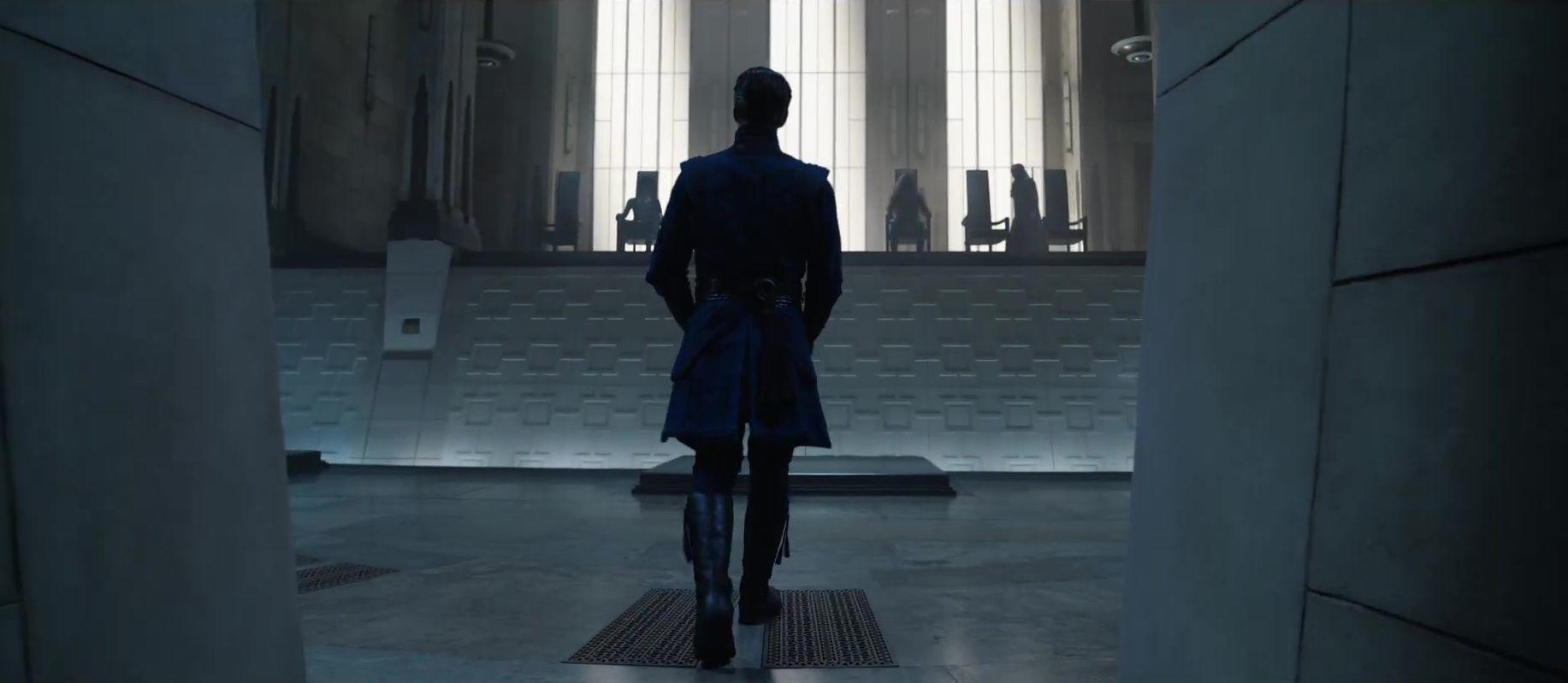 Many fans believe that the people arresting Doctor Strange are Illuminati- a supremely powerful group of superheroes, founded by Tony Stark. Their job is to collectively save the universe. If this is true, who are the members? That's unknown as of now. But we are assuming, Mordo is one of them!
Professor X Makes A Comeback!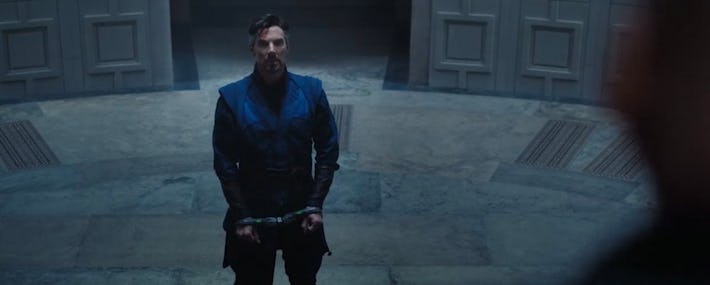 Founder of X-Men, Professor Charles Xavier, a.k.a, Professor X (played by Sir Patrick Stewart) makes a comeback and even without seeing him in the trailer, fans are elated. We could only hear his voice. Maybe they're saving his appearance reveal for another trailer or the movie release.
Doctor Strange And America Chavez Can Be Seen Traveling Through Time
Well, this isn't something strange to happen in the movie. We're talking about the multiverse! In a brief moment in the trailer, we can see Doctor Strange and America Chavez traveling through time and the multiverse. Some fans have come with the possibility that they might be visiting the Savage Lando from Marvel Comics who is not on Earth, but in some other dimension.
Everything Is Falling Apart (Even Doctor Strange)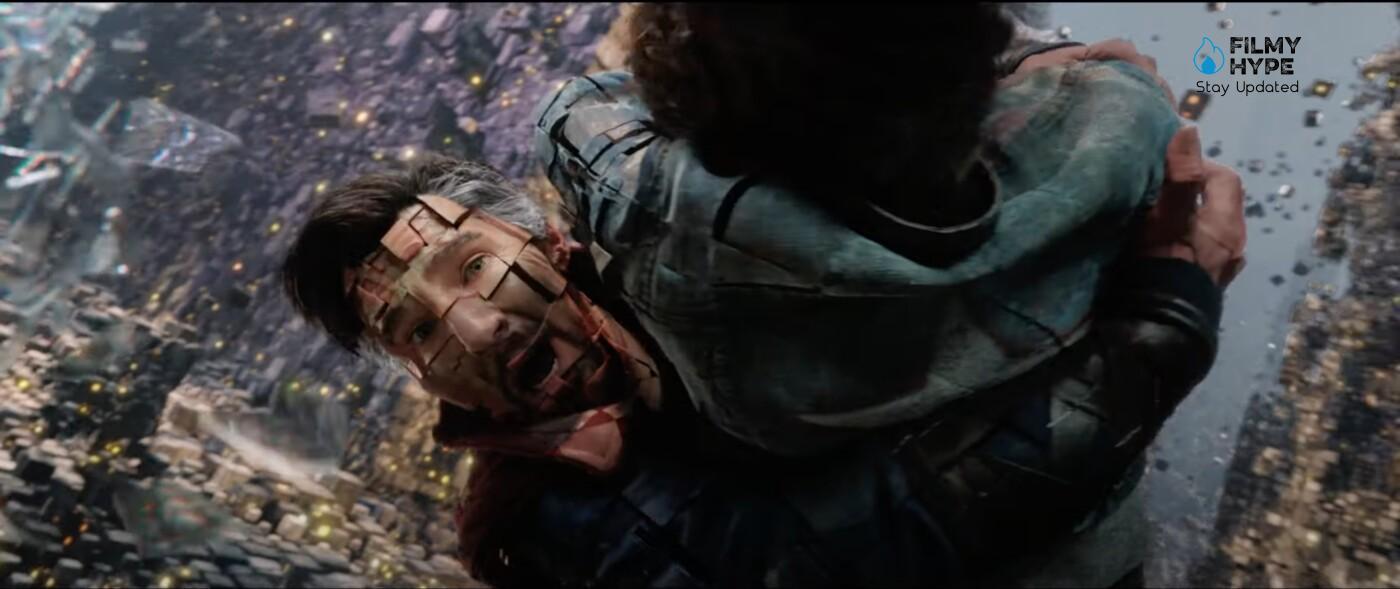 Throughout the trailer, we can see things falling apart. Not just things, but even the Sorceror Supreme (in his nightmare sequence). How it happens is unknown. But we'd like to take a moment to appreciate the special effects team who has done a commendable job!
An Evil Version Of Doctor Strange Makes An Appearance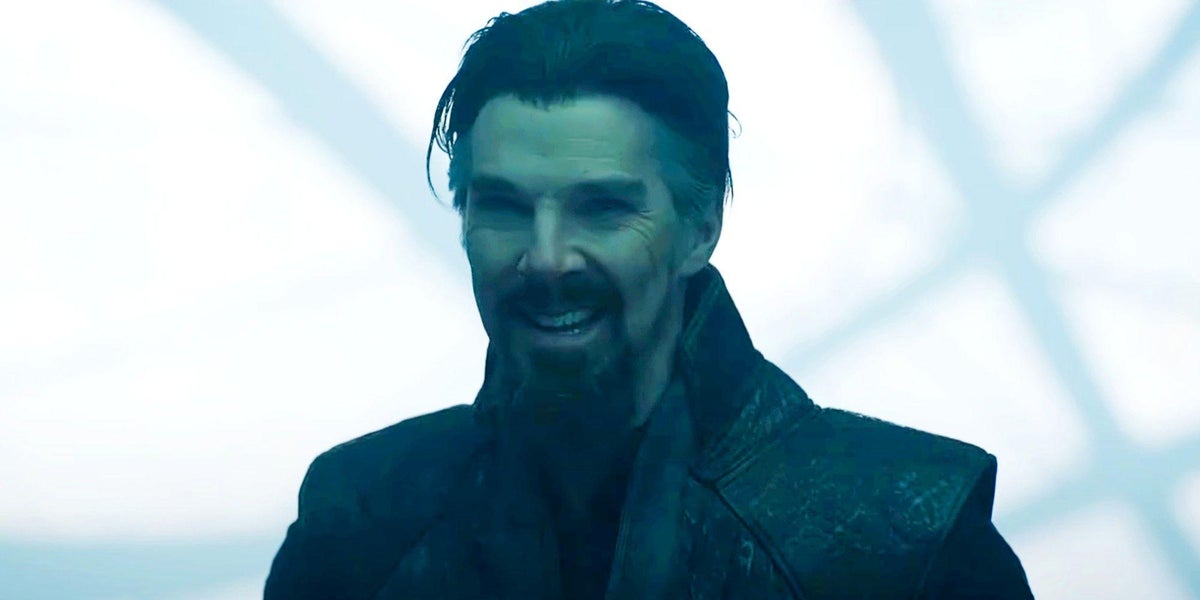 We all knew an evil version of Doctor Strange will be in the movie. But is he the evil variant we saw in What If…?, Strange Supreme, or some other variant? Whoever it is going to be, it'll be amazing to see Cumberbatch v/s Cumberbatch!
Who Was The Mysterious Glowy Figure?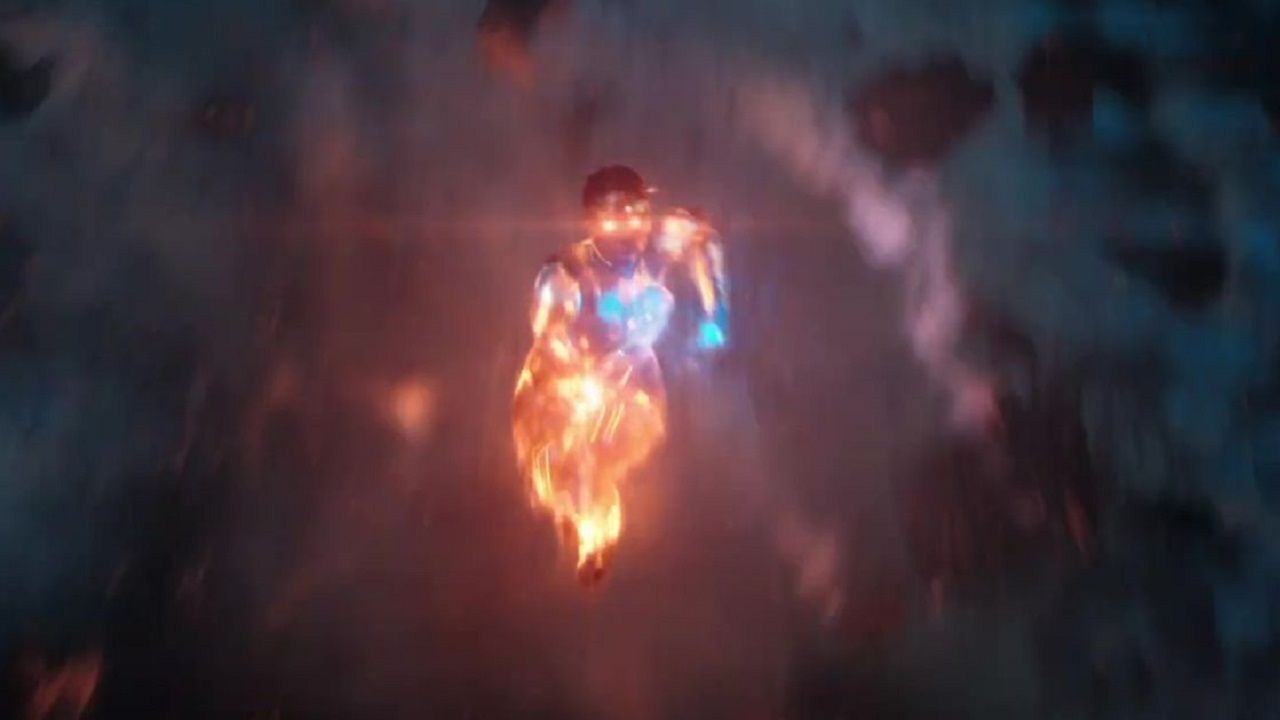 If you look carefully in the trailer, you'll see a glowy figure that we've never seen before. Who is it? Some believe it is Human Torch or some other addition from the comics. However, some believe this is Monica Rambeau in her Captain Marvel variant look (expect the unexpected; we're talking about the multiverse!)
Who Is Wanda Fighting With?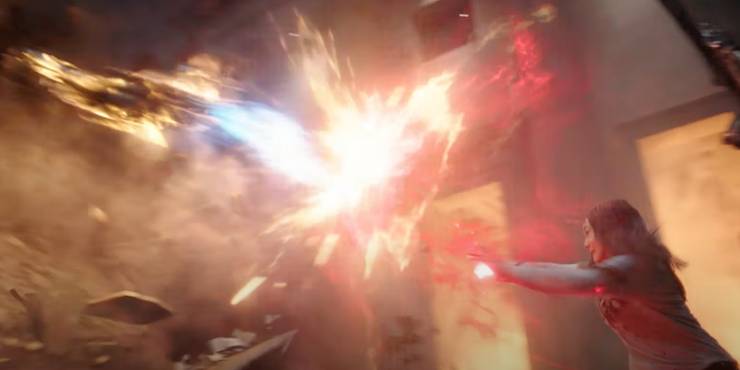 We can see Wanda fighting off that mysterious glowy figure (still unknown). If it is Monica Rambeau, then you can expect a rematch between them (picking up from where they last left). Whoever it is, looks like both are equally powerful and capable of extensive damage.
The Multiverse Monster: Gargantos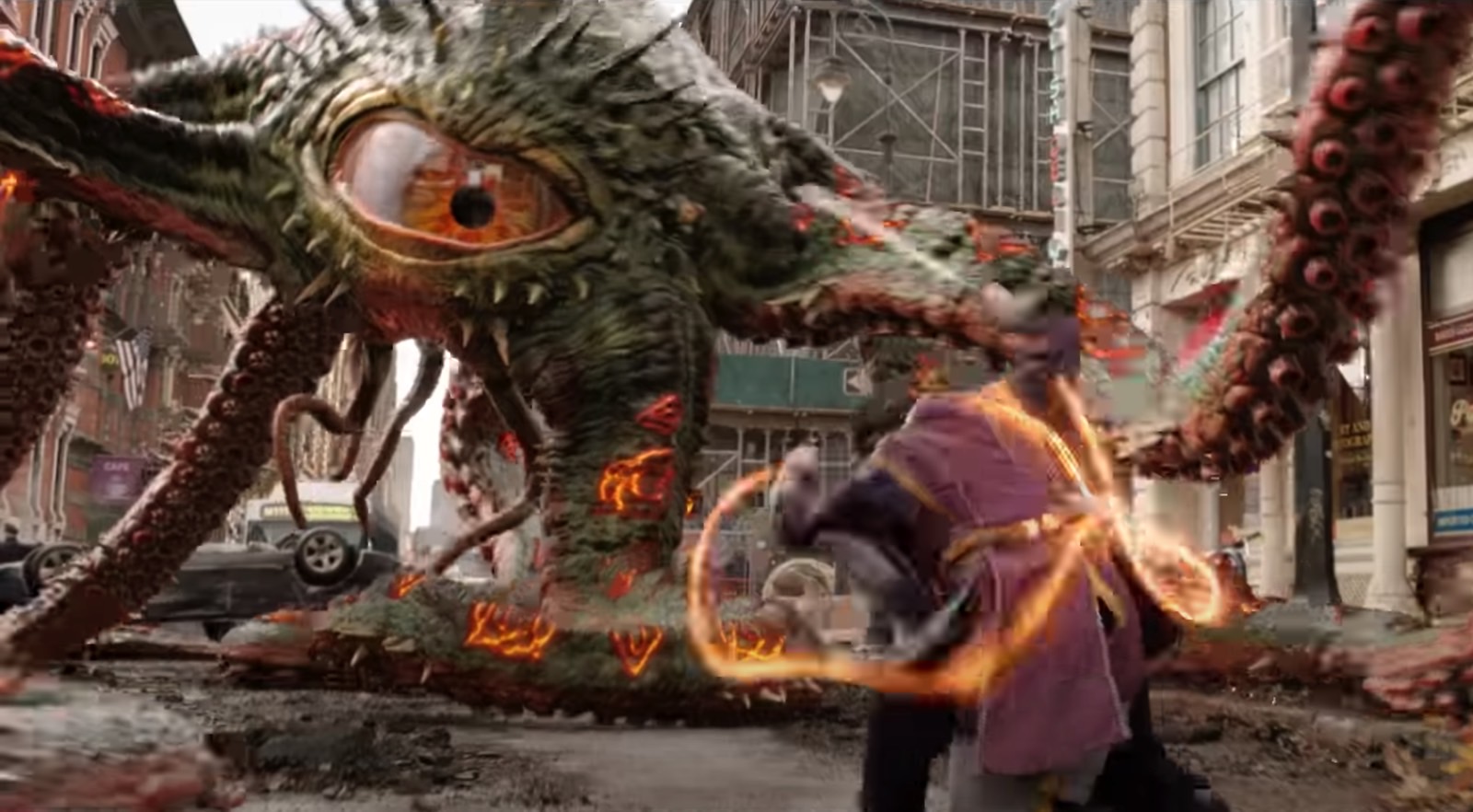 In the trailer, we can see Gargantos, the multiversal monster throwing a bus at America Chavez and Doctor Strange, and attacking other people around. In the comics, Gargantos is the enemy of Namor the Sub-Mariner, so fans are speculating that Namor might debut in Phase 4.
Honoring Doctor Strange
Towards the end of the trailer, we can see Doctor Strange staring at a statue of himself while Wanda voices over saying he was considered a hero when he breaks the rules. The statue might be an indication that even though he made mistakes, he was a hero after his death.
Is Wanda Going To Be Strange's Ally?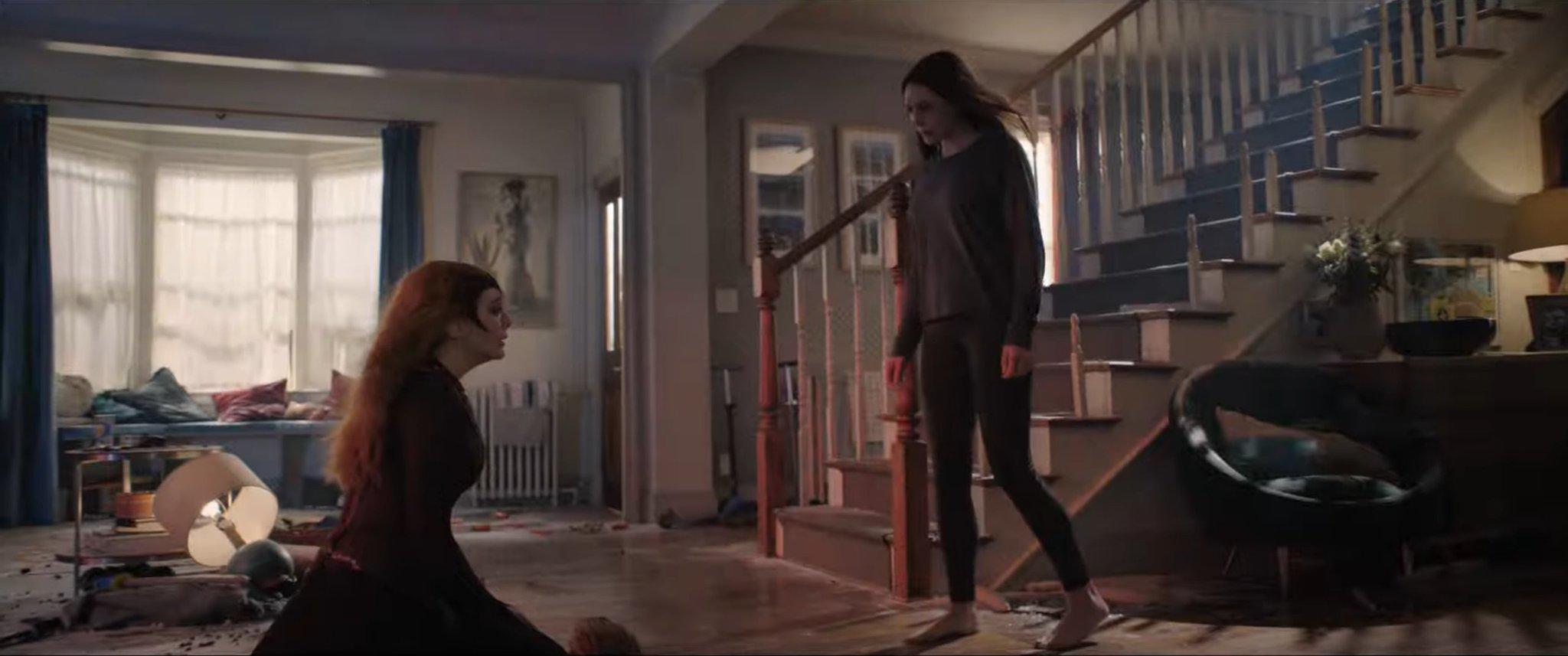 We see Wanda visit her and Vision's home in Westview with Scarlet Witch, and the scene doesn't look happy. She feels that she was made a villain for what she made, whereas, Strange was made a hero. She expressed that this wasn't fair. So, this means, that there is a possibility that she isn't going to be Strange's ally completely.
Mordo Attacks A Restrained Doctor Strange
Towards the end of the trailer, we can see Karl Mordo attack restrained Doctor Strange, and we aren't surprised. However, we do believe that they might ally the movie to save the earth from the multiversal forces that they cannot tackle alone.
Looks Like Wanda Lost A Fight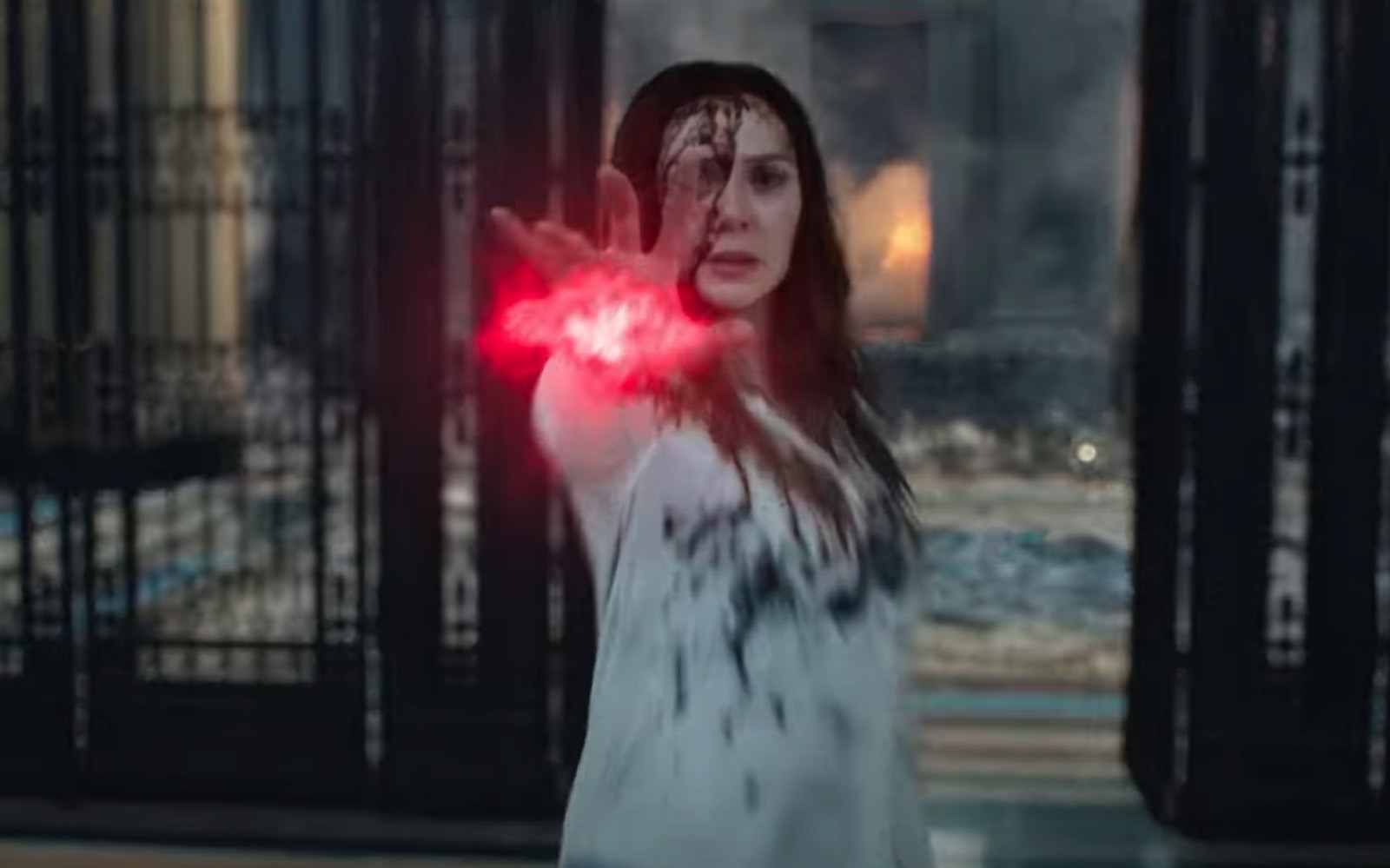 Shockingly, we see a bloodied Wanda looking disappointed after a fight with we don't know (there are so many fighting sequels in the trailer itself!) even after all those enhanced powers she got. This haunting look of hers justifies the tone of the trailer.
Zombie Strange
Towards the end of the trailer, we get to see a very disturbing variant of Stephen Strange. Probably, Stephen must've meddled with shadowy creatures from another universe that corrupted him into a zombie. This sequence adds the right amount of horror in Doctor Strange's second outing in MCU.