Paige Spiranac created quite some waves when she was crowned the 'World's Sexiest Woman – 2022' by Maxim Magazine back in 2022. She had been a golfing sensation already but this title brought her to an even wider horizon. Her fan following has been growing insanely, both due to her beauty and her brains. She has been handling the jibes of men trolling her with just as much élan and wit. When questioned by several if she would ever open an OnlyFans, the 30-year-old went forward and created her own golf-content website and named it OnlyPaige. Safe to say, Spiranac is quite the moment at this time, so much so that ever since NFL legend Tom Brady has become single, his fans are rooting for him to date the gorgeous golfer.
Paige Spiranac has got influencers copying her style
Paige Spiranac enjoys a good 3.7 million followers on Instagram, and her fame has reached a level that she has already got people copying her. One of the world's most famous golf influencers has reportedly got emulators like Bri Teresi, Katie Sigmond, Grace Charis, and Karin Hart trying to follow in her fresh footsteps. And the same hasn't gone unnoticed by Spiranac herself.
People across the internet have noticed how these content creators have been trying to gain followers and popularity by borrowing content ideas and techniques from Spiranac, and the similarity is unmissable.
Also Read: "I Shall Change My Name To Paige Spiranac (Alpha Jugs)": World's Sexiest Woman And Professional Golfer Claps Back At Sexist Troll
Paige Spiranac has some advice for her copycats
Spiranac recently took the onus of addressing this issue and also advised her "copycats" to try and be a little more original. And like her usual self, she did so with grace instead of irritation or anger. In an Instagram QnA session on her stories, she expressed her feelings at being emulated by several women content creators and how she takes it as a compliment:
"They say that imitation is the greatest form of flattery so I am proud to be inspiration for all of these women. I mean, they've seen me be successful and they know that if they copy, you know, exactly what I'm doing or follow in my footsteps and the exact path that I have created and built for myself, that they will also be successful.

We have seen that, so that's pretty cool and shows how powerful my brand has been, that if they do copy everything then they will also be successful."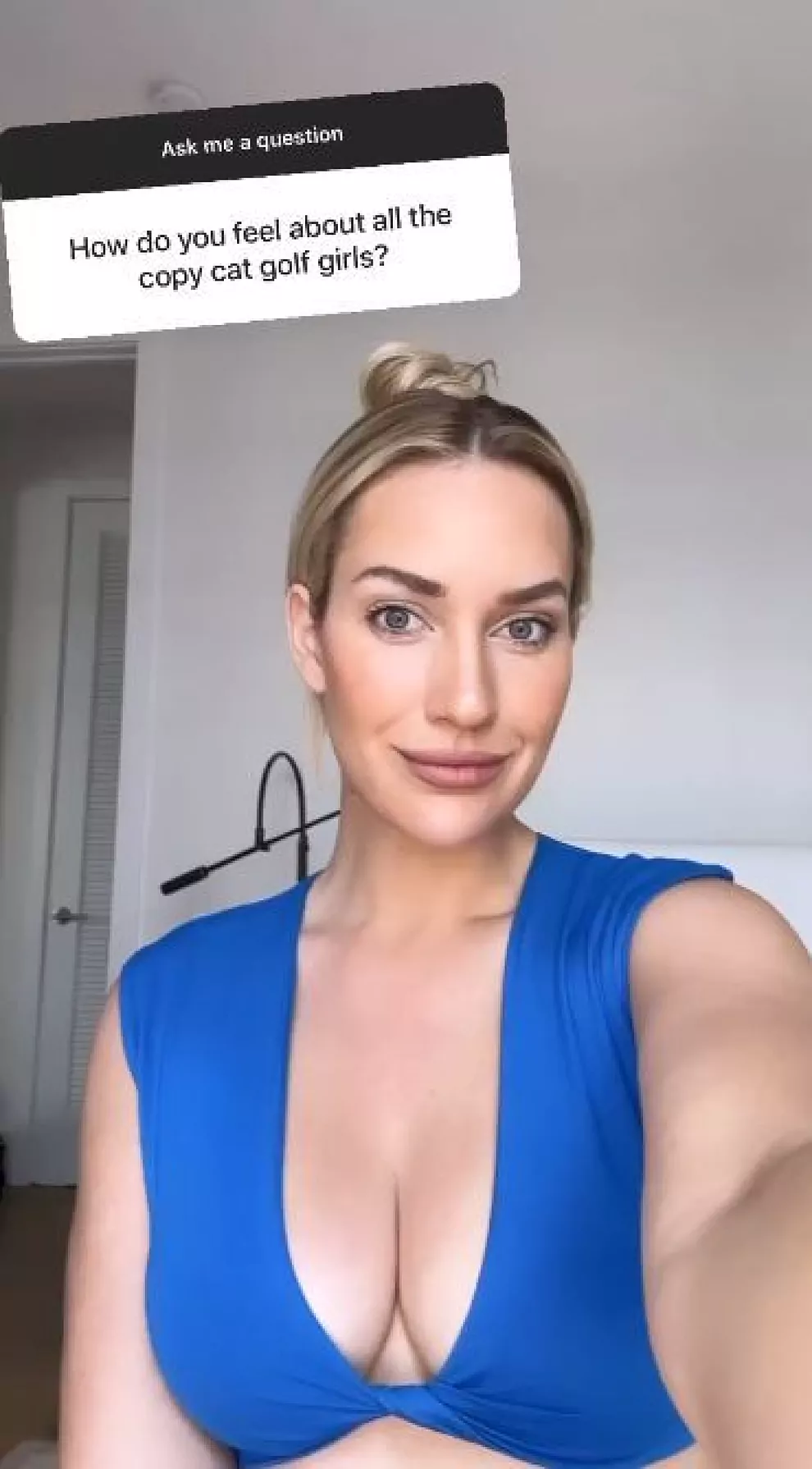 Also Read: "My Mom Did Lingerie And Bikini Shoots": Tom Brady's Potential Love Interest, Paige Spiranac After His Breakup With Gisele Bündchen Is Not Ashamed Of Her Explicit Content
She then went on to dish out her advice to the said influencers,
"I will say that I do value creativity and I wish that it wasn't copied exactly, from like the exact outfit to how I do my hair to the captions to how it's shot. It would be nice if there was just a little bit of a difference and I think it would be actually beneficial for them to be different and not have it be exactly, exactly, exactly the same."
Creativity is the bread and butter of content creators and it is imperative for them to come up with ideas of their own, and Spiranac's fans agree.
Also Read: "There's No Nudity On OnlyPaige": World's Sexiest Woman Paige Spiranac Reveals Her OnlyFans Spoof Account Got Fans Flustered