Dwayne Johnson and Kevin Hart are Hollywood's best friend duo and will be starring together in DC's League of Super Pets. The actor duo's chemistry has been appreciated for their comic timings which are inherited from their real-life friendship. They both have been in various movies together, and are most famous for Central Intelligence and Jumanji movie series. The actors have together "checked all the boxes from action adventure family now animation".
Read More, DC League of Super Pets Radically Redesigns The Justice League!
Dwayne Johnson and Kevin Hart's friendship at DC League of Super Pets promotions
The DC's League of Super Pets co-stars were on their promotional tour. Just like most of their interviews, the duo was seen pulling each other's legs. While talking to Access, the actors recalled their team-up and said this is the fifth time we are working together. The Rock pulled the comedian's leg and said, "it felt right, Kevin was adopted, to begin with." 
Dwayne Johnson was looking at the photo that her 6-year-old daughter, Jasmine's recent pranks. She drew a mustache and unibrow on his face to which Kevin Hart comically said, "That clearly shows that your kid doesn't like you", Dwayne Johnson quickly responded, "is there a Kevin picture".
Read More, Popular Actors Who Want To Be Superheroes But Probably Won't Get The Golden Ticket
The Rock called League of Super Pets a fresh spin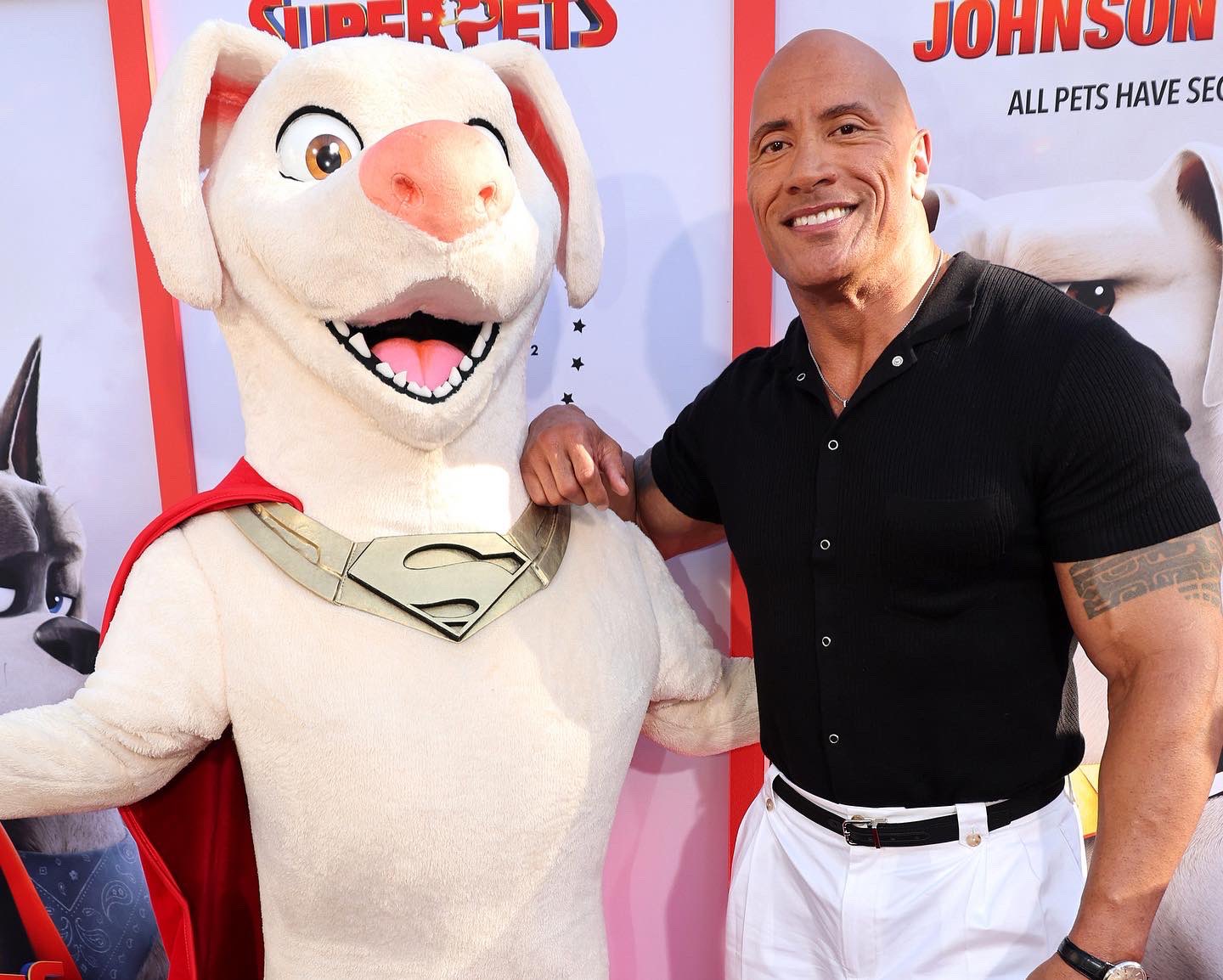 Dwayne Johnson and Kevin Hart are famous for their brotherly banter as they have shown the world just how close they are. While talking about working on this project together, The Rock said, "It's a fresh spin". He later added,  "it's a good feeling and also too in addition to our relationship and the chemistry that we have on-screen and off the screen."
Also read, 'That's really what it comes down to': The Rock Reveals Why He Turned Down Hosting the Emmys After the Infamous Oscars Controversy
Star Cast of DC League of Super Pets
The movie is around the corner and to celebrate the upcoming release Warner Bros. hosted a special Kids and Capes early screening event recently. The impressive cast of voice actors walked the red carpet including Dwayne Johnson, Keanu Reeves, Kevin Hart, and Jameela Jamil. Fans also got to see the Super Pets themselves Krypto aka Superdog and Ace aka Bat-Hound.
Read More, 'I've always wanted to play Batman': Keanu Reeves Addresses Playing the Dark Knight in DC's Super Pets, Teases He's Always Open For a Live-Action Adaptation
Bringing the friends duo Dwayne Johnson and Kevin Hart as Krypto and Ace to life is the reason why Warner Bros. chose them to star as the film's lead characters. The DC League of Super Pets is scheduled to release on July 29, 2022
Thanks for your feedback!