Warner Bros. has officially lifted the social embargo for David F. Sandberg's Shazam! and the first reactions seems to indicate the studio may have a major winner on their hands as critics describe it as fun, heartfelt and hilarious – and unlike any DC movie ever.
Shazam Receives Positive Reviews
Sandberg's direction receives high praise and many positively liken the film to the Amblin classics from the '80s as well as Christopher Reeve's original Superman.Shazam is receiving good reviews from all the people who were involved in screening. Zachary Levi also receives high marks, with many labeling him as perfectly cast and it seems that Jack Dylan Grazer's Freddy Freeman will steal the show with his proficiency in all things superhero
Also Read: Marvel Comics Teases Mysterious Venom/Avengers Crossover
Here are Some First Reactions To Shazam Screening:
#Shazam is such a brilliant movie. It's so tremendously fun, and incredibly scary at some points (thanks, David F. Sandberg!). It blows away every expectation and is my new favorite DC movie. pic.twitter.com/DlpymCukTP

— BD (@BrandonDavisBD) March 8, 2019
#Shazam is big, goofy, lovable, and unlike anything DC has done before. Definitely in the vein of Tom Hanks' BIG, but with superhero action & lots of Batman and Superman references. I dug this film so much I wanted to give it a bear hug at the end. DC's movies keep getting better pic.twitter.com/WQJgo61gMg

— Erik Davis (@ErikDavis) March 8, 2019
#Shazam is an absolute delight! Super vibrant, tons of heart & a great fun-loving vibe. The family element is a big charmer & so is the humor that comes with watching @ZacharyLevi explore his new powers. Said this after IT but it's worth repeating – @Jgrazerofficial is a star.

— Perri Nemiroff (@PNemiroff) March 8, 2019
Zachary Levi was born to play #Shazam He delivers lots of laughs alongside co-star Jack Dylan Grazer. The film packs some big surprises for comics buffs and offers enough mainstream appeal to win over new fans. Shazam's strengths definitely outweigh its weaknesses. pic.twitter.com/kfFMW01jfO

— Jim Vejvoda (@JimVejvoda) March 8, 2019
"Funny." "Goofy." "Unlike anything DC has done before." Yep, the Twitter reactions are steadily flowing in from early screenings of superhero blockbuster Shazam! and, fair to say, they're pretty positive…
Also Read: 'Black Widow': New Details Revealed on Main Villain Of The Film
So, the film has screened. And no, we're not allowed to review it yet. Pesky embargoes. But Warner Bros are clearly quietly confident they have a hit on their hands, allowing viewers to tweet their reactions almost a month ahead of the film's release date (it hits theaters on April 5).
That might also have a little something to do with the fact that, in the comics, Shazam shared a name with a certain other superhero from a rival outfit who just happens to have a film out today. Some excellent trolling there, DC!
About the Film:
The superhero flick tells the story of Billy Batson, a 14-year-old teenager.
Billy turns into an adult superhero every time he shouts "SHAZAM!".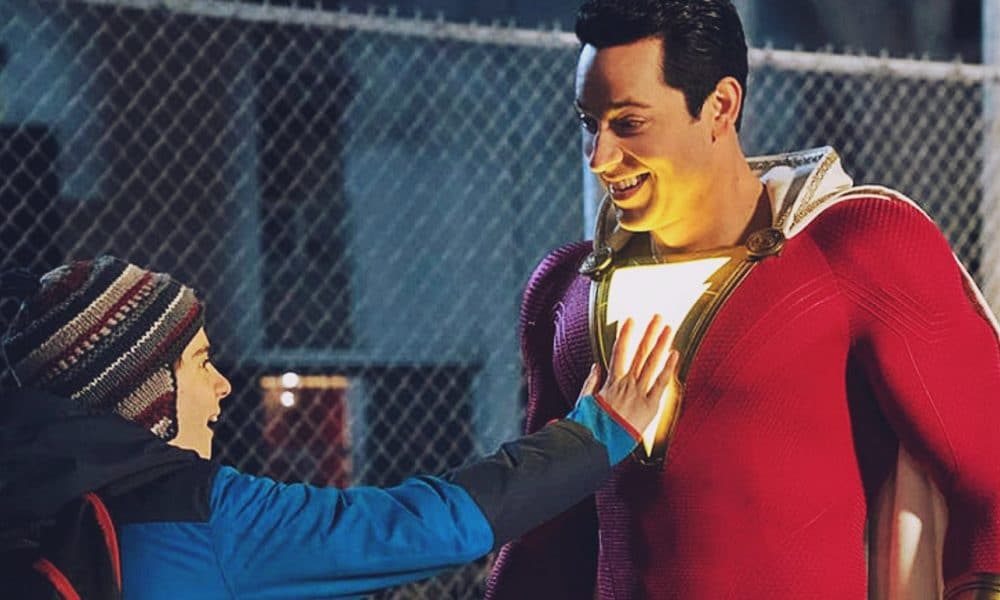 The movie doesn't take itself too seriously and follows the new trend of comedic heroes.
This is the first full-length feature film centred around Shazam!.
Shazam! Release Date
Shazam release date is set for April 5th,2019, here is the trailer to the much awaited movie.
Who's in the Cast of Shazam?
Zachary Levi will be taking on the leading role of Shazam!
Also Read: Other Characters In Costume Revealed In New 'Shazam!' Action Figures
You may recognise the famous actor from Chuck, The Marvelous Mrs. Maisel or the voice behind Tangled's Flynn Rider.
Here are the other stars that will join Zachary and their roles.
Asher Angel as Billy Batson
Djimon Hounsou as The Wizard
Mark Strong as Dr. Thaddeus Sivana
Jack Dylan Grazer as Freddy Freeman
Natalia Safran as Mrs. Sivana
Grace Fulton as Mary Bromfield
Marta Milans as Rosa Vasquez
Caroline Palmer as Billy's Mom
Ian Chen as Eugene Choi
Carson McCormac as Brett Bryer
Andi Osho as Ms. Glover
Cooper Andrews as Victor Vasquez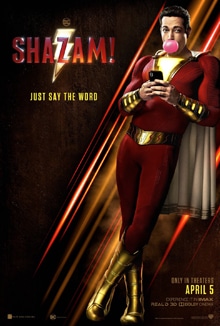 Thanks for your feedback!