The actors in the industry go on to star in so many movies and TV shows, and play so many roles, we can't really fault them for forgetting some things.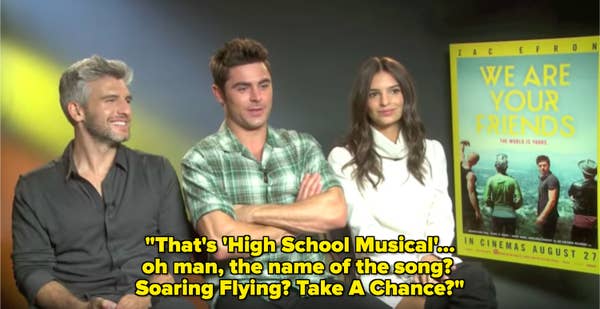 Some though tend to be forgetful about some really crucial details about their characters or shows and movies, and that usually make us go – Really?
Remember when Zac Efron forgot the lyrics of his own song from High School Musical? Yeah! That's just too bad! So we made a list for you, of the 10 things that some celebrities went on to forget about their own projects.
1. Jack Black Forgot About The Holiday!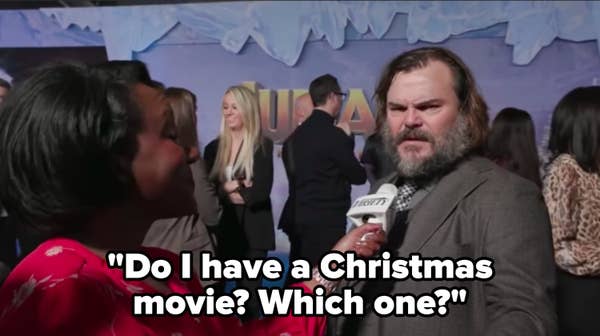 I don't think I could ever forget The Holiday, given that it is one of my favorite holiday movie. But apparently Jack Black did!
The actor forgot he did a Christmas movie – the one where he shared screens with the likes of Kate Winslet, Jude Law and Cameron Diaz.
2. Courtney Cox Forgot Who Played Mike In FRIENDS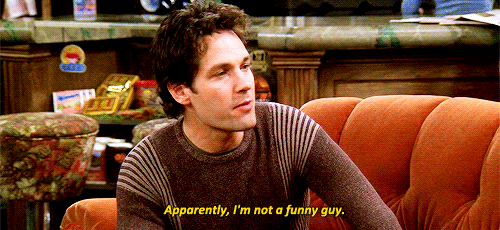 Courtney Cox during an interview along with Lisa Kudrow was asked who Phoebe marries in FRIENDS. She initially forgot who it was, and then after remembering Mike, she forgot the actor who played it.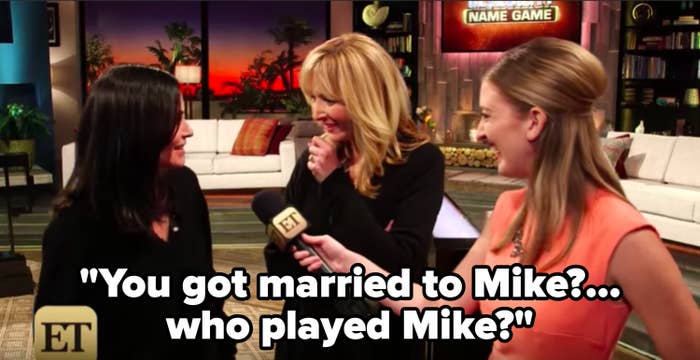 Kudrow had to help her out with that. The character was of course, played by the oh so loveable Paul Rudd. How can anyone forget him? Ever?
3. AND Who Joshua Was In The Show!
In a quiz where Cox was asking the singer Charlie Puth – who is actually a massive FRIENDS fan, questions about the show, she forgot about the character of Joshua.
Even though Puth was initially hesitant, he got it right. But not Courtney! Joshua was of course Rachel's boyfriend from the 4th season of the how, and was played by Tate Donovan.
4. Brad Pitt and Margot Robbie Both Forgot They Shared A Movie Before Once Upon A Time In Hollywood
Brad Pitt and Margot Robbie, while doing promotions for the Quentin Tarantino movie – Once Upon A Time In Hollywood, were asked about their previous movie together.
Both actors looked visibly confused, as they didn't know they had worked together before. But given that the two didn't share even a single scene in The Big Short, we can give them a pass here.
5. Gwyneth Paltrow Forgot She Was In Spider-Man: Homecoming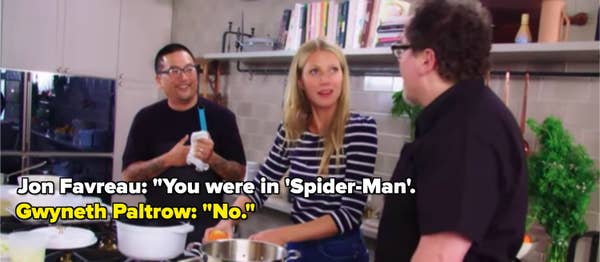 On the debut episode of The Chef Show on Netflix, in a conversation with Jon Favreau, Gwyneth Paltrow found out that she was actually in the movie Spider-Man: Homecoming!
The actress thought the scene she filmed was for Avengers, and not the debut Spider-Man movie, starring Tom Holland. I'm still mad we didn't get to see that proposal scene though!
6. She ALSO Forgot The Name of Avengers: Endgame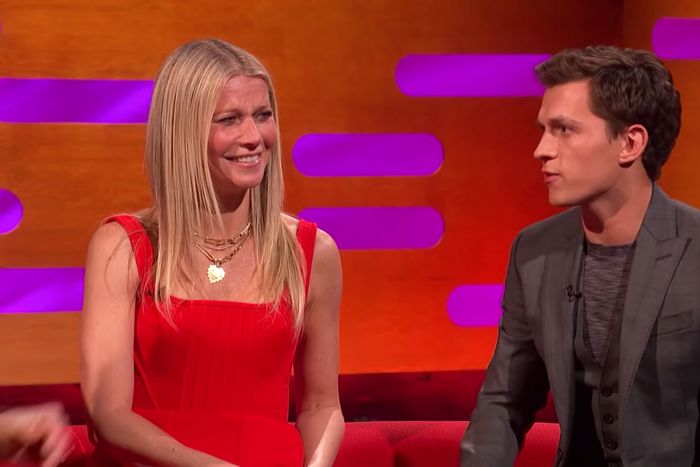 In The Graham Norton Show, Gwyneth was asked about the Rescue armor. Somehow the actress could not remember in which movies she got to wear her suit.
Tom Holland had to help her out, and then further while talking about Avengers: Endgame, she refers to it as "whatever the last one was". She even confessed to not having watched the movie.
7. Lauren Graham Forgot Lorelai Married Christopher On Gilmore Girls
Lauren Graham literally forgot that her character of Lorelai got married in the 7th season of Gilmore Girls to Christopher Hayden. The character was played by David Sutcliffe.
But Graham said, that it was so out of character for Lorelai, that she apparently blocked it from her memory. They had to get a super fan assistant who talked her through the whole thing during the revival.
8. Idina Menzel Forgot Almost All About Frozen!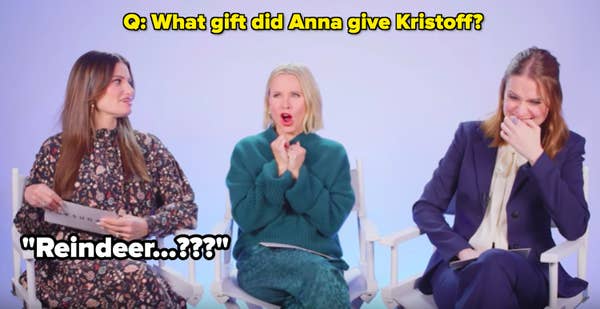 In a Popugar quiz with the whole cast of Frozen 2, you can see Idina Menzel not having a clue to any of the questions being asked. None of them. At all!
It was hilarious how quick Kristen Bell was answering and how Menzel had no idea what was going on. She need to watch the movies again, that's for sure.
9. Angela and Brian Forgot What Jan Threw at Michael's Plasma TV on The Office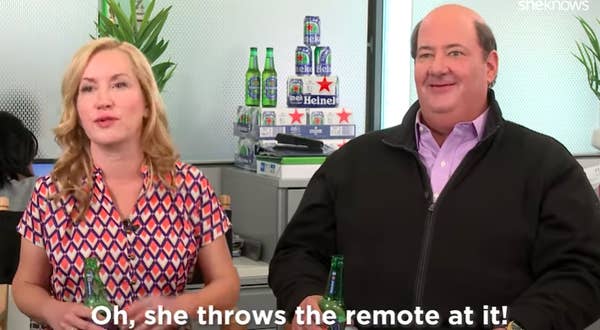 Angela and Brian from The Office forgot what the character of Jan, played by Melora Hardin, throws at Michael's Plasma TV.
Michal Scott getting angry is a once an episode thing, so when Jan threw that dundie on the TV, that meltdown was epic. But sadly, Angela and Brian could not remember what it was that was thrown!
10. James Van Der Beek Forgot How Jen Lindley Died on Dawson's Creek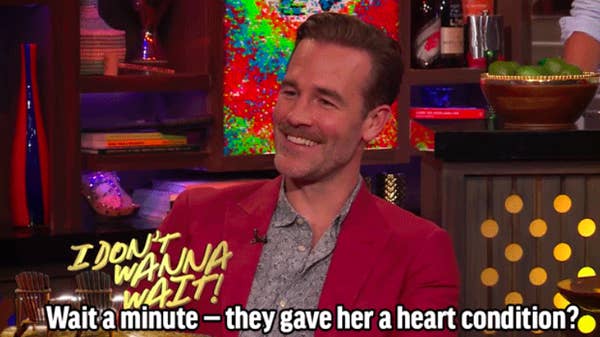 James Van Der Beek who played the role of Dawson, in Dawson's Creek, forgot how one of his closest and dearest friends died on the show.
The character of Jen Lindley, which was played my Michelle Williams had a heart condition, and she dies, but apparently, Dawson himself could not remember how that happened!
Thanks for your feedback!