Dark Knight Returns The Golden Child, a DC comic which was recently released for the public by the author Frank Miller which was his return to the Dark Knight Universe after a long three years break since the events of Dark Knight III: The Master Race. The superstar artist Rafael Grampa, the mastermind behind the groundbreaking Mesmo Delivery, which has added a cherry over the cake in the Dark Knight Saga, which has been resulting in a Dark Knight story which has never been seen earlier by any of the comic Fan.

Greta Thunberg:
Greta is a 16 year Swedish environmental activist on climate change who came into the light following a school strike for the climate outside the Swedish parliament last year. Recently she was featured on the cover of "Time Magzine," which named her a "next-generation leader." Also, she has been the recipient of numerous honors and awards for her contribution to climate change.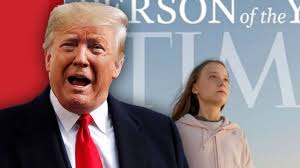 Donald Trump:
Donald Trump is the 45th and prevailing president of the United States of America. Before becoming the president in 2016, he owned his family's real estate business and many other businesses, such as building and renovating skyscrapers, hotels, casinos, and golf courses. Trump also one of the politicians who has received a star on the Hollywood Walk of Fame. Moreover, Trump made a cameo in many films and television series, and many talks show.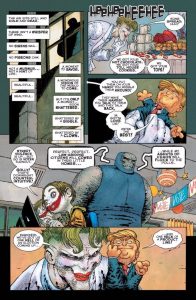 The War:
Trump called Thunberg a "ridiculous" and advised Thunberg to "Work on her Anger Management problem" after she was named as Person of the Year by Time. To which Greta Thunberg replied sarcastically by updating her twitter bio as "A teenager working on her anger management problem." Due to which many controversies aroused supporting Thunberg and Trump in different ways. In the Dc comic, the Dark Knight Returns: The Golden child Greta was spotted as a little girl along with the army of others with her fists clenched, ready to fight against the Darkseid. Donald Trump was detected as a villain alongside Darkseid and Joker, attempting to create chaos in the election as a politician.
Source: comicbook
Thanks for your feedback!