Indiana Jones 5 was originally supposed to release today; here's why it's constantly been delayed. Since Disney acquired Lucasfilm in 2012, obviously much of the attention has been given to the Star Wars revival that's so far produced five new films and a bevy of other content across various mediums. However, as most cinephiles know, Lucasfilm is also home to the world-famous archeologist, Dr. Henry Jones, Jr. Harrison Ford starred as the iconic hero in four movies, and a fifth adventure has been in the works for a number of years.
A short timeline of the work over Indiana Jones 5
Talk about an Indiana Jones 5 actually began way back in 2010, and continued to circulate shortly before the Lucasfilm acquisition. Disney assumed full control of the Indiana Jones franchise in 2013, but the studio took their time before officially announcing a new project. In 2016, it was confirmed director Steven Spielberg and Ford would be returning, with a July 2019 release date planned. However, Indiana Jones 5 keeps getting pushed back. It's now scheduled for release in July 2021. So what's been going on with this film? We take a look at its troubled development.
The biggest issue here appears to be the script, which has gone through several iterations in the last few years. Initially, Spielberg's longtime collaborator David Koepp was hired to write the screenplay, but he later gave way to Solo: A Star Wars Story co-writer Jon Kasdan (son of Lucasfilm legend Lawrence Kasdan). The younger Kasdan seemed to be excited by the prospect, but the latest updates indicate his draft didn't pan out, either. In May, it was reported This is Us creator Dan Fogelman was giving Indiana Jones 5 a rewrite, so the creative team is having a tough time cracking the right story. It's a little concerning the film has been passed off between three different writers in three years.
What may be the prime cause for the hangup on Indiana Jones 5?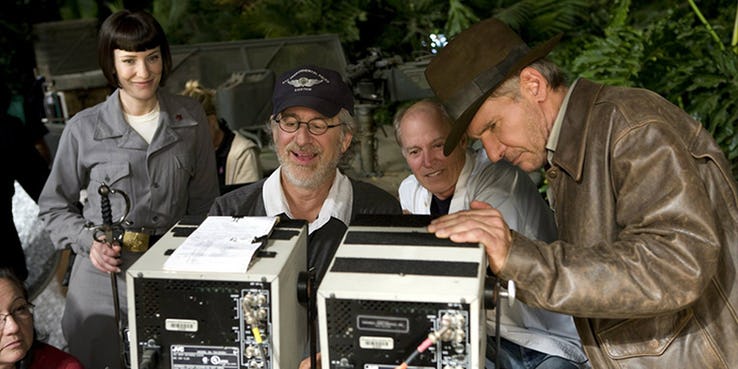 This decade, Ford has reprised two of his most famous characters – Han Solo (Star Wars: The Force Awakens) and Rick Deckard (Blade Runner 2049). Both of those legacy sequels were well-received by fans and featured standout performances by Ford. As fun as it is to envision him donning Indy's trademark fedora again, Ford already played the legacy sequel game with Indiana Jones via Kingdom of the Crystal Skull, which came out nearly two decades after Indiana Jones and the Last Crusade. That may be the primary cause for the hangup on Indiana Jones 5. The angle of an elderly Indy hunting down another priceless artifact has already been done, and the key is finding a way to keep the series fresh. There's also the matter of Ford's advancing age; he's in his late 70s now and there's a limit to what he could realistically do in action sequences. That's another hurdle for the team to clear.
All parties involved remain committed to getting Indiana Jones 5 off the ground. Spielberg will shift his focus to that once he finishes his West Side Story remake (due in theaters next Christmas), and Ford believes Indy 5 will begin filming at some point in 2020. Hopefully, now everything is settled and things can move forward smoothly. Lucasfilm is putting the Star Wars film series on hold for a few years after The Rise of Skywalker, so Indiana Jones 5 is their big upcoming tentpole they'll be banking on.
Source: screenrant , youtube