More than a million people may travel to Qatar for the 2022 FIFA World Cup in late November. English singer Dua Lipa has denied rumors that she will perform at the FIFA World Cup 2022 opening ceremony. She said she would only travel to Qatar after it improves its human rights record.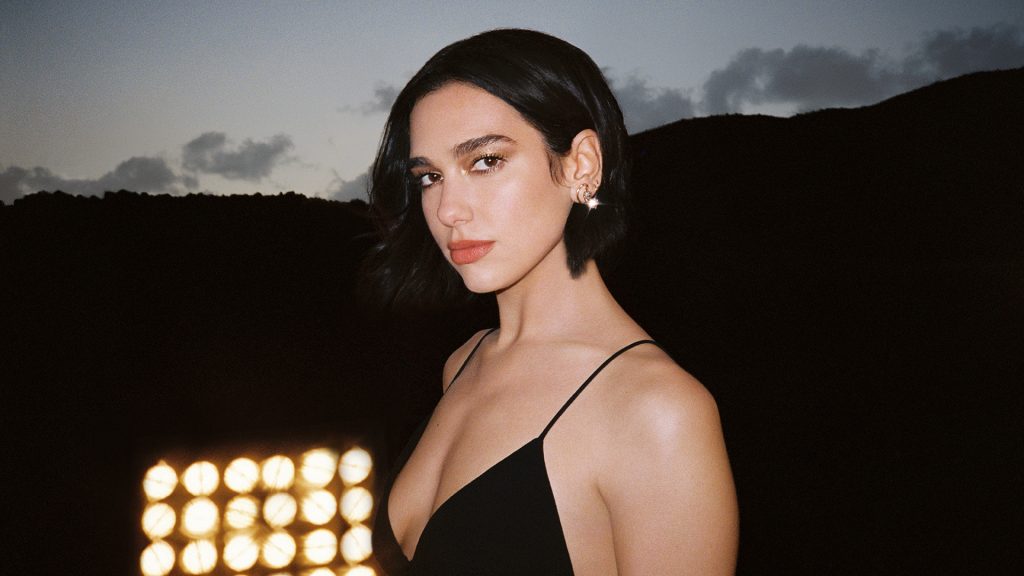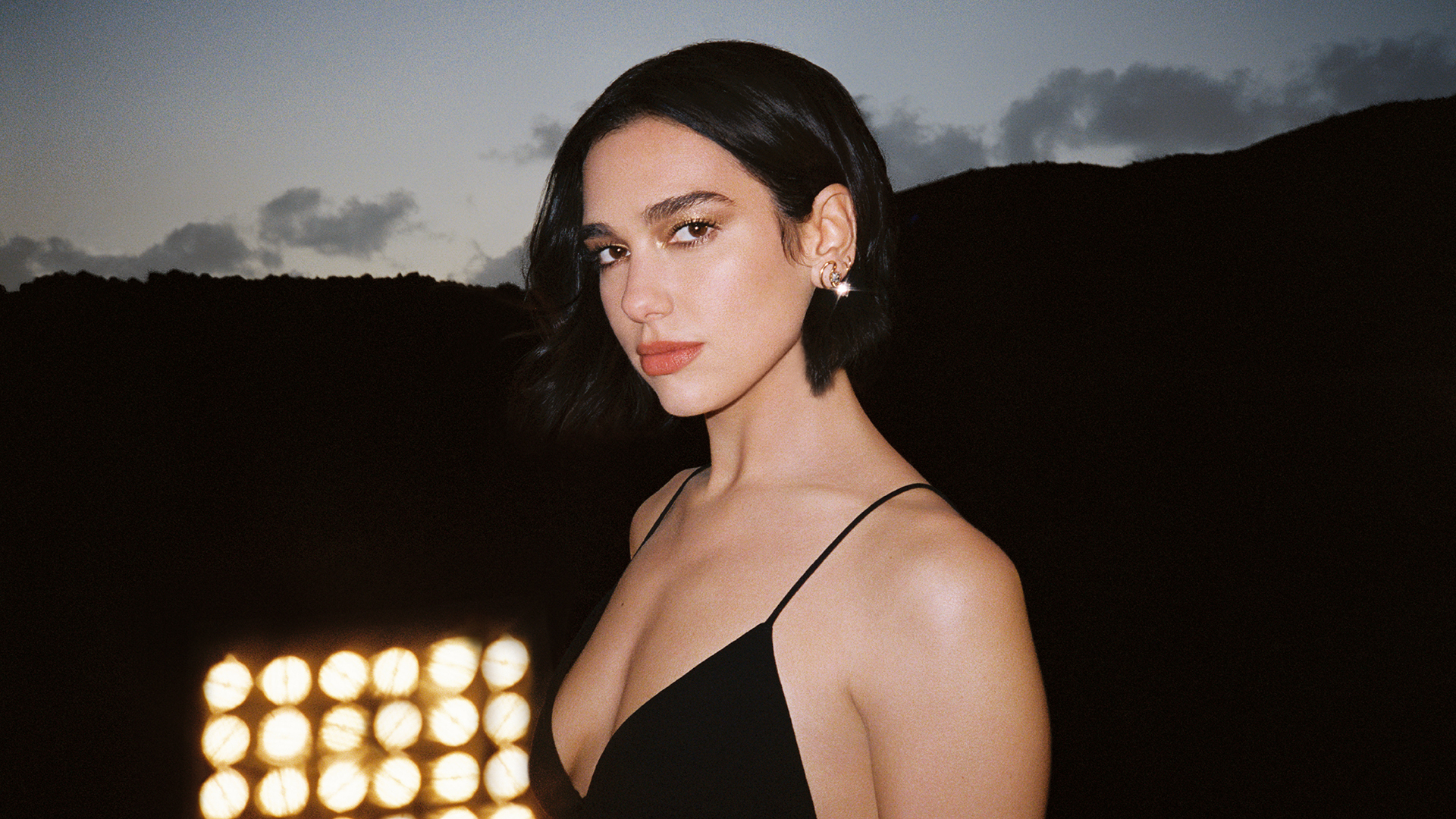 There are millions of followers on social media for Dua Lipa, one of the most famous musicians. In anticipation of the football tournament, there had been speculation that the British singer would travel to the Middle East. However, the Don't Start Now the singer has retaliated, criticizing Qatar's civil rights record. In her Instagram story, the Grammy winner shut down all speculation.
The FIFA World Cup 2022TM will kick off with an increased celebration for local and international fans on Sunday, November 20.
Also Read: 'I didn't get to travel as much': Trevor Noah Breaks Silence on Quitting The Daily Show, Tries Clearing Alleged Girlfriend Dua Lipa's Name
FIFA World Cup 2022 Opening Ceremony Rumors Debunked By Dua Lipa
People speculated heavily about Dua Lipa's performance at the opening ceremony of the FIFA world cup as it's fast approaching. As soon as Lipa heard that she would perform at the opening ceremony next week, she cleared up misinformation on Sunday, November 13. Taking to Instagram, the 27-year-old pop singer ended the speculation and brought attention to ongoing concerns about human rights abuses in the country.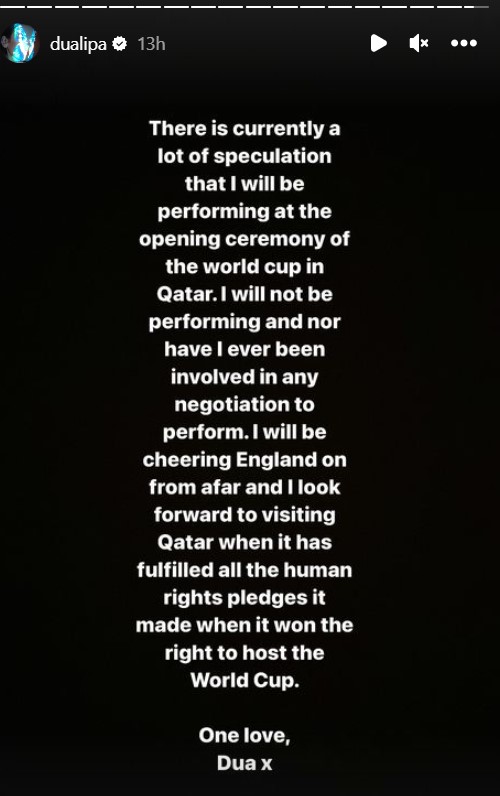 She wrote in her Instagram story,
"There is currently much speculation that I will be performing at the opening ceremony of the world cup in Qatar. I will not be performing, nor have I ever been involved in any negotiation to perform."

"I will be cheering England on from afar, and I look forward to visiting Qatar when it had fulfilled all the human rights pledges it made when it won the right to host the World Cup."
Leaving no room for speculation about her refusal to participate, the message was signed "one love, Dua X."
Following concerns over attitudes toward LGBTQ supporters and how migrant workers are treated, FIFA urged nations to concentrate on soccer during the World Cup.
Dua Lipa shuts down rumors that she will be performing at the #WorldCup2022 opening ceremony in Qatar:

"I look forward to visiting Qatar when it has fulfilled all the human rights pledges it made when it won the right to host the World Cup." pic.twitter.com/QDhzV2OMjx

— Pop Crave (@PopCrave) November 13, 2022
Pop Crave tweeted about Dua Lipa's denial of the FIFA world cup 2022, and fans reacted quickly. Let's see how fans are reacting:
that's why she's a queen

— not delicate 🕛 (@1889outcharted) November 13, 2022
i love her so much for this

— matthew (taylors version) (@matthewtf3) November 13, 2022
ending homophobia twice

— bill | fan account (@dicklevitating) November 13, 2022
She basically said gay rights or im out

— tiana (@souvenirtities) November 13, 2022
https://twitter.com/jnkiim1/status/1591803441755852800
Furthermore, the singer also mentioned in the same Instagram story that she would cheer for the England team during the tournament.
Also Read: "It's really great to be alone": Dua Lipa Squashes Dating Comedian Trevor Noah Rumors, Says She's Only Thinking About Herself Now
Qatar 2022 Controversy Days Before World Cup Kicks Off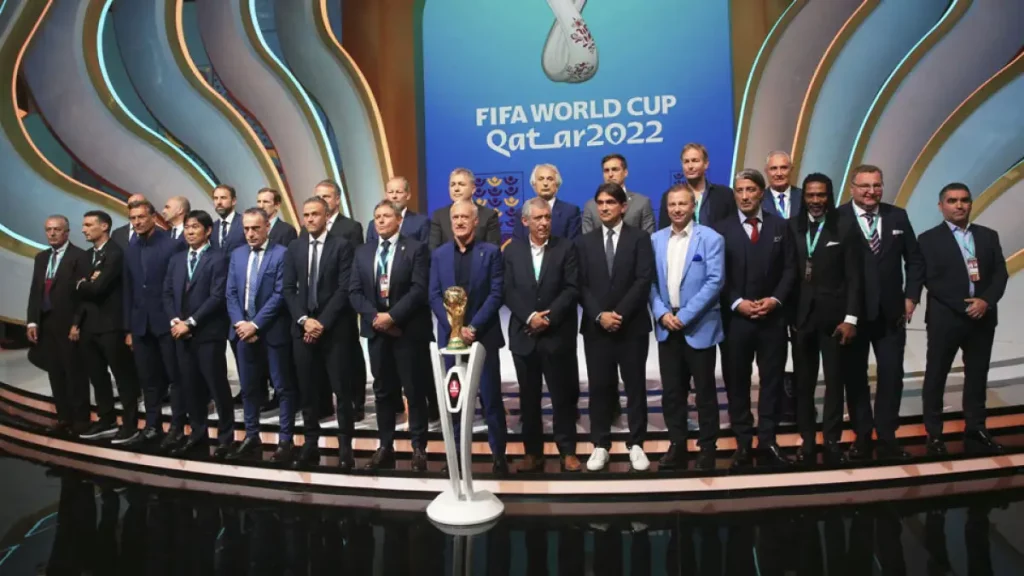 A 75-page report published by the London-based rights group Equidem alleges that Qatar's migrant workers were subjected to discrimination, long hours, unfavorable working conditions, wage theft, and other abuses as their employers avoided responsibility.
As a result of intense international scrutiny, Qatar has implemented several labor reforms, which have been applauded by Equidem and other human rights organizations, although campaigners claim abuses still occur.
However, as a result, Qatar has consistently refuted claims that the 30,000 construction workers who built the World Cup infrastructure were in danger.
According to Ambet E. Yuson, general secretary of the Building and Woodworkers' International union, migrant workers on World Cup building projects have received a higher level of protection than other workers in Qatar. There will be no World Cup broadcasts in open fan zones in several French cities, including Paris, amid concerns about migrant workers' rights and the environment.
Also Read: "They are always joking about the wedding": Jennifer Lopez Has Made Cristiano Ronaldo Troubled as Struggling Football Legend Being Pressured to Marry Georgina Rodriguez Soon
Source: Twitter