Queen Elizabeth II passed away at the ripe age of 96. Her death was universally mourned and several people celebrated the United Kingdom's longest reigning monarch's life and her achievements. The entire royal family came together in the end, some of them to be at the queen's bedside in her last moments, while some after the tragic demise. The whole family being there was not so much of a news, but one member whose presence caused quite some ripples was none other than the estranged Duchess of Sussex, Meghan Markle. But now, it seems like the tables are turning as Markle fans have started calling out other, presumably loyal members of the family, and a primary name is that of Kate Middleton.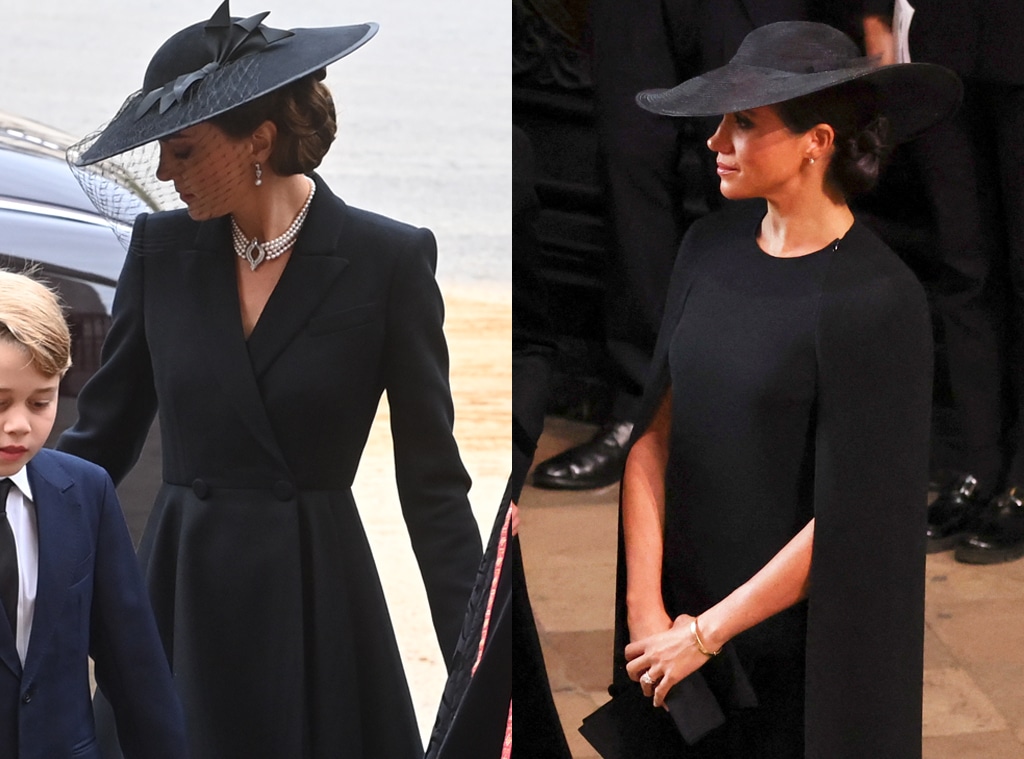 Meghan Markle – always subjected to extreme scrutiny
Meghan Markle had alleged quite some time ago that she was never really welcomed into the royal family. The Suits alum married Prince Harry amidst pomp and show in a beautiful ceremony in May 2018. On the surface, she was not the typical fit for British royalty – being American, colored, and having worked as an actress. But the now Duke and Duchess of Sussex were quite taken by each other, as has been witnessed by the whole world via innumerable pictures and videos, candidly reflecting the deep love they share.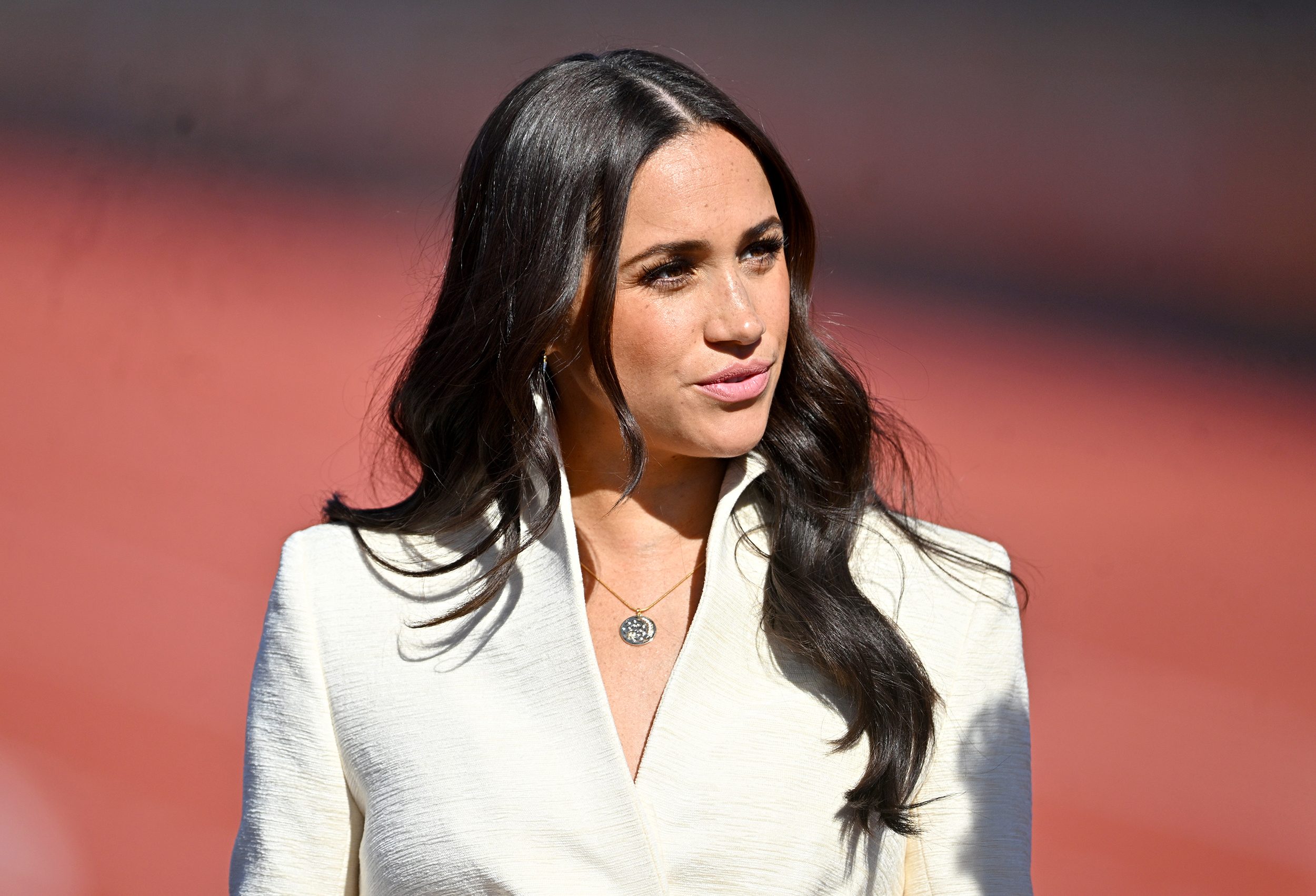 But according to Markle, she was never quite accepted into the royal family. The differences became crystal clear when she and Prince Harry formally separated themselves from the royal family. Ever since then, Markle has given several bombshell interviews about her alleged mistreatment at the hands of her in-laws, making her a primary antagonist in the eyes of the royal family, its enthusiasts, and British media alike.
Ever since Markle has returned from the States for the mourning and the funeral, every single action of hers has been deeply observed and brutally scrutinized. Be it supposed body language experts concluding that she is desperate for Kate Middleton's attention, or a fairly normal exchange with a palace aide being taken out of context and her being branded as rude and uncouth, Markle has been subjected to it all in a very short span of time.
Also Read: "No one actually told them they were uninvited": Prince Harry And Meghan Markle Reportedly Found Out They Were Not Invited To The Reception From The Press Amidst Falling Out From The Royal Family
Eyebrows raised at Kate Middleton for a change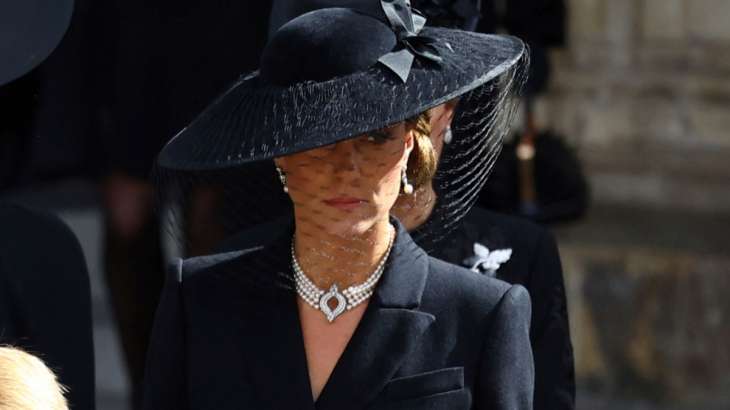 Markle fans haven't taken lightly the scrutiny she has been put through at the hands of social media. One such fan took to Twitter to share a picture of Kate Middleton, Prince William's wife, smiling during the Queen's funeral. She can be seen in her mourning veil, black hat, and the whole thing but with a gaudy pearl necklace, with a wide toothy smile on her face. The comment read, "Just imagine the outrage if Meghan Markle had rocked up to the queens funeral and dared to smile…"
https://twitter.com/thedroyver/status/1571806660062023683?s=46&t=qKIgMwmyLbst3n6am2D4hw
The same person then went on to state his agenda for the tweet, which was only to bring into perspective how a single random still if taken out of context can be used to vilify anyone and spread an agenda.
https://twitter.com/TheDroyver/status/1571807562093191168
I totally agree with you. Taking seconds out of a day of being taped & photographed. She might have ate something sour or her shoes may have been hurting, and for a split second they take a pic of an emotion & then call is something else. Not knowing truly what it was about.

— Sunny (@Sunny11110373) September 19, 2022
Further, many users couldn't help but point out how Kate Middleton had accessorized extensively on a day that is supposed to be morose. Her gaudy jewelry did not escape anyone's attention, many of whom even alleged that this was her way to celebrate a death she had been counting on for a very long time.
And wearing that big old necklace….

— JC Jean-Carbon, PHD MPH 🇩🇲 (@Dr_JJohn) September 19, 2022
And dangly earrings!

— Lottery Lady (@Verona79708347) September 19, 2022
That pearl necklace belonged to The Queen

— andrea brown 🇬🇧 (@andreab45138912) September 19, 2022
Not just smiled but wore all that garish jewellery. Its so over the top for the Queens funeral.

— 🥂🍾🍹🥃 (@025cupids) September 19, 2022
She's happy to break into the mummy's jewelry chest.

— Lucinha carvalho 🇧🇷🇧🇷🇧🇷 (@MomentoPretinha) September 19, 2022
This will serve as a perfect example of how easy it is to spread an agenda based on a single frame or a cropped video clip. Rushing to assumptions does no one any good and the royal family enthusiasts and Meghan Markle haters tasted their own medicine and it was bitter.
Also Read: Meghan Markle Pays Heartfelt Tribute To Queen Elizabeth II After Being Unable To Join Her Majesty During Her Final Hours
Source: Twitter