Spider-Man's Daily Bugle fame J.K. Simmons, who also voices Omni-Man in the Amazon Prime animated series, titled Invincible, has finally given fans an update on the much-anticipated second season of Invincible.
JK Simmons Has An Update For 'Invincible'
JK Simmons has finally given fans an update on the second season of Invincible. The series will start streaming in March 2022 only on Prime Video. Talking about the animated series, Invincible is an adult animated series that is somewhat based on the superhero comic character created by artists Cory Walker and Robert Kirkman. The series sees a 17-year-old character Mark Grayson (who is voiced by Steven Yeun). While he does seem like a usual, normal teenager, Mark also has to come across and eventually deal with the fact that his father, ie. Omni-Man (obviously voiced by JK Simmons) – is well, the most powerful superhero on the entire planet. When he manages to create the powers of his own on his 17th birthday and goes to take the name Invincible. Mark then begins his journey to find out that the legacy of his father is barely as perfect as it appears to Mark.
When will Invincible season 2 come out?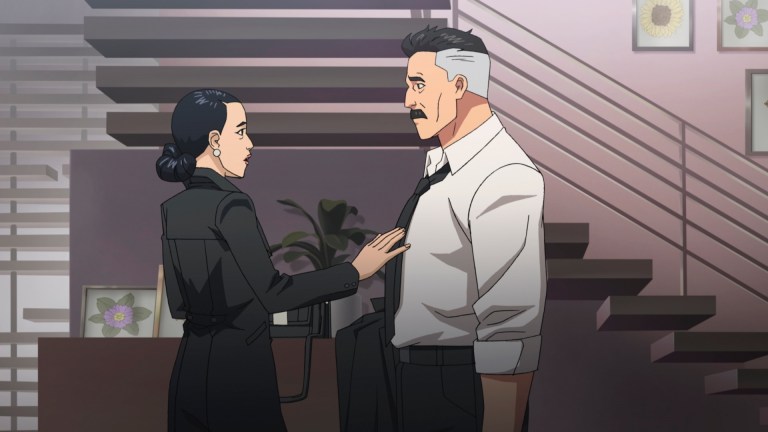 The first season of Invincible teases up the second season in many ways, closing on a tableau of all the supervillains that Mark will have to face. Somehow, it also leaves behind Mark's relationship with Omni-Man in an even more tragic place. Although Invincible was renewed for a couple of more seasons in April of 2021, Simmons has now revealed that fans will have to wait a little longer to see how it all unfolds.
While appearing in an interview with Discussing Film, when asked about the future of Invincible, Simmons said that he is reluctant to share any sort of spoilers, although he did reveal that he will step into the recording booth soon.
Simmons seemed cautious that there will definitely be a bit of time between the initial recordings and the final completion of the whole animation, stating that it might take a lot more months.
Here's Simmons' full quote:
"Always wary of spoilers, but I think I'm allowed to say that we're going back to work very soon in the recording booth. Now, the lag between us doing our first recordings and the animation being completed is obviously many months and probably more than a year, I would guess. But, yes, Invincible is getting to work in earnest and season two is imminent, I will say. There's a nice vague term."
Will Angstrom Levy Arrive?
These comments by JK also fall in line with Kirkman's Invincible season 2 update that came in earlier. The creator revealed that although all the people involved have been working really hard, the completion of the second season will take some time, potentially to the dismay of some fans. Talking about what viewers may expect from the storyline and perspectives of the characters, Kirkman has also previously teased the arrival of Angstrom Levy. In the comics, Levy is the one who can travel to alternate realities. Although not much is known about how he gains these incredible powers, Levy blames Invincible for his condition and becomes a recurring villain to the character.
It's safe to assume that Mark is going to have a lot to deal with in Invincible season 2. The series was a big hit for Prime, as proved by its quick renewal for two more seasons. Although it sounds like fans will have to wait for some more time for newer episodes, it should be worth it is given how everyone involved is aware of the positive reaction that was previously generated by the show's initial episodes.