While preparing for the festival, Jennifer Lopez and Ben Affleck got into the holiday spirit. After tying the knot in July this year, Bennifer will celebrate their first Christmas together as a married couple. Jennifer Lopez's latest social media pictures featuring her in a sizzling red outfit are a sight to behold during early Christmas vibes. As the singer announced her upcoming album This Is Me … Now, she is trying hard to hold her fans amid rumors of a failing marriage.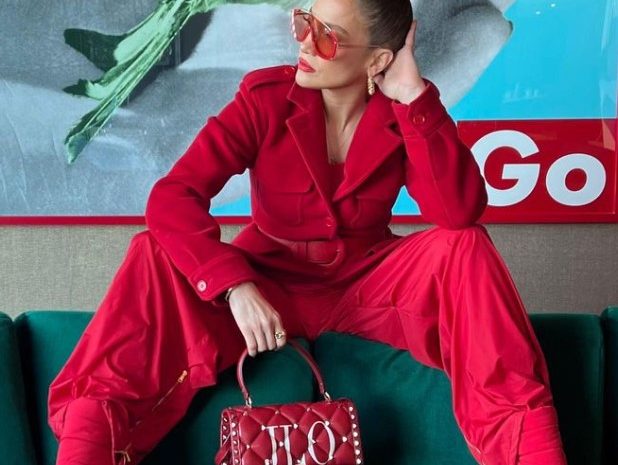 Jenny from the Block singer is reportedly worried about losing her fans, and as a couple, they are doing everything possible to prevent potential problems in their relationship. The Gigli co-stars reunited about 20 years after their split and married in 2022. Jennifer Lopez and Ben Affleck also reportedly teamed up with their kids to pick the best Christmas tree to make this Christmas special.
Also Read: 'They'll be exchanging gifts this year for Christmas': As Jennifer Lopez's Marriage With Ben Affleck Comes Crashing Down, Jennifer Garner Reportedly Growing Too Close To Affleck During the Holidays
Jennifer Lopez's Super Hot Red Ensemble, Fans Excited
It was a triumphant look for the Hollywood diva Jennifer Lopez, 53, in a super-hot red ensemble. She posed in a red blazer and matching track pants and carried an extravagant custom Valentino handbag with her initials on it. Ben Affleck's wife wore red ankle boots with her costume and a belt around her waist to complete her look.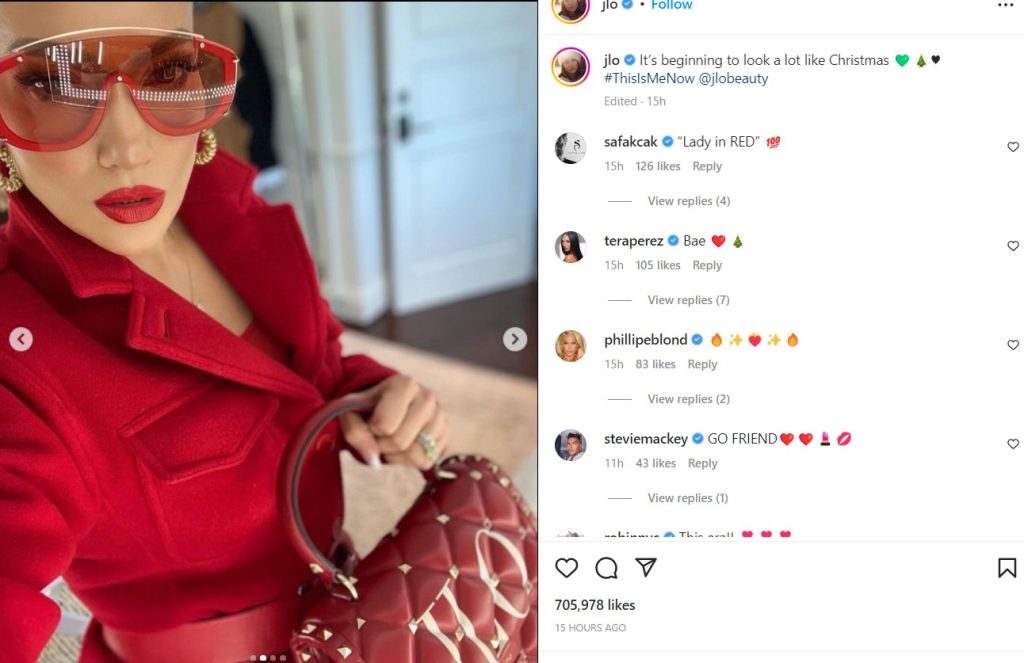 Her blonde tresses were styled in a sleek bun, and JLo wore chic red shades with her shimmery eye makeup and bold red lipstick. Adding a touch of glitz to her glamorous ensemble, Lopez wears necklaces and earrings in gold and red.
On Tuesday, she posted her photos in this stunning look ahead of Christmas on her Instagram handle and began the festival mode. She captioned the post, "It's beginning to look a lot like Christmas #ThisIsMeNow."
Since the singer announced her new album This Is Me … Now, fans are already keeping a close eye on her work and public appearances, and she may get successful in her attempts to hold her fans.
Also Read: "We will never forget you. Come back soon": Jennifer Lopez Breaking Up With Alex Rodriguez Haunted Former Yankees Legend After Latin Pop-Star Started Dating Ben Affleck as Arch-Rivals Boston Red Sox Put Up Cheeky Message to Embarrass A-Rod After Split
Jennifer Lopez And Ben Affleck Went To Pick The Christmas Tree
Ben Affleck, 50, and Jennifer Lopez have already begun their Christmas preparations. The famous couple recently went family tree shopping with their children, and it looks like they're going big this year.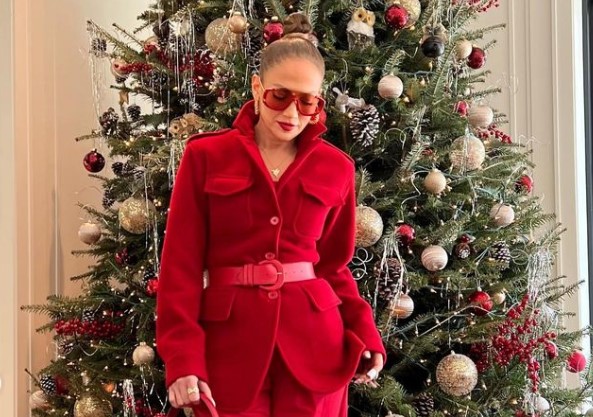 In Santa Monica, the couple took their children to select a Christmas tree from a wide variety of great-looking trees, and the paparazzi managed to take many pictures. The couple left a tree shop with an enormous Christmas tree that would fit nicely in Santa's backyard. Undoubtedly, it could easily measure two to three meters and be equally broad.
The tree was so huge that Affleck and several employees of the Christmas tree vendor spent a long time loading it onto the car's roof. The wire was tangled around the base of the tree to keep it from falling; it came close to slipping off. However, with the help of Bennifer, Max, Emme, Violet, Seraphina, and Samuel chose the biggest and most beautiful one. The best thing to come is the decoration, for which they will probably need a giant ladder to place the star on the top of the tree.
Also Read: "Must be nice to travel. Most of us don't have that luxury": Jennifer Lopez Showing Off Her Hermes Quilt in a Private Jet With Alex Rodriguez Got Severe Backlash That Taught $750M Worth Couple an Unforgettable Lesson
Source: Geo News