Fans are disappointed beyond measure that Jared Leto's Joker won't appear in James Gunn's The Suicide Squad. Leto's Joker along with Margot Robbie's Harley Quinn had made quite the impression in 2016 in Suicide Squad.
The Suicide Squad
A reboot of David Ayer's Suicide Squad is in production stages. It is differentiated from the first movie by addition of the article 'The' to the name. So the name of the upcoming movie is 'The Suicide Squad'. We have received sneak peeks into the new cast and their costumes. Fans of the 2016 movie are missing some characters and actors that might not return for this version.
Joker's Test Makeup Look revealed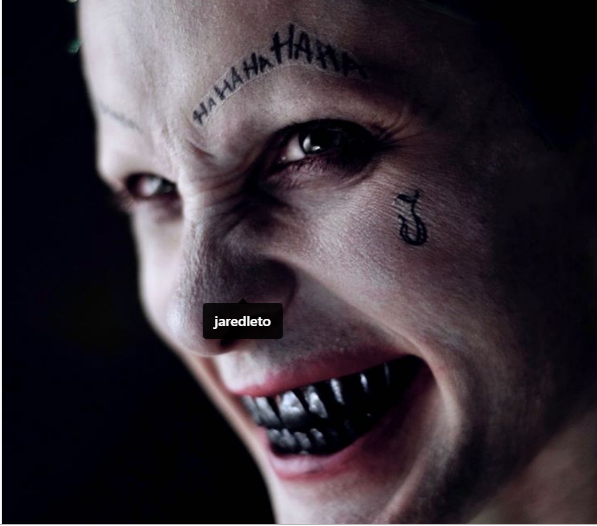 David Ayer shared a throwback picture on his Instagram account that shows the makeup look they had tried on Jared Leto for Suicide Squad. This has thrilled fans as nobody has seen this look of Leto before. It features Leto as Joker with black teeth and tattoed eyebrows that spell 'hahaha'. His left cheek also bears a teardrop tattoo. And although people seemed to have moved on from Leto's Joker with the success of the new Joker movie and Birds of Prey separating Harley Quinn and Joker, this picture still makes us think of all the possibilities. The filmmaker posted a caption that highlights the challenges of bringing a character to life onscreen. The caption reads: 'This is an early #Joker make up test. The research and fine tuning when crafting a character are endless.'
Are you excited for the new version of the movie? Let us know your thoughts in the comments section below!
Birds of Prey (And The Fantabulous Emancipation of One Harley Quinn) will release in 2020. Watch the official trailer here.
Sources: ScreenRant, Collider
Thanks for your feedback!