Marvel Studios revealed a part of Hunter B-15's Loki costume that depicts how deadly she could be.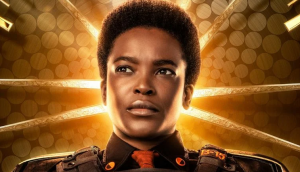 Marvel Studios: Assembled's third episode has recently dropped on-air with Disney+. It shows a BTS (Behind the Scenes) moment of the Loki series that recently completed its first season. The third episode of Marvel Studios: Assembled is full of intriguing information about Loki's making from each aspect of the makers. One significant moment showed how various costumes have been used throughout the series. It also included the note of B-15's helmet that many fans unnoticed during the initial viewing.
Hunter B-15, a character played by Wunmi Mosaku, was introduced in the pilot episode of the Marvel and Disney+ series Loki. She was a TVA (Time Variance Authority) agent. She arrests Loki, God of Mischief, when he escapes with the Tesseract from Avenger's custody. Right after her introduction on-screen, B-15 shows how proficient she regards her work. She is very much sincere with her abilities as Hunter, and it is clearly evident when she incapacitates Loki. B-15's proficiency is also evident if we look at her costume and helmet, to be specific.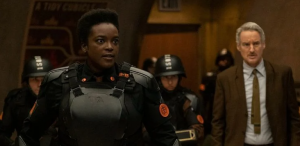 All Hunters wear the same costume; Black Uniforms. However, Hunter B-15 has customized her standard helmet. Her helmet depicts scratches in tally marks to track the number of people she has pruned or killed. There are plenty of tally marks that makes her stand different and impressive as well. This is precisely how she shows pride in her work and shows what essentially is required for matching the level of B-15's qualifications and experience. It clearly indicates that Hunter B-15 is not someone to be underestimated.
What was not reflected by the documentary was; the journey of B-15's helmet that shows where her character goes throughout Loki season 1. It was prominently essential and worth to have a sneak into her journey of becoming Hunter. In Loki's pilot episode, B-15 was a top TVA Hunter who is very committed to her work and never takes off her helmet. Even when she reappears in episode 4, The Nexus Event, to arrest Loki and Sylvie from Laminitis-1, she is still wearing her helmet. But, Hunter B-15 removes it and holds it under her arm when Mobius tells her about Loki's claim that TVA is lying to everyone.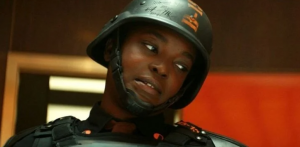 Since she has never taken off her helmet before, it is significant when she removes it and never puts it on again. It shows that Hunter B-15 is trying to distance herself from the TVA after knowing the truth. She sheds her conformity and begins to start independently. As a result, she turns against the TVA and decides to help Sylvie and Loki fight against Renslayer.
In the final episode of Loki, when Sylvie kills He Who Remains, Loki finds Hunter B-15 and Mobius. Still, they seem to have no idea who Loki is. Unrevealed by the makers, it is expected that Loki is now into an alternate version of the TVA. Hunter B-15 may not be the central character of Loki. Still, Marvel Studios: Assembled shows how much attention and thought went into the preparation of her costume and journey.
Marvel Studios: Assembled and Loki season 1 is available to stream on Disney+.
Thanks for your feedback!