A brand new behind-the-scenes video from the sets of DC Universe's Titans teases what NYPD Blue veteran Esai Morales will look like as Slade Wilson/Deathstroke.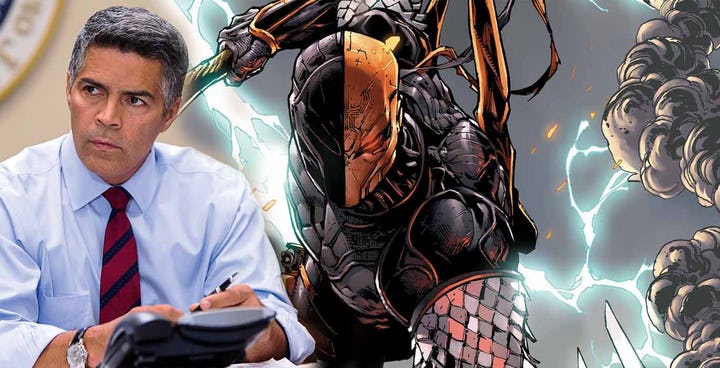 Where Did The Video Of Deathstroke Come From?
The short video has come via DCUTitansBR on Twitter and it shows Morales in the back of a car in Toronto, Canada, where the series is filming. Although the video doesn't give any indication of what his Deathstroke costume might look like, it does show off Slade's signature facial hair. You can check out the video below:
https://mobile.twitter.com/DCUTitansBR/status/1132415263234756608?ref_src=twsrc%5Etfw%7Ctwcamp%5Etweetembed%7Ctwterm%5E1132415263234756608%7Ctwgr%5E393039363b636f6e74726f6c&ref_url=https%3A%2F%2Fwww.cbr.com%2Ftitans-bts-esai-morales-slade-wilson-look%2F
Who Else Is Joining The Titans In Season 2?
Morales is one of several new actors joining the series this season. Chella Man will play Jericho, Slade Wilson's son, and Chelsea T. Zhang will play Rose Wilson/Ravager. Joshua Orpin, who also appears in this video, will join the series as Superboy, and Pretty Little Liars star Drew Van Acker is reportedly joining the show as Aqualad.
Related: Joe Manganiello As Wolverine? Fans Seem To Like It
Morales is the latest actor to suit up as the infamous mercenary on-screen, with his two most-recent predecessors being Manu Bennett on CW's Arrow and Joe Manganiello in the post credits scene for 2017's Justice League.
(Source: cbr.com and bleedingcool.com)