The wait for the most awaited movie of the year just got shorter.
Congratulations to all the comicverse fans, the release date of Avengers: Infinity Wars has just been preponed.
Just have a look at this.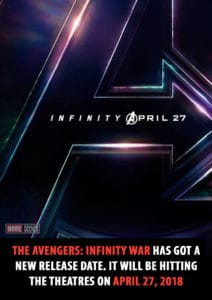 According to CBR, an exchange between Marvel Studios and RDJ happened. CBR quoted.
"The exchange began innocuously enough with a tweet from the Marvel Studios account asking, "On a scale of one to infinity, how excited are you to see [Infinity War] on May 4th?" Downey responded, "Any chance I could see it earlier?," which led to the studio's big reveal: "Anything for you, Mr. Stark! How's April 27th?"
Well, I don't know how to thank Mr. Tony Stark, but sir, You are awesome. This is indeed the best news on the internet today.
And I couldn't be more excited about it. Traditionally Marvel releases its flicks in the earlier months of February. Infinity wars was a change.
And why not, Marvel has been planning for this movie for a decade. Literally a decade. With the Iron Man franchise that began in 2008, every other Marvel movie was somehow giving us the indication and leading us to the final showdown with Thanos. And it is going to happen. And it will be sooner than we expected.
Thanks for your feedback!