Pokemon has always found innovative ways to connect with fans around the world. And some of those ways are centered around collaborating with major food brands to create exciting and delicious breakfast items. Starting from Pokemon breakfast cereal to Pop-Tarts, fans have shared their love for the popular Nintendo game.
And on the 25th anniversary of the original Pokemon games on the Nintendo Game Boy, they have collaborated with Krispy Kreme. Yes, you guessed it right! They have come up with Pokemon-themed breakfast donuts celebrating the fabulous franchise. Fans can order a 12-pack box of Krispy Kreme donuts with 6 regular glazed donuts and 6 Pokemon donuts. The 6 Pokemon-inspired donuts that can be found in this box are 2 Pikachu donuts, 1 Squirtle, 1 Charmander, 1 Bulbasaur, and 1 Poke ball design.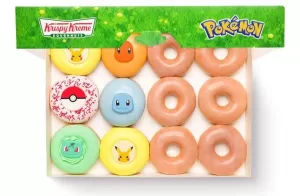 Now, these donuts surely look delicious. But there is a catch! These donuts are available only in Australia. There have been several Australian fans who have shared the image of these donuts celebrating the 25 years of this franchise. This has given fans in other parts of the world FOMO! There has been an increasing request from fans to The Pokemon Company and Krispy Kreme to bring these amazing donuts to other parts of the world.
Surely, the companies will not leave their fans disappointed. Until you wait for these donuts to come to North America and other parts, there are other several things to enjoy from such collaborations. Apart from these donuts, the company has already launched a McDonald's Happy Meal Promotion. Later this year, the company will also release Pokemon Brilliant Diamond and Shining Pearl on Nintendo Switch. 2021 has already been a fantastic year for the fans.
2022 will also be exciting as the company has decided to release Pokemon Legends: Arceus. The only thing missing is this box of delicious donuts! Can we just get it already?
Would you like to try these new Krispy Kreme donuts? What do you think about this collab? Comment down below!