The mad titan , Thanos is one who is considered the most powerful and is he the most feared villain of all time. Thanos , who was so obsessed with the Mistress of Death wanted to please her and since then he began his quest to destroy everything so that he could warmth from the Mistress of Death.
To do so he has continued the destruction and increase his power to unachievable heights . The legend Thanos was infamous for his brutality and after achieving the Infinity Gauntlet his legend of the most feared name began. Now we are going to look at some alternate versions of Thanos who are stronger than him and some of the weaker ones.
15. STRONGER: ULTIMATE THANOS
This notorious Thanos is very much powerful as compared to Thanos . He can channel his energy to destroy the mind of another person. He has various abilities like ultimate super strength and cosmic awareness. He also had energy blast using which he can bring himself back to life and might be more powerful than before.
14. WEAKER: THANOS CLONE
In She-Hulk 13 , we can see a battle with the clone of Thanos. This clone was a duplicate of Thanos made of synthetic . Although he was mighty in its own skin but not mighty enough to beat She Hulk aka Jennifer Walters who is the cousin of Bruce Banner and received her powers through blood transfusion.
13. STRONGER: AVENGERS THANOS
This Thanos was created by the sissters of eternity .In exchange of his power , he was offered a life as a hero. It did not take him much time to realize that he was living in a fictional reality. Thanos later declined the offer and returned back to his normal life. After we did expect one alter ego to be with the good guys.
12. WEAKER: THERMOS
This version of Thanos was called Thermos. This character is a parody and made his first appearance in a parody comic What The -?! . This character was one of the villains who was given stylish makeovers and later on they turned into parodies . In this alternate universe Thermos is in search of the "Infinity Mitt".
11. STRONGER: POISON THANOS
This character are actually tiny little monsters . They turn the host bodies into more powerful versions of themselves and they eventually join the hive. In this version of reality it was a combination of Venom and Thanos which was later put out to become Poison Thanos.
10. WEAKER: DEADPOOL KILLS THE MARVEL UNIVERSE THANOS
This Marvel Universe thanos was killed by deadpool. Although the Merc does not seem as deadly as Thanos but these both are the ones no one would like to have an enmity with. Although Thanos is considered more stronger, Deadpool is more clever than Thanos . He kills Thanos by first killing Puppet Master , by controlling the criminal puppets.
9. STRONGER : THANOSEID
For the very first and only time when DC comics collaborated with Marvel Comics. This was done to defeat the combination of Thanos and Darkseid which together became Thanseid. He ruled the planet of Apokolips and destroyed the Amalgam Universe with his fist to please the Mistress of Death.
8. WEAKER: SUPER HERO SQUAD THANOS
This version of Thanos is not the best but rather silly . He tends to cry when things do not go his way , which is always and he also not even bit scary . This Thanos is always fun to watch but if you are looking for a Thanos with much more fierceness and power , you have to look somewhere else.
7. STRONGER: OMEGA
This version of Thanos was created by himself to satisfy his thirst for more power. He combined his DNA with that of his enemy Galactus and formed Omega. The clone escaped and turned out to be the most powerful villain. If it wasn't Thanos who would have defeated him with an army , then he might never have been defeated.
6. WEAKER: THANOSCOPTER THANOS
The name Thanoscopter comes from combining Thanos and Helicopter. Thanos thought that he can acquire the world with the help if the Cosmic Cube and terrorize everyone by rolling up into a vehicle. He could not do much and just created an earthquake which ended up in his own defeat.
5. STRONGER: CANCERVERSE THANOS
Cancerverse Thanos has the same power but has only one more power that rules the original Thanos out. In the Cancerverse , death has been defeated and as death does not come to anyone , they end up being corrupted which is quite horrible and disgusting.
The Cancerverse Thanos is undeniably more powerful.
4. WEAKER: ZOMBIE THANOS
Zombie Thanos was formed when a pink lightning hit the The New York City. The heroes who reached the place unfortunately met the Zombie Thanos.The original Thanos somehow wasnt eaten . Eventually Zombie Hulk kills Zombie Thanos with a punch.
3. STRONGER: "THANOS WINS" THANOS
This alter ego of Thanos succeds in the dream of mass destruction.. He defeats and destroys all the heroes of earth . Only Silver Surfer is left alive to annihilate him with the help of Thor's Hammer but he is also defeated by Thanos and a younger version of Thanos.
2. WEAKER: PET AVENGERS THANOS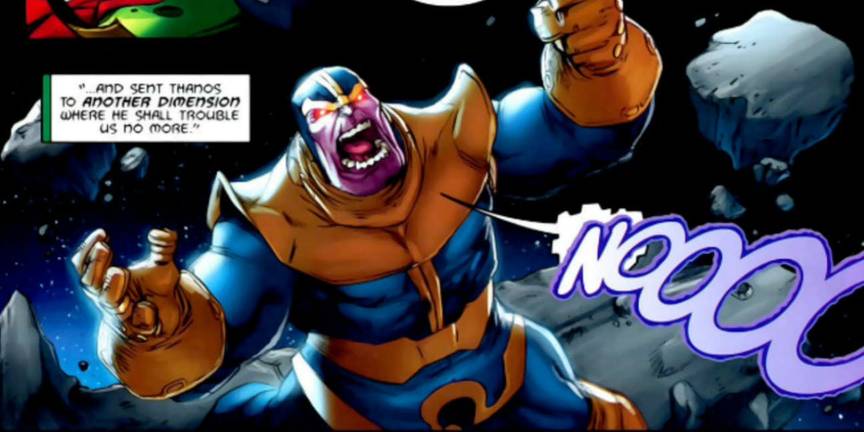 The Pet Avengers are the pets of the Avengers of the Earth. As the Avengers are busy elsewhere, the Pet Avengers start finding the Infinity Stones. Upon finding them , Pet Thanos wants to keep them all and is defeated by the other Pets who used the power of the Infinity Stones and teleportation.
1. STRONGER: YEAR 20XX THANOS
Before his quest to find the Infinity Stones, Thanos used the power of the Cosmic Cube ad destroyed half of the Earth's heroes,later on the Zero day , which takes place after several years. He was able to do that by creating a Cosmic Cube Iso-Gauntlets which was a vessel for little cosmic cubes.
Thanks for your feedback!