SPOILER WARNING: The following contains spoilers for Avengers #24 by Jason Aaron, Stefano Caselli, Liciano Vecchio, Jason Keith and VC's Cory Petit, on sale now.
We saw the latest incarnation of the Avengers gathering together to battle the Dark Celestials. They have remained dormant on Earth for millennia after battling the prehistoric superheroes who were defending the Earth. The legacy of the Celestials forming a new lineup of Earth's Mightiest Heroes led to Black Panther becoming the new team's leader. He also located the headquarters of the ensemble entombed in a glacier which was actually the long dead carcass of a Celestial. But the story was just beginnning then.
The Avengers Vs The Cosmic Ghost Rider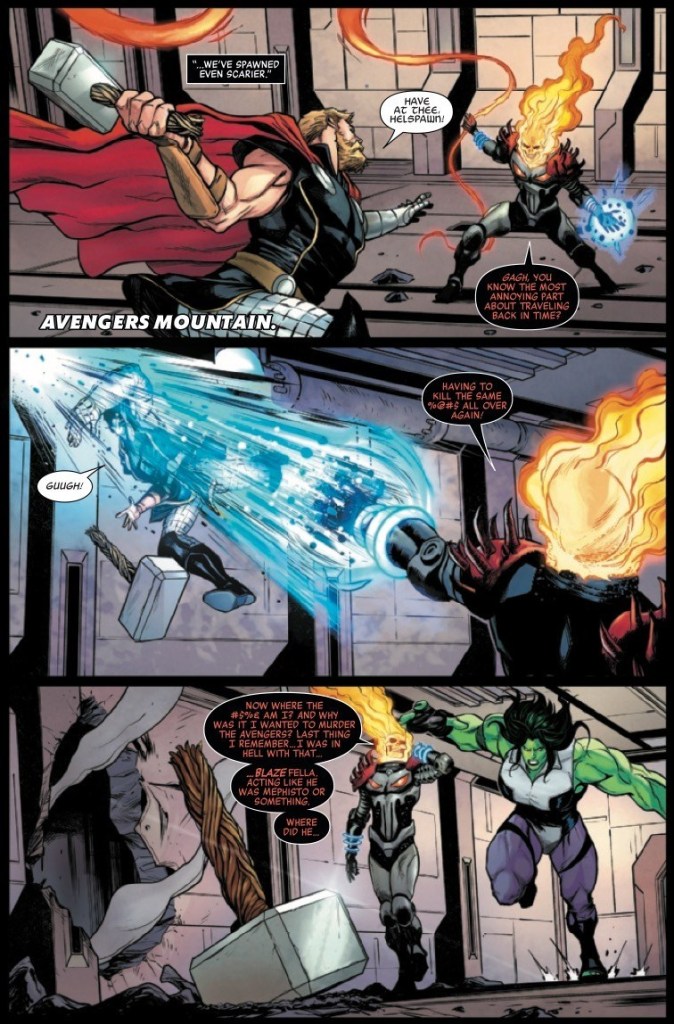 Cosmic Ghost Rider then came to Earth to attack the Avengers. Black Panther and Captain America charge into battle to help Thor, Captain Marvel and She-Hulk against the cosmically enhanced Frank Castle from an alternate future. T'Challa revealed that he upgraded both his and Captain America's suits with celestial energy. This could help them possibly turn the tide of battle. Moreover, it would also help bring the Ghost Rider back to his senses.
But along with the Avengers, Robbie Reyes also wants to get the vast powers wielded by the Celestials. In Hell, he races Johnny blaze for the Netherworld's throne in the mystical challenge of the Ghost Riders. As the competition gets tense, Robbie comes to know that the spirit of Eli Morrow (the satanic serial killer) is hunting him in Hell. Eli also tells his nephew that this Celestial wiped out life across multiple planets before dying on earth. So his soul has been imprisoned in Hell for millennia. Eli then used his knowledge of the dark arts to control the Celestial's soul and become more powerful. So Robbie isn't just trying to outrace Johnny but also the hellish celestial now under Eli's control looking to kill him.
It's All Upto The Cosmic Ghost Rider Now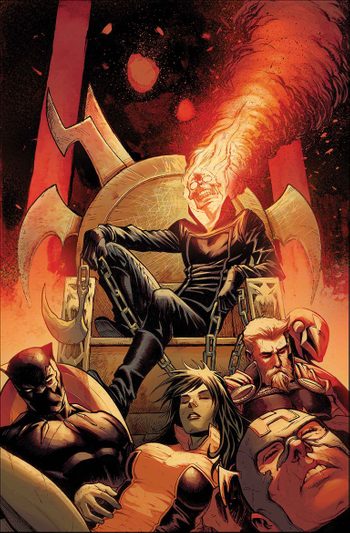 But this challenge has separated Robbie from the rest of the Avengers. He is cast off in hell as his team mates have to fight with their own Cosmic Ghost Rider. Ultimately, the Avengers do succeed in controlling the alternate future Frank Castle who seems to have been corrupted by Eli as well.
Now there is hope. The mentally cleared Cosmic Ghost Rider could use his powers to transport the rest of the team to Hell. There they could help Robbie against the Celestial and also help Eli. But the question is- will the team be strong enough to stop a Celestial? Maybe a female Captain America or the new strongest weapon in the Marvel universe could help.
To know more about how the Avengers succeeded in dealing with the Cosmic Ghost Rider, click on the video below:
(Source: CBR.com and adventuresinpoortaste.com)