Yes, it happened. The internet actually proclaimed Henry Cavill dead.
We all remember how the Man Of Steel died in Batman vs Superman: Dawn of Justice, but that was on-screen and that was 3 years back. But the internet is indeed a funny place, and a dangerous one too.
Earlier today, Henry Cavill posted this picture on his Instagram that shook our nerves.
Yes, the Internet did declare Henry Cavill dead on 3rd March' 2018.
But how? Like seriously has the world gone crazy.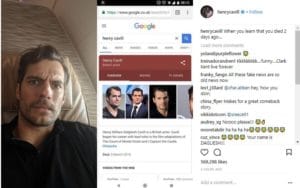 Given now the open editing of Wikipedia possible, people all around the globe are spreading really nonsense news everywhere.
And this one is probably the worse of them. This is really something the internet must have not joked about. No matter how much funny Henry Cavill's insta post is, but his fans are really angry at this news by Google.
Thanks for your feedback!