If we create a list of ideal superheroes, then Captain America will top the list, undoubtedly. The audience first met Steve Rogers, also known as Captain America in Captain America: The First Avenger (2011). It was the first MCU movie of the Captain America Franchise. Later, films like Captain America: The Winter Soldier and Civil War won the hearts of spectators.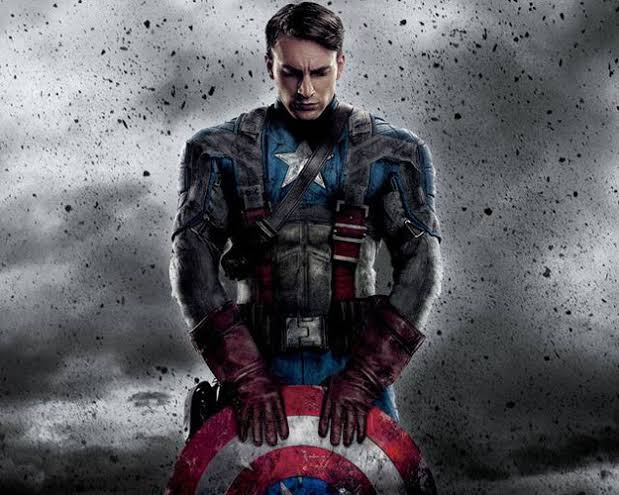 Steve Rogers is known for his huge muscles and fighting abilities. Whether fighting with a group of goons in the elevator or taking down Loki on his knees. Captain  always proved himself to the world, and here are 10 triumphant moments of Captain America that left us in awe of him:-
Captain America Battle Scene which made your jaw drop:-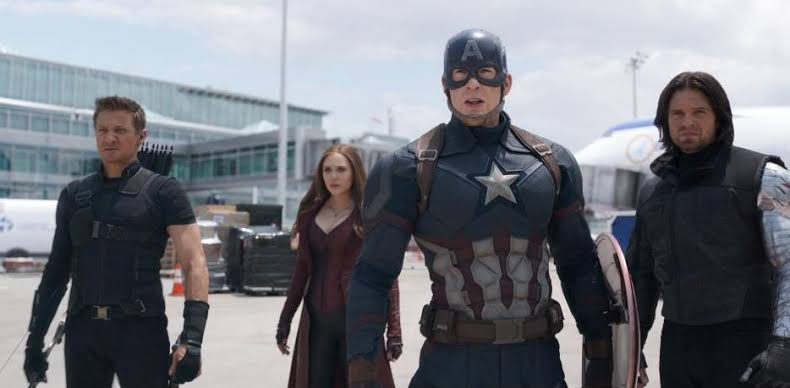 Moreover, the airport battle scene was the most epochal one in the history of the MCU. The audience saw the glimpse of it in the trailer of Captain America: Civil War. Spiderman's MCU introduction, the banter between Clint and Nat, and several other factors made the battle memorable. The epic moment of the whole scene is when Captain America hesitates to leave his comrades behind when Falcon tells him and Bucky to depart. Yet, makes the tough choice in order to chase the real threat. Fans loved this moment as it showed how he, even as a leader who is used to command his team members, took the advice of his partners seriously.
Captain America Highway battle Scene with Winter Soldier:-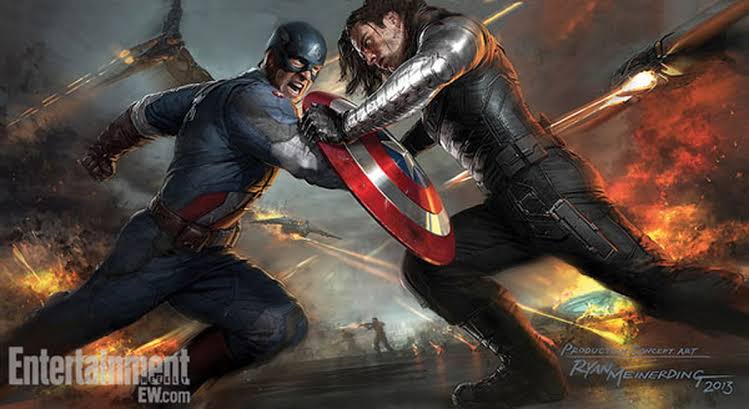 The highway fighting scene from The Winter Soldier truly does justice to Captain America's fighting skills. Winter Soldier's cold ruthlessness opposes Roger's protective nature. When the Winter Soldier was trying to kill everyone around him. Steve roger still uses restraint not to kill his rival; it enhances respect for this MCU character.
Civil War final fight Scene:-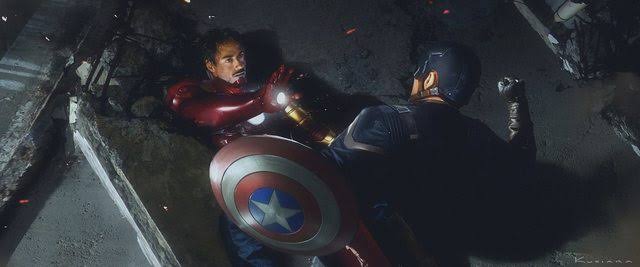 Civil War's last iconic scene marked history in the Marvel Cinematic Universe. In this scene, Iron Man blasts Captain America's shield by the motive to kill him. Further, Captain has to save Bucky, his friend, and he has to rescue himself. Initially, the audience is convinced about Captain America's death as Iron Man is set to place his armored fist right through Cap's face. But thankfully, Bucky's intervention helped his old friend to survive.
"I can do this Whole day":-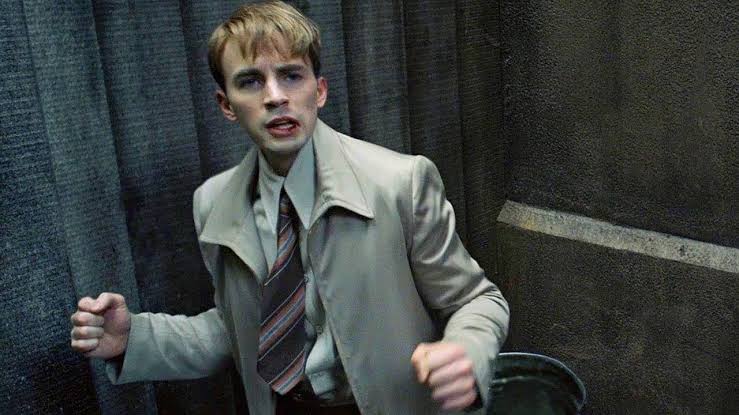 In Captain America: The First Avenger, several scenes showed the glimpse of winning on Cap's face. There was an incident when young men began shouting, "Who Cares?" in the cinema hall. That man's gesture made the surrounding people uncomfortable, but no one spoke. Only Cap speaks up about the matter, which results in the man beating him. Steve courageously takes his licks, knocking and crawling down to his feet, and says, "I can do this the whole day." Further, Cap did his level best during the fight, and Bucky later rescued him. At that time, Captain America did not have enormous power yet he fought for what is right.
Steve's Courage during the Basic training:-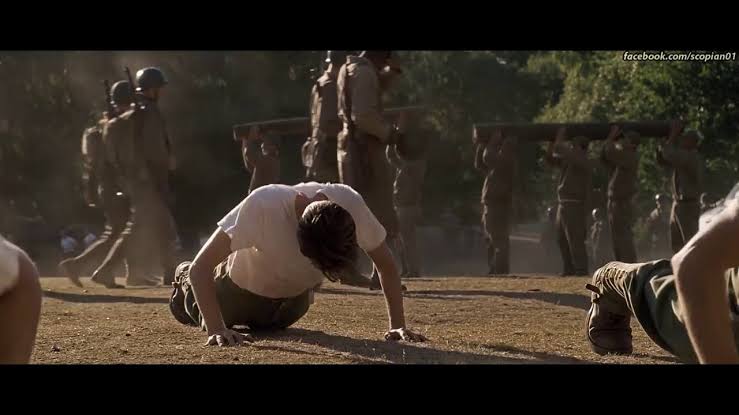 In Captain America: The First Avenger, Steve Roger's encounter with Dr. Erskine was quite a cool scene to watch. Fans know about the fact that Steve was a teeny-weeny and mediocre character for the country's military. When Jones' character casts a grenade in a group of soldiers, everyone shattered; But Steve dived on the grenade to save his fellow members. This courageous act impresses Dr. Erskine, especially when Steve asks "is this a test?".
Elevator Fighting Hydra Scene:-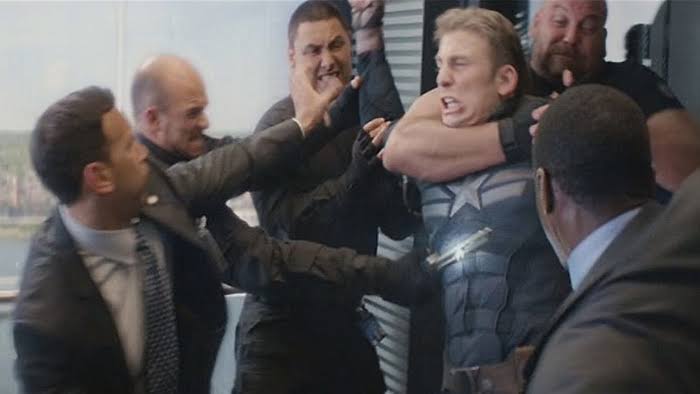 Captain America gets surrounded by goons, which proved his critical thinking during a tense situation. When the enemies wrapped Cap in plain clothes, his quick thinking, situational awareness, and combat training helped him escape from the elevator. Although this may not be the best Cap's fight, it was the moment he bests Alexander Pierce (Secretary of World Security Council and Hydra Director). He won two overmatched battles simultaneously.
Captain lifts Mjolnir to take on Thanos:-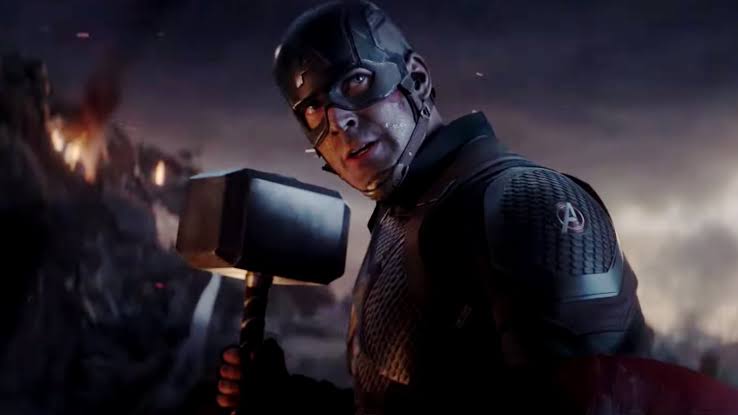 Avengers: Endgame broke several records in the field of entertainment. Fans feel hopeless for quite some time, especially when Thanos beats Captain America, Thor, and Iron Man. The battle seems to be lost, but at the exact moment, Cap lifts Mjolnir, which gives us all hope. The life of the scene was short-lived as Thanos beats Cap down with his blade and chips away at his shield. Later, Cap stands up on his feet with the remaining shield to his arm. The evidence of his sacrifice is proved when Sam Wilson's voice came over Cap's radio, echoing Cap's "on your left," from The Winter Soldier. It shows fans how the Captain really helped in prolonging the fight such that the Avengers might win.
Captain America helicopter scene:-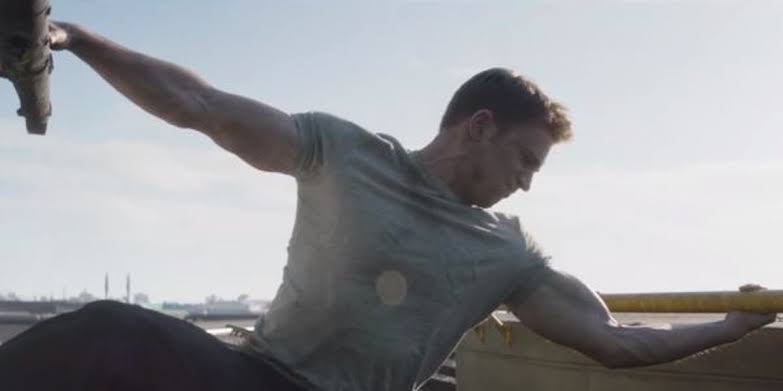 When Zemo reactivates the Winter Soldier in Bucky, Captain needs to fight with his good old friend in Civil War. Captain knows that Winter Soldier is more than a force to be reckoned with. Cap holds the helicopter by grabbing a landing skit. Fans really did go gaga over his muscles. When Bucky realized that he couldn't leave, he crashed the chopper into the river. This moment forced Captain to let him go. However, Bucky was knocked out and woke up again.
Battling the Red Skull:-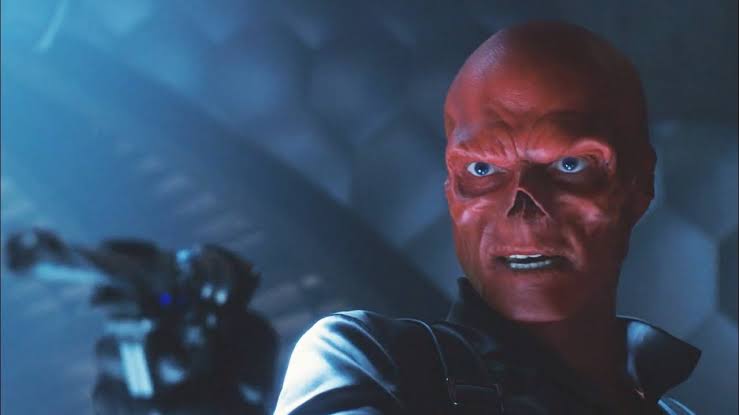 Captain America fights with Red Skull character and his energy weapon. When Cap is apprehended in Red Skull's base, he began a fight in handcuffs. However, Captain pursues Red Skull to a bomber carrying a weapon labeled for New York. Initially, Cap dispatched his shield so it was not with him and Red Skull has an energy pistol and rifle powered by the Tesseract. However, Cap recovered his shield and knocked the Tesseract. He ultimately won the fight!
Battle with Loki in Avengers:-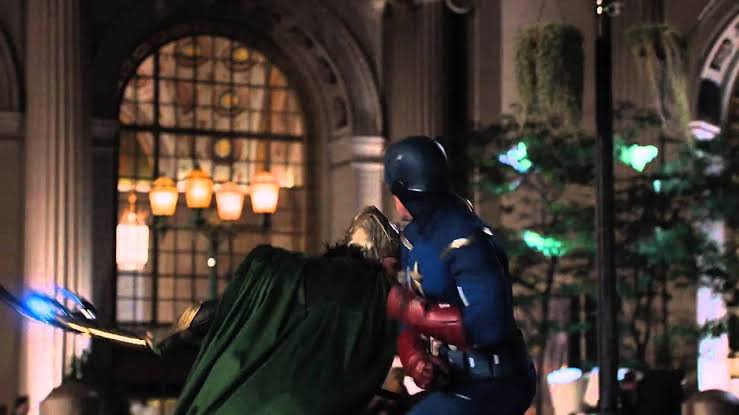 This scene of the Avengers was choreographed and shot beautifully. Captain saved the older man from Loki, an actual god, and yet holds his own. Captain lands awesome hits, for intance, a round kick to Loki's golden helmet. Later Loki surrenders himself, which shows the glory of Captain America.