A new photo from the sets of Avatar has just surfaced online, offering a sneak peek inside a human military aircraft, which is most likely headed for Pandora. Avatar 2 will be the first sequel to the highest-grossing film of all time and will certainly have a lot of expectations attached to it. The film is directed by James Cameron who has been hard at work for the follow-up to his highly successful 2009 sci-fi film, which introduced everyone to the world of Pandora. There are as many as four more Avatar films planned but there have been a lot of delays as Cameron works to develop the technology that will be needed to capture his vision. As of now, Avatar 2 is scheduled for release in December 2022.
As the premiere of the film inches closer, new details from the long-delayed film have emerged. It was shared by producer Jon Landau recently that the sequel will begin with Sam Worthington's Jake Sully and Neytiri, played by Zoe Saldana years after the first movie. They have since begun their family, but a new threat has forced them to leave their home and flea to the Na'vi – which is an underwater clan, also known as the Metkayina.
Set Photo From Avatar 2 Shows Inside Human Military Aircraft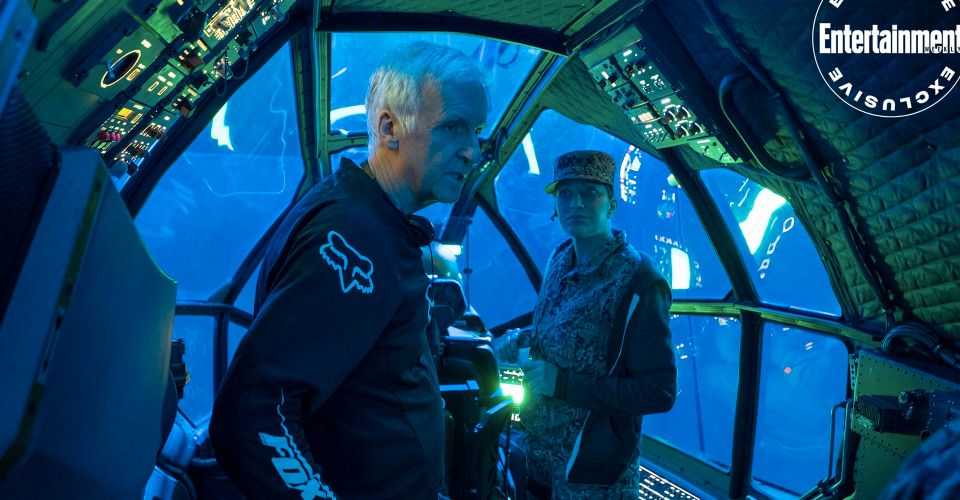 Avatar 2 will be spending enough time with Na'vi, there is a human story at play too. A new behind-the-scenes photo from Avatar 2 has arrived, thanks to EW and it showcases the inside of a human military aircraft that was seen in the first film too. The photo also shows James Cameron and newcomer Edie Falco who is dressed in military clothes. As per EW, this craft belongs to the RDA, which is the same organization that came to Pandora and wreaked havoc in the first film. Here's the image:
The return of dragon gunship hints that Avatar 2 will not just show the new side of Pandora from Na'vi's side as RDA's continuous exploration of the planet doesn't go well with the natives; in fact, it shows how their reach is growing exponentially. It could also be RDA's return that causes Jake and Neytiri to leave the forest. The above image gives us a glimpse inside the aircraft, proving that the humans' technology stays on top, which could be actually quite alarming to the heroes of Avatar 2.
Hopefully, there will be more in the sequel than a conflict with the RDA as Cameron's focus on the oceans of Pandora shows that the sequels will dig deep into this planet, but hopefully, we will see a compelling story to back the attractive visuals. Humans remain a clear threat in the sequel, but they won't be the only ones.
Thanks for your feedback!