The internet has a special soft spot for all things tiny and squishy, be it puppies, kittens, or infant versions of our favorite characters. So it is natural and obvious that after "Baby Yoda" debuted on The Mandalorian, his popularity grew and also lead to comparisons, in particular to a certain famous Disney-created baby, Baby Groot.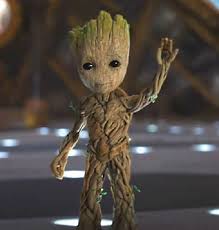 Was there an unheard of crossover no one knew about?
This is not an official meeting between the characters. Neither is it a crossover between Marvel and Star Wars. These characters have a lot of similarities. Apart from being adorable, they're both also inhabitants of galaxies far, far away, and have captured the attention of the internet with their bug beady eyes. So it was only natural that they meet each other. And it has been made possible thanks to Saruhan Saral (aka Mightraccoon!) a fan has taken the idea of the pair meeting to a hilarious (and precious) length and created an original CG short featuring the pair meeting.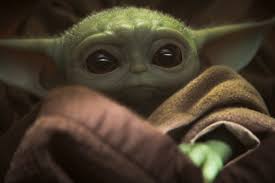 So, what happens?
 The animated short finds Baby Groot in the infamous dancing sequence from Guardians of the Galaxy Vol. 2 dressed in his uniform, dancing on an unnamed planet to music from a nearby boom box. We are then introduced to our beloved Baby Yoda, who finds and consumes a nearby frog. Only to discover a dancing Groot in front of him. He then goes to do hat The Child has been known to do on The Mandalorian, press buttons(obviously). The pair then go on to bicker after Baby Yoda continues to turn off Groot's music, building up to a confrontation which thankfully does not draw any green blood or splinters. You can watch the full short here.
Origin of this Pairing
The origin of this so-called 'matchup' between the two characters was started by Guardians of the Galaxy director James Gunn, who stated that: "Baby Groot would tear him(Baby Yoda) into pieces."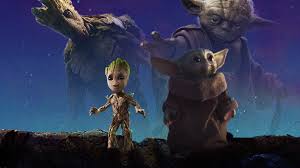 The apparent 'feud' even made it to Saturday Night Live, who got in on the comparisons between the two with Kyle Mooney taking on the role of the beloved Star Wars character during the show's "Weekend Update" sketch to talk about the latest happenings in his life. Bordering on the edge of risque, Mooney's Baby Yoda took a rather interesting turn and divulged some information, like who slept with whom on the set of The Mandalorian. 
And finally, the character summed it up by throwing some serious shade at Guardians of the Galaxy's Baby Groot, saying he'd 'snap the Marvel character like a twig.'
 The Walt Disney Company and Lucasfilm were able to blindside fans by keeping Baby Yoda entirely under wraps before his Disney+ debut, which means precious official merchandise featuring the character was available just in time for the 2019 holiday season. And it seems that their tactic worked out pretty well as toy and merch manufacturers have recently revealed possible plans for 2020 which are to include an elaborate Baby Yoda plushie, which as of now sold out on Amazon months before its release.
Source: Comicbook