Netflix has come a long way from the days when it used to just consist of shows that most viewers would hardly notice. The Netflix Originals have gone to win Emmys and even Academy Awards and more content keeps coming!
They even started their animated shows and it offers a wide range of lists from anime to western-style animation and even ranging from children content to adult ones. Here are some of the best ones!
1. F is For Family
Bill Burr's F if for Family takes an unfiltered approach to his childhood and what it was growing up in suburbia back in the 1970s. Bill Burr has also voiced the character of Frank Murphy.
Frank is a short-tempered veteran who lives in the suburbs with his wife Sue and their three children. Frank works at an airport and has a penchant for shouting. The series celebrates everything about the 1970s; that includes the lifestyle, music, and every nostalgic thing out there!
2. Castlevania
The series is inspired by the popular video game series. And the fans had pretty low expectations keeping the history in mind, but Castlevania didn't disappoint.
The anime is dark medieval fantasy. It follows the last surviving member of the disgraced Belmont clan aka Trebor Belmont. He is trying to save Eastern Europe from extinction at the hands of Vlad Dracula Tepes. While Dracula and his vampires are preparing to get rid of humanity, Belmont is joined by his misfit comrades. They together are racing against time to find a way to save mankind.
3. Big Mouth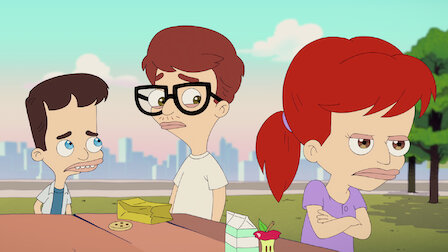 This Netflix original went on to win Emmys. The voice cast includes some big names such as Jordan Peele, Nick Kroll, Jenny Slate, Maya Rudolph, a few to name.
The show captures puberty quite perfectly and it affects a cartoon character too! Andrew is getting first-hand experiences about what a nightmare it is growing up. He has his friends Nick and Jessi with him who develop a budding romance along the way. This may or may not be a  show for the kids that age, but they could manage to convince their parents. According to the show, each child has a "hormone monster" acting as the worst "guardian angel" as they are dealing with so much at the same time. Be it changing bodies, crushes, family drama, the show deals with all.
4. Love, Death, and Robots
The show is a collection of animated short stories that offer many genres which include genres like fantasy, science fiction, comedy, and horror. The animation is world-class and is a visual treat for the viewers.
The anthology series includes tales that explore alternate histories and life for robots in the post-apocalyptic city and also a plot for world domination by super-intelligent yogurt.
5. BoJack Horseman
BoJack Horseman is one of the saddest and even the most hilarious animated series they made. A humanoid horse, BoJack Horseman is lost in life and decides it's time for a comeback. He was once the star of a 90s sitcom in which he had adopted 3 orphaned kids.
But time has passed and the show was canceled. 18 years later, he wants to gain his dignity back. The show has the power to change the way you look at life! There's no doubt that BoJack's legacy will live on for decades to come!