A movie doesn't have to be fun only because of its jokes or characters doing silly things to make us laugh. Gone are the days when we would laugh at someone doing tricks. The makers have up their game with inculcating sarcasm and fluent comebacks to improve the quality of comedy in movies. Fluent comebacks and sarcasm are two things that we enjoy, don't we? These two can be mixed with any genre, and the result is always amazing! For instance, look at MCU movies. They are a perfect blend of action, drama, sarcasm, and great comeback lines. So, here are a few movie burns and comeback lines in films that we love. They feel as if they come straight out of hearts. Check it out!
1. Black Panther
Shuri is the queen of comebacks. Throughout the movie, she showed us her various sides, and her sarcastic side was the most seen and appreciated. It was hilarious when Shuri teased Agent Ross that he wasn't in Wakanda but Kansas. The way she delivered the dialogue was awesome.
2. Spider-Man: Far From Home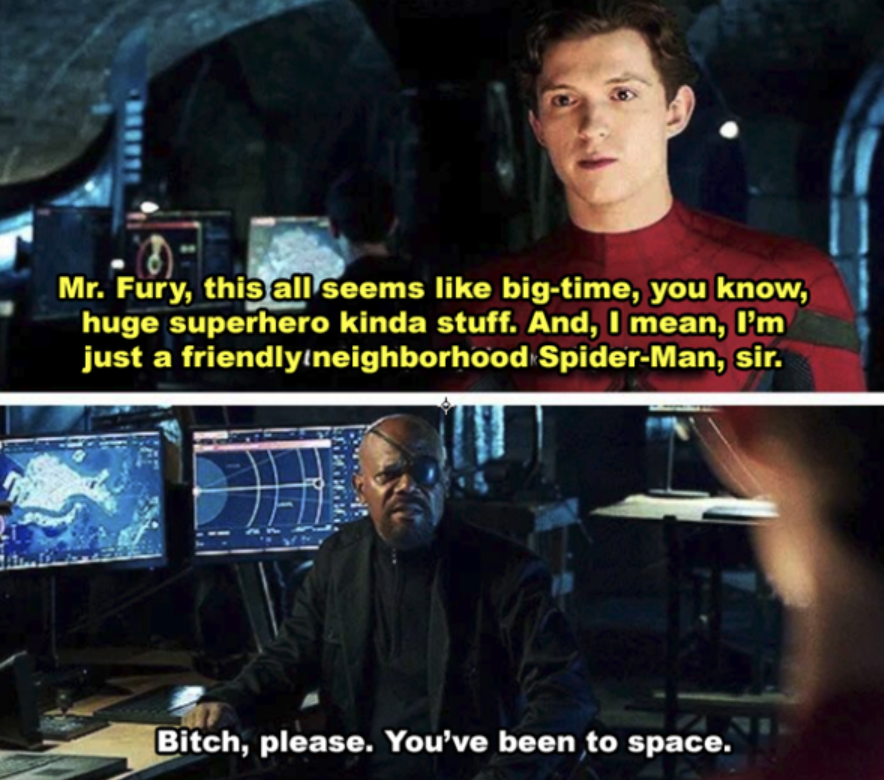 It was really funny when Nick Fury was done with Peter Parker/Spider-Man's (Tom Holland) drama of being a friendly neighborhood Spider-man. Nick's comeback was iconic!
3. Crazy Rich Asians
When Astrid respectfully told off her husband that it wasn't her job to make him feel like a man (something she felt he wasn't) was a classic moment!
4. Bridget Jones's Diary
The scene where Bridget quits her job most epically with this dialogue of hers gave all of us the courage to not take anyone's BS and stand up for ourselves. You go, girl!
5. The Avengers
The scene above speaks for itself! Hulk>Loki, or Loki>Hulk? What do you prefer?
6. I, Robot
Detective Del takes no one's BS! So, think before you speak.
7. Legally Blond
The scene in which Elle puts off Warner when they reunited at Harvard Law School was ICONIC! That was a quick comeback!
8. Avengers: Infinity War
Almost every scene when Iron Man and Star-Lord met in Avengers: Infinity War was funny, but the one above was particularly funny because of Iron Man's comeback!
Thanks for your feedback!