No one is more startled than the Harry Potter actors that the first film, Harry Potter and the Sorcerer's Stone, has been in theatres for 20 years.
"I don't feel like we've earned a reunion yet," Rupert Grint stated in the Harry Potter 20th Anniversary: Return to Hogwarts trailer. Seated in an armchair in the Gryffindor common room, Harry and co-stars Daniel Radcliffe and Emma Watson marvel at how it feels like such a long time and yet such a little time since they filmed these amazing films.
With no presenter, the interviews and experiences have a new emotional impact, accompanied by behind-the-scenes videos, film excerpts, and a quirky tune by Charlie Mole.
There's a lot to enjoy, but here are our top five best Harry Potter 20th Anniversary moments: Back to Hogwarts:
Emma & Tom's Story
Emma Watson and Tom Felton confess their love for one other about midway through the program. The actors, who delighted Harry Potter fans by hanging out as adults, spoke glowingly about each other and their connection in separate talking heads. It's a friendship that, according to Watson, has never been romantic, but it clearly means a lot to both of them.
It's a great scene, heightened by Watson's comparable bonds with Radcliffe and Grint, which transcend the categories of buddies or brothers. Her friendship with Felton stands out due to the years that have passed between them and the few scenes they have had together. It's hardly the star-crossed romance of Draco/Hermione shippers' imaginations, but it's perhaps far more lovely.
They Played Pranks
Radcliffe and director Chris Columbus describe an unintentional trick on actor Richard Harris in a dialogue staged in Dumbledore's office. Harris, who portrayed Dumbledore in the previous two films, appeared alongside Radcliffe and a CGI phoenix in Harry Potter and the Chamber of Secrets. He mistook the replica for a real bird since it was so lifelike. Columbus used the young Radcliffe's fancy for the performance since he didn't dare to reprimand him. Harris died after the second film, so he spent the rest of his life believing it was a genuine phoenix.
On Shoot Shenanigans
You're certain to have some inside jokes if you work with the same individuals for ten years. Many of the performers, who were youngsters when the films began, recall what it was like to be a hyperactive child on a blockbuster movie set. Radcliffe, Watson, and Grint recall playing "slaps," a clever game in which you try to smack your opponents' hands to test their reflexes.
They also recall the Great Hall's famous floating candles falling from the ceiling due to the flames burning through the threads that kept them up. In a solo interview, Radcliffe discusses raging hormones on the set of Goblet of Fire, and the trio also recalls a burial ceremony for Watson's hamster. Meanwhile, James and Oliver Phelps and director Mike Newell remember a scene rehearsal that broke the director's ribs. 
Even in a feature-length special, you get the sense that this cast could talk about their experience for hours, and they probably did. Hopefully, HBO Max isn't done sharing the footage with us.
Much Awaited Kiss
Grint and Watson have been open about their dreaded kiss in Deathly Hallows – Part 2 for almost a decade. However, they return to it in this special – and to hilarious effect. A scene from the set shows Yates delivering the news that it would be shot later in the week, and even Watson's back of her head expresses the astonishment.
"What?!" Watson sobbed, leaning forward as though she had overheard. "How about this week?"
From their common room seats, she and Grint retell the horror, while Radcliffe laughs along. ("I've been told several times that I'm simply being a jerk about this," he continued.) Watson still views it as "one of the hardest things I've ever had to do," but Ron/Hermione lovers will like it.
The Chosen Ones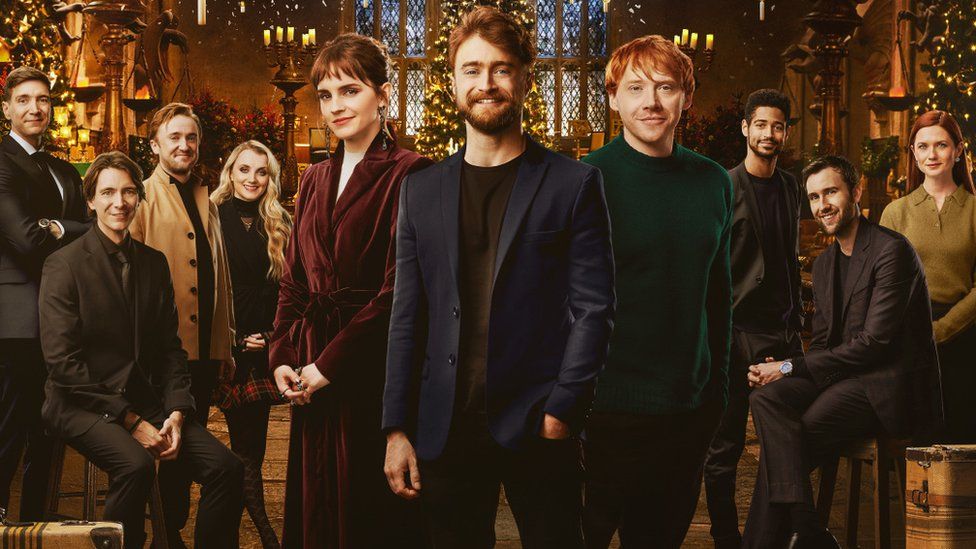 Return to Hogwarts, in its most somber moments, dwells seriously on adolescent celebrity and the type of unique circumstances into which its child performers were thrust. As they grew older, many felt motivated to pursue acting professionally and learn from the world's biggest actors. The road they ended themselves on, though, had a touch of loneliness to it.
"Even my name didn't seem like my name," Grint recounted of those years when their lives and personas blended almost imperceptibly. "I felt as if I only knew how to do one thing: play Ron."
Watson remembers feeling lonely as the only woman her age in the major cast. (Rumors circulated that she was leaving the series before the last films were shot.) Additionally, the three of them speak openly, albeit warily, about what they couldn't say throughout their early adolescence. How did it make you feel? Might there have been something that could have made it better? How has it influenced who you are today? Finally, they display no remorse.
"We were each quite strong for each other," Watson remarked of this period.