Captain America star Chris Evans who is voicing the legendary space ranger in the Pixar film Lightyear has created a lot of buzz recently. Chris Evan is getting positive reviews for his work in the film. However, the Captain America star seems not so good when it comes to his picture posing skills. Chris Evan recently visited Disneyland's Disney California Adventure Park and got his photo clicked in front of Pixar Pier with some iconic Disney and Pixar characters. The photo of the MCU and Disney Star quickly went viral because it looked like he was photoshopped into them.
Checkout, Is Chris Evans Upset after MCU replaced him with Anthony Mackie for Captain America?
Chris Evans took Twitter to respond
I promise I'm not photoshopped into these! I just have a very disciplined pose. 🤦🏻‍♂️

(And I don't know what to do with my hands) https://t.co/oiVadwg3s7

— Chris Evans (@ChrisEvans) June 12, 2022
Fans accused that the photo is photoshopped when actor Chris Evans was in good company at Disneyland. Evans posed alongside Mickey Mouse, the Incredibles, and other Pixar staples that looked adorably awkward. Chris Evans reposted the photo shared by Pixar on Twitter to the "accusations" that the photos were photoshopped. He promised the fans and promised that it wasn't "photoshopped" by saying, "I promise I'm not photoshopped into these! I just have a very disciplined pose. (And I don't know what to do with my hands)."
Checkout, 'Are you trying to set me up with her?': Chris Evans Seems Interested in Shakira After Recent Split-Up
Chris Evans and his simple pose trademark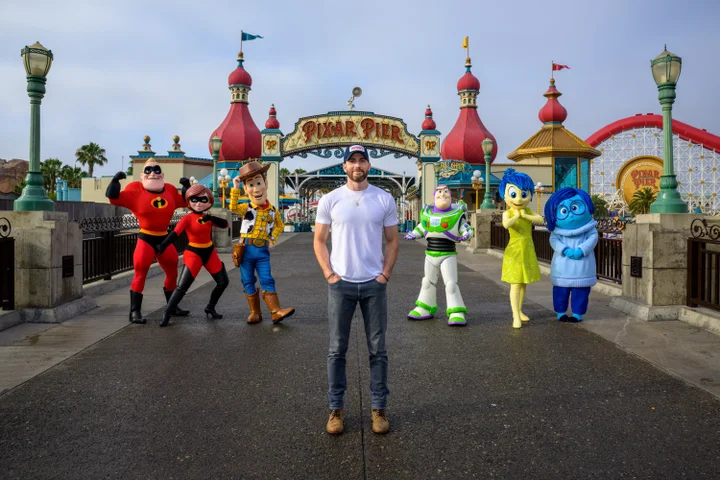 Chris Evans is known for simple poses in his photos. The Captain America star likes to stick his hands in his pockets and give the camera some blazing seriousness look. However, that look fits in fine on the red carpet but not so much at Disneyland. Many actors have a very specific way of posing, but Evans keeps his hands in his pockets and solid posture while posing. 
Checkout, All 8 Comic Book Characters Chris Evans Has Played In The Movies, Ranked
Pixar's Lightyear
So far, Lightyear has gained some early positive reviews for its story, emotion, and humor that tells a profound story about a man at the intersection of his past, present, and future. Starring Chris Evans, James Brolin, Keke Palmer, Taika Waititi, and many other stars, Pixar's Lightyear opens exclusively in theaters on June 17. 
Thanks for your feedback!