Kristen Kylie Jenner is a 25-year-old American media personality, socialite, and businesswoman. In addition to enjoying massive social media followings, the mom of two started her career by appearing on the E! reality television series Keeping Up with the Kardashians. She is also the founder and owner of the cosmetics company Kylie Cosmetics. Whether it's hot Instagram pictures or elegant fashion attire, the famous beauty mogul never fails to impress her fans. Despite being romantically linked with a number of entertainment industry artists, Kylie Jenner and Travis Scott's relationship has been adored by millions of fans.
Did Kylie Jenner and Travis Scott break up?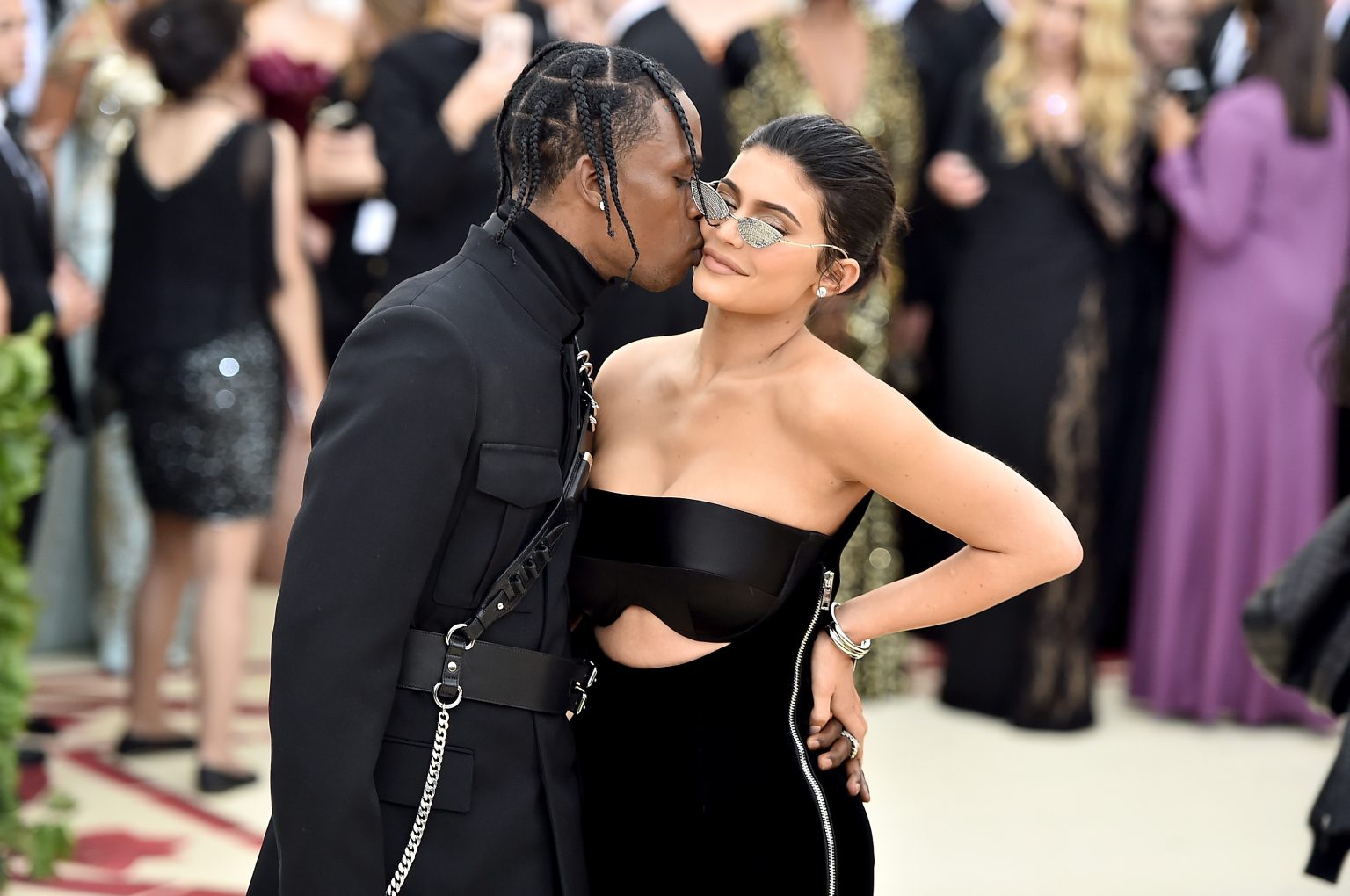 Jenner and Scott's relationship has long been a topic of conversation, and their on-again, off-again romance is noticeable. Last year, the couple went on a break until it was announced that she would give birth to their second child in February 2022. The couple, who had been dating since 2017, formally called it quits in early January 2023, according to reports. The pair were first linked in April 2017 when they were sighted together at Coachella and then made their romance public at the 2018 Met Gala.
Also Read: 'Where's the respect?': Kylie Jenner Blasted by Fans for Using 'Insensitive' Astroworld Branding at Kids' Birthday Bash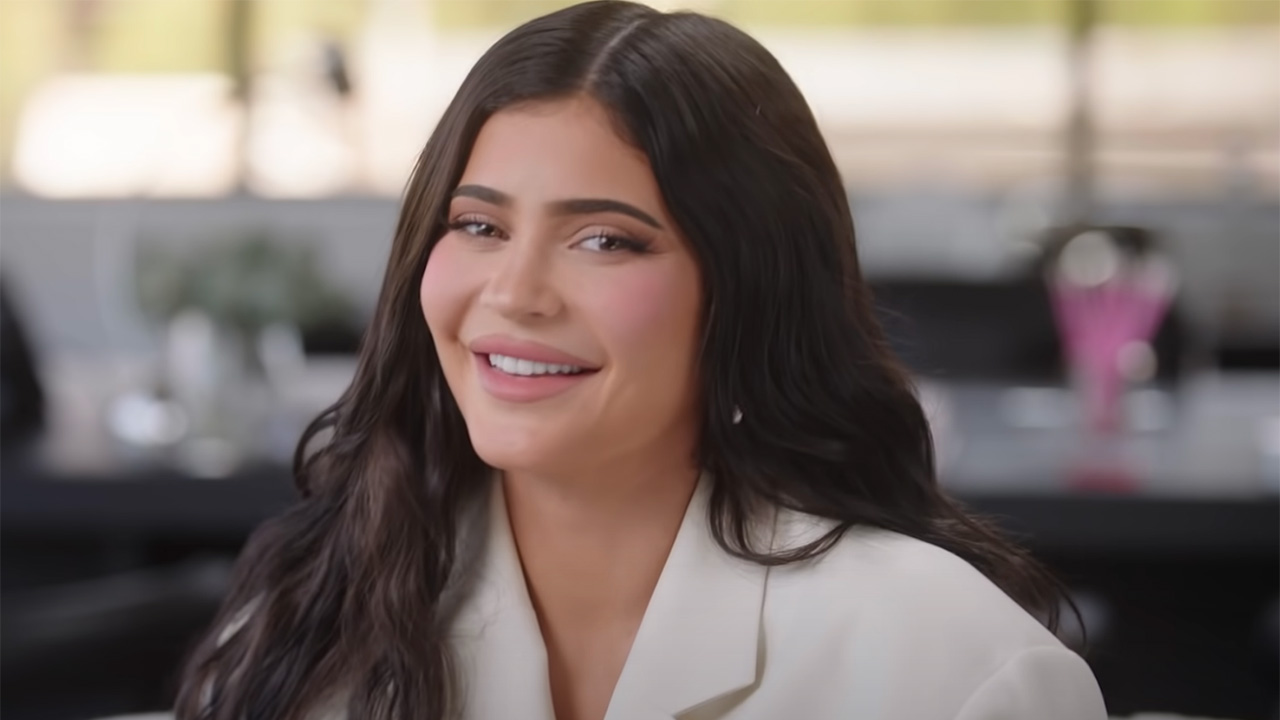 Despite their ups and downs, the couple continues to support their children, daughter Stormi, 5, and son Aire, born in early 2022. Following the speculation about the supposed couple's recent separation, another unnamed source told Entertainment Tonight that the couple is taking a break due to their different lifestyles.
Also Read: 'This woman has black children. So disgusting': After Lion Head Dress Scandal, Attention Seeker Kylie Jenner Shocks Whole World With Racially Offensive Noose Inspired Necklace
As soon as news of Scott and Kylie Jenner's alleged breakup became public, the socialite was seen enjoying Valentine's Day alone. The actress was seen celebrating the romantic day with her best friend, Stassie Karanikoltvaou. On February 14, 2023, the reality television personality shared a series of friendly images on Instagram with the social media sensation.
Kylie Jenner kisses BFF Anastasia Karanikolaou on Valentine's Day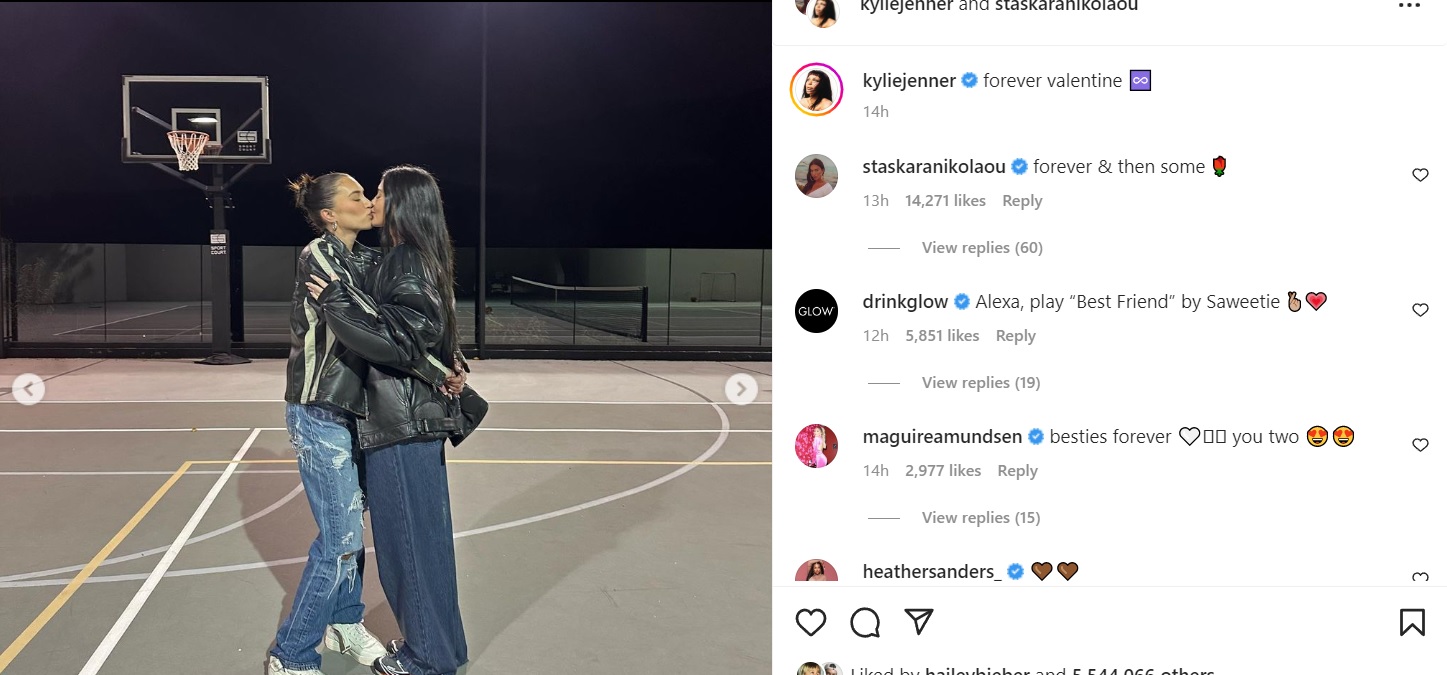 In the pictures, the two hugged, laughed, and even shared a kiss, shocking her admirers. Jenner and her close friend were photographed on a basketball court while sporting huge leather jackets, loose trousers, and sneakers. While Karanikoltvaou appears seductive in a sleek bun, the billionaire looks lovely with her hair left open. Jenner can also be seen kissing her companion on the lips in one image. She posted these pictures along with the caption, "Forever Valentine."
The internet is ablaze with excitement over Kylie Jenner's Valentine's Day photos. So much so that questions are swirling around on Twitter. While some users argued that closest friends shouldn't typically kiss, others responded, "Girls kiss all the time just for fun LMFAO this isn't new and it's not queer baiting." Read some of the tweets here.
1. Real people can't queerbait
2. Just say you have no friends

— zia / ジア (@nvrzia) February 15, 2023
real ppl can't queer bait they're not a show using queer seeming promo to appeal to audiences and then not giving it to us that's not what this is. you don't know if this is platonic or not bc surprise! ppl can just kiss. and if it's not you don't know her sexuality anyway.

— Draculaura (@n0tyourbabe_) February 15, 2023
Girls kiss all the time just for fun LMFAO this isn't new and it's not queer baiting

— Alice🏎️ (@alyrosef) February 15, 2023
Can we stop assuming that everyone is queerbaiting it's not a rule where you have to shout your sexuality to the world . Somethings can be just applied. Kylie always seemed like a bi type a girl

— Kelsey ❤️🇦🇲 ♎️ (@juicy2547) February 15, 2023
I know what you are

— Cᴀʀᴛɪᴇʀ. (@CartiersSaint) February 15, 2023
Also Read: Mystery Behind Kylie Jenner's $1 Billion Empire: Did She Lie About Her Net Worth?
Stassie Karanikolaou, on the other hand, is dating an influencer named JXDN, a 22-year-old TikTok singer, and they reportedly spent Valentine's Day together.
Source: Instagram