"I don't care what anyone says, this Fantastic Four cast will never be beaten." – @xaviersfilms on Twitter.
From this take came a lot of ideas from Marvel fans who have been quite faithful stood by Human Torch, Thing, Mister Fantastic, and Invisible Woman from one film to the next. On Twitter, the Fantastic Four handle offered their takes on new foursomes that make for some excellent entertainment. The responses have been enlightening and funny.
Here are some of the best:
The Perfect Fantastic Couple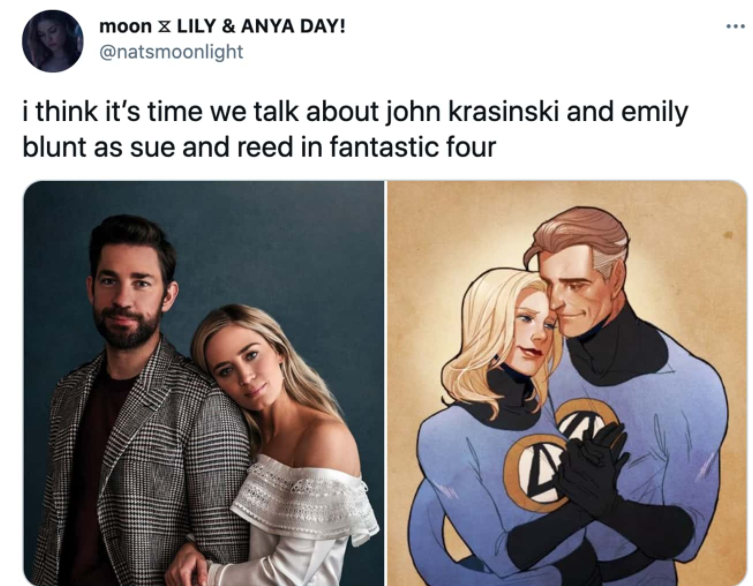 As Fantastic Four is set to make an MCU debut, we feel that this couple starring John Krasinski would be just the perfect choice.
A Suggestion That Turned Out To Be 'Pretty Great'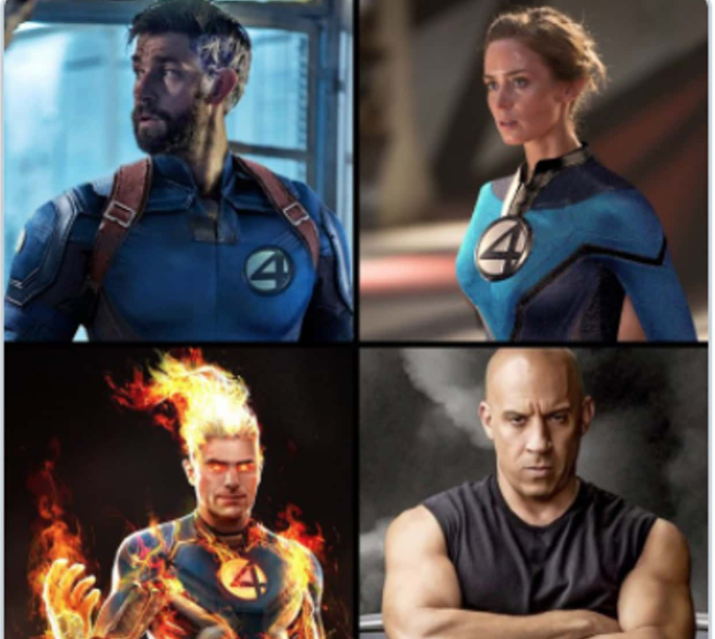 With this star-studded cast, this has dope written all over it! The Marvel Cinematic Universe, Fantastic Four reboot has been around more rumors this past week. It's quite safe to assume that Fantastic Four is an anticipated MCU movie of the ongoing Phase 4, yet Marvel Studios still won't reveal anything about its cast or the potential release date.
For Your Own Consideration
just dropping my Fantastic Four fancast on the timeline 🙂 pic.twitter.com/y6b06e8WKY

— Luke (@qLxke_) April 13, 2021
An actual Fantastic Four film announcement might be around the corner if these new leaks pan out well. Firstly, we came to know that Jon Watts' upcoming project would reportedly be Fantastic Four. A Marvel insider has claimed that MCU has even started casting the Fantastic Four team.
User Name Checks Out
How about this Fantastic Four? pic.twitter.com/2BhrLvv7yr

— Turtle Pictures (Now with Tortoises and Frogs) (@Turtle_Pictures) April 14, 2021
All for the humour, is it?
A Fangirl's Four – List to remember
(My) Fantastic Four Casting:
Rahul Kohli as Reed Richards
Constance Wu as Sue Storm
Harry Shrum Jr. as Johnny Storm
Jason Statham as Ben Grimm pic.twitter.com/aVrkGZs3oD

— Fangirl Jeanne (@fangirlJeanne) April 15, 2021
A Community Effort By All
This is my Fantastic Four fancast pic.twitter.com/SJvU1TFD9O

— Community (TV Show) Fans (@CommunityyFans) April 15, 2021
Well, we hope it turns into reality! OH, HOW WE WISH!
oh it gets better pic.twitter.com/sJAEWBHmhy

— Community (TV Show) Fans (@CommunityyFans) April 15, 2021
This has no Assembly Required
Fantastic Four Fancast? Here's mine.
Jerry = Reed Richards
Elaine = Sue Storm
Kramer = Johnny Storm
George = Ben Grimm#FantasticFour pic.twitter.com/blkunUvo8S

— mikey (@mikeyil) April 15, 2021
A Classic Take To Remember!
Everybody casting the Fantastic Four.
You're welcome pic.twitter.com/LAt8NtmczH

— Cʜʀɪs Sᴛᴇɪɴ (@chrissteinplays) April 15, 2021
Lets go To A Good Place
My dream Fantastic Four casting. pic.twitter.com/u055cNTxmP

— James Kaplan (he/him) (@sinisterjhk) April 15, 2021
Can't Get Enough at all
Telling my kids this is The Fantastic Four pic.twitter.com/917qthxe8S

— Chad Opitz (@chadopitz) April 14, 2021
It's Finally Time To Get Things Started at MCU…
They just started casting for the Fantastic Four

— MyTimeToShineHello (@MyTimeToShineH) January 12, 2022
Fox did come up with two Fantastic Four films some ten years apart, the last in 2015. The cast for the 2005 Fantastic Four movie had: Ioan Gruffudd (played Reed Richards), Chris Evans (Johnny Storm), Jessica Alba (Sue Strom), and Michael Chiklis (played Ben Grimm). The same crew made an appearance in the 2007 sequel Fantastic Four: Rise of the Silver Surfer.
Thanks for your feedback!