Remember Harley Keener? The little kid from Iron Man 3..?
Harley Keener was played by Ty Simpkins in the Iron Man movie and was the original character in Iron Man 3 who did not have a marvel comic book counterpart.
In the movie he had helped Tony Stark in rebuilding his suit after his home was destroyed.
And Tony Stark ended up developing a liking for the kid and they both became friends. As a result, Tony ended up gifting Harley new tech and equipment after the defeated Aldrich Killian.
Harley was also seen in Avengers: Endgame at Tony Stark's funeral.
However he has not been seen in the MCU since that incident, however maybe Marvel has bigger things panned for Harley Keener.
This character from the Marvel Cinematic Universe is about to make their debut in the comic book and Harley Keener is set to co-star in the W.E.B. of Spider- Man series.
Harleey is all set to play a role in the upcoming Avengers Campus tie-in comic, which could possibly mean a greater role in the Marvel Cinematic Universe in the coming times.
The Marvel Comics released a new preview of W.E.B. of Spider- Man issue number 1 by Kevin Shinick, Alberto Alburquerque, Rachelle Rosenberg and Travis Lanham (H/T Monkeys Fighting Robots), is going to tie the story to the recently introduced  Avengers Campus.
This comic also had to be delayed due to the Covid 19 pandemic.
In the comic book, Peter Parker arrives at the Worldwide Engineering Brigade (W.E.B) where he has given the task to lead a group of really intelligent and smart kids which Tony Stark had put together.
Thus Peter Parker has some insanely talented and smart colleagues at the W.E.B which include Harley Keener, Lunella Lafayette and Onome.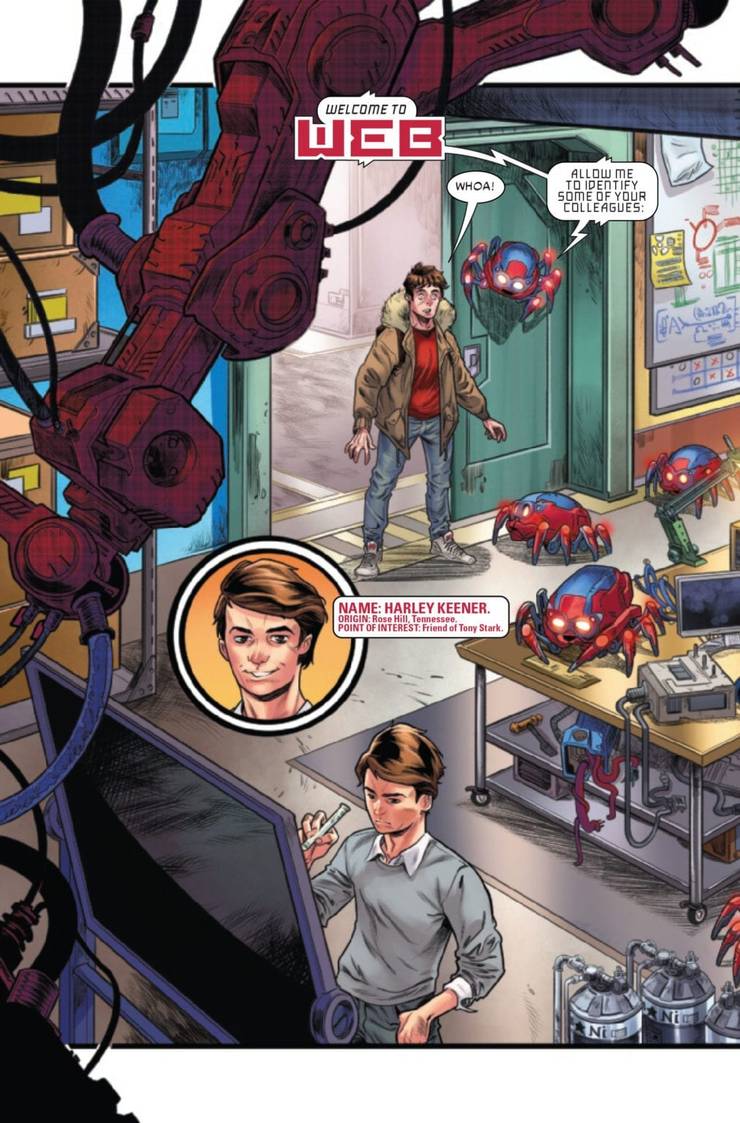 Harley Keener's identifier shares his origin of Rose Hill, Tennessee and his point of interest says he is a "friend of Tony Stark."
Even though it might not seem like a big deal to include Harley in the group of the "talented kids" but seeing his story continue in the tie – in comic could probably be hinting at much larger plans for this character from the movie.
Considering the very fact that Harley Keener made an appearance in Avengers : Endgame's funeral (we all were very surprise) scene and now he is being introduced in a tie –in comic for Avengers Campus which means that we are still to see a lot about this character.
Harley has never made an appearance in Marvel Comics before so there must be a reason on why he is being introduced specifically in this Avengers comic.
Irrespective of if he appears in the Marvel Cinematic Universe once again, it is going to be very exciting to see him make his comic debut as all fans kept wondering post Iron Man 3 if they would ever see him again.
It wouldn't be surprising to see W.E.B. of Spider- Man would be a comic that would be laying a plot to introduce some characters in the upcoming MCU projects alone with Harley Keener !