James Gunn unveils a behind-the-scenes picture from The Suicide Squad, featuring an unexpected cameo from Adult Swim's iconic short film, Too Many Cooks.
An off-the-screen picture from the movie The Suicide Squad showcases an unexpected Easter egg from an Adult Swim classic.
Writer/director James Gunn posted a picture on Twitter with the caption "Calendar Man and Friends." The photo is clicked from the Belle Reve Correctional set and shows Sean Gunn in costume as Calendar Man and Jared Leland Gore as Double Down, with fellow inmates and other officers. Above Gore's shoulder, readers can notice the face of actor William Tokarsky, popularly known for portraying the unnamed slasher in Adult Swim's brilliant short film, Too Many Cooks.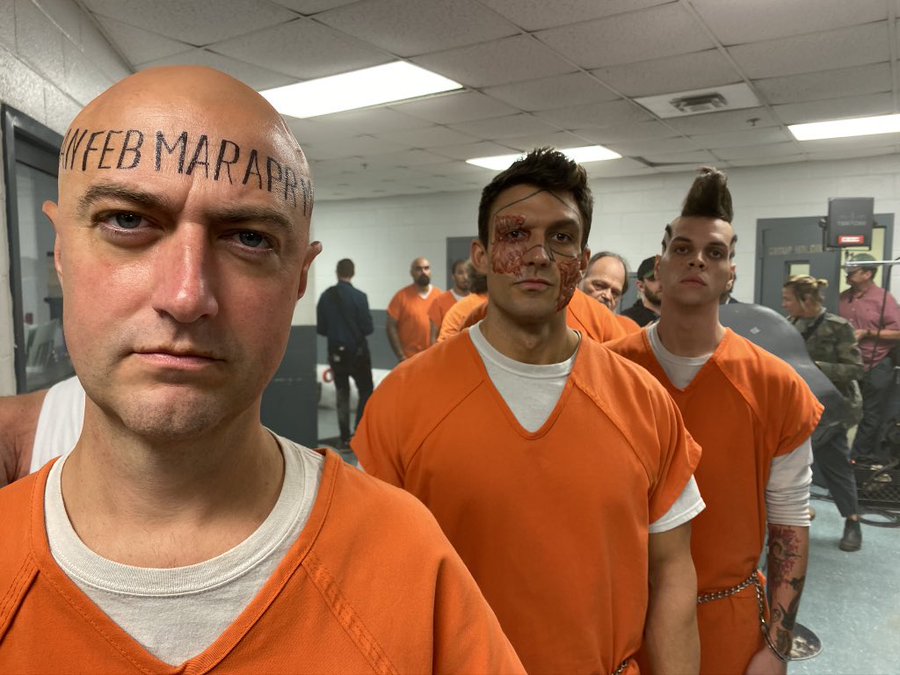 First released on Oct. 28, 2014, Too Many Cooks was written and directed by Casper Kelly, who initially worked with the network on projects like Stroker & Hoop and Your Pretty Face Is Going to Hell. The short film was a parody/spoof of sitcom opening credits, in which a happy song introduces audiences to the many members of the legendary family of Cooks…and then doesn't take a halt for a few minutes. As the video goes on, the scale and genre of the theme music keeps changing, going from a family-TV sitcom to a police procedural to a soap opera to a sci-fi epic and then back again. Halfway through, a rebel stranger (played by Tokarsky) can be seen peeking from the background in some of the scenes. He then starts slaughtering his own cast members as soon as they are introduced, even crossing the boundaries of the show's reality to do it.
Too Many Cooks was a huge hit upon its release, with Star Wars: The Last Jedi director Rian Johnson stated that it is, "no joke," and the show deserves to be nominated for the Academy Award for Best Short Film. In 2018, Kelly attempted releasing another short film for Adult Swim, Final Deployment 4: Quest Battle Walkthrough, which mostly mocked video game live-streamers. He termed it as a successor to Too Many Cooks.
The Suicide Squad will be available in Blu-ray and DVD on Oct. 28.