Everyone is familiar with two of the most popular guys from WrestleMania. Both of them have found their niche in acting for various Hollywood movies. But it turns out John Cena and Dwayne "The Rock" Johnson have been feuding for a really long time ago. John Cena has made his dislike for The Rock very obvious during his interviews.
The Cena-Rock Feud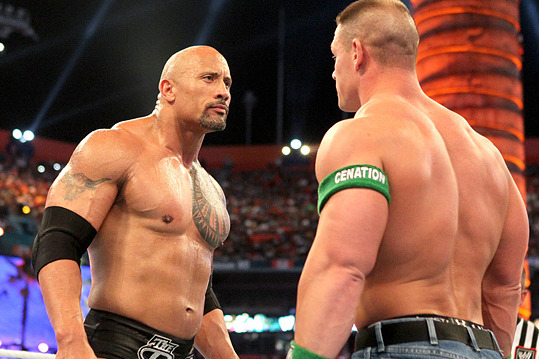 In 2008, John Cena was the number one star in the company. He always opened up saying how he didn't like the fact that The Rock left pro wrestling league to pursue a Hollywood Career.
Just don't f— me around and tell me that you love this when you are just doing this to do something else," Cena said in an interview at the time. "That's the only thing that gets me pissed off."
Squashing the Feud
John Cena recently appeared on the Tonight Show with Jimmy Fallon, where he revealed a few insider details. John says, "The Rock and I are most known for our great WWE feud that broke WWE pay-per-view records, and we talked a lot of trash about each other. We also had a follow-up match a year later. So we spent a year making fun of each other, and then one night beating each other up. Then we're like 'Did we just become best friends? Yep.' So basically, we were able to set aside our differences on that night. In the next year, I got more chances at opportunities."
John Cena explains how Dwayne Johnson helped him forge his acting career. Cena also claims that during his audition for the movie Trainwreck, he went up to Johnson to take his advice. Johnson just told Cena to be himself because that is precisely why he was asked to audition in the first place.
John Cena's upcoming movie Playing With Fire is hitting the theatres on November 8.
Check out the trailer for Playing with Fire below:
Source: Comicbook