Since the Thor: Love and Thunder dropped fans have been speculating about what is next for the Odinson after he has lost everything. One of the prominent Avengers from the MCU, Thor will be on a journey of self-discovery where he encounters Gorr The God Butcher played by Christain Bale. With a tribute to Loki in the trailer, there have been many mysteries that are yet to be solved. 
What made fans believe about Thor's death?
In the starting, Korg is seen referring to Thor in the past tense which has convinced the fans that he will die in the movie to pass the mantle of Mighty Thor to Jane Foster. As the trailer opens, Korg is seen narrating the story of Thor to the Interdites. Korg refers to Thor as "he WAS no ordinary man, he WAS a god."
Checkout, Thor: Love and Thunder – Gorr Memes That Are Taking Over The Internet
Fan's reactions to Thor's death 
Since the fans noticed Thor Odinson's death, they tweeted their theories and concern about the superhero!
RIP Odinson pic.twitter.com/udvUoRqLwW

— Adam Barnhardt (@adambarnhardt) May 24, 2022
Fans also googled what the statement could mean for the future of Thor Odinson
Well "Was" means past tense, but let's be honest it will be a bitter sweet ending if he does die and we see him, his father, mother and Loki all waiting for him pic.twitter.com/2bZ5H70y5B

— AndresEd (@AndresSRobles93) May 24, 2022
I'm extremely concerned this is setting up Thor's death. On the one hand, it makes sense. Chris has been in the role for a decade, is likely ready for a change, and setting Jane/Natalie as the new Thor paves the way for a new era of Avengers/MCU…but…come on, please nooo! https://t.co/fFdlCoFXsT

— BSwitch (@BSwitchWoW) May 24, 2022
Fans have accepted Jane Foster as Mighty Thor as she could be an addition to the next Avengers team-up. 
He would, Sorry about this 👀 but in the next phase there is only a female Thor and I'm mad we never witnessed prime Thor before his death… Hope this movie changes that https://t.co/W2nXBRGvat

— 💩the Asaro That Made You Purge (@AsaroThe) May 24, 2022
Frankly I hope he does. I hope they do the thing from the comics where he realizes Gorr is right and the gods are awful, but rather than giving up his power (I'm pretty sure that's what happened, Fury tells him "Gorr was right" and he loses faith), they kill him. Great ending

— Zephyr | Chip🏴‍☠️ (@djss_exe) May 24, 2022
The last visual of the trailer also hints at Thor's death
Fans are eager to what the Odinson will do when he gets to meet his long-lost ex girlf friend after 8 years and the events of Thor: The Dark World. In the trailer, Thor is seen meditating near the sunset along with other planets. The place where Thor is seen sitting is rumored to be Valhalla: a special region of Asgard. 
Checkout, Thor: Love and Thunder Brings Back Marvel's Strongest Cosmic God – The Living Tribunal
It is a part where Asgard's warriors live forever in paradise. The scene where Thor is seen putting down his Strom Breaker could be an indication that Thor is done with wars.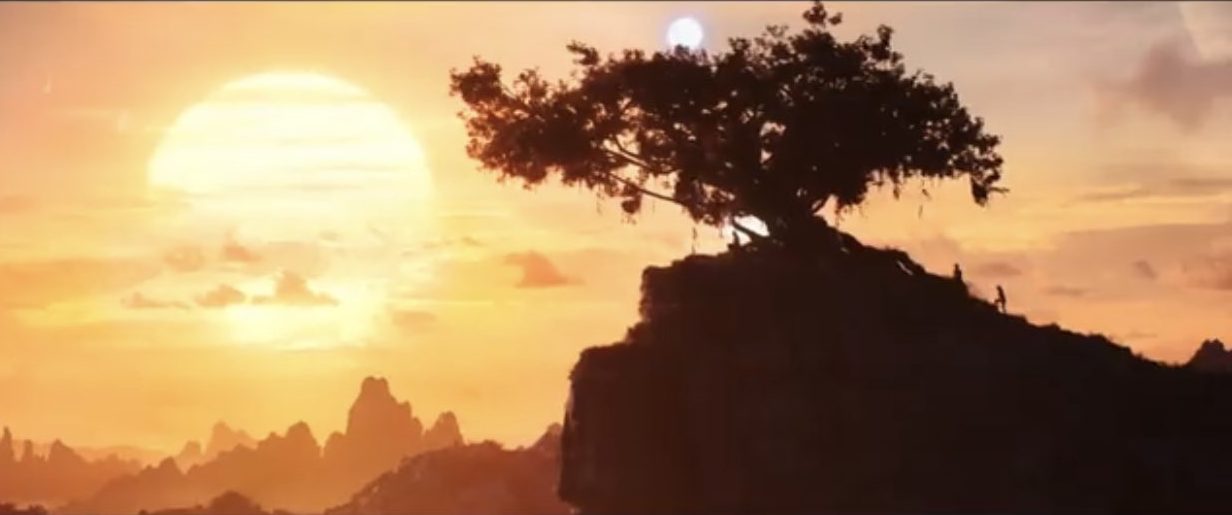 I think this is the final shot of the film. Thor leaves everything behind which is why he is putting down storm breaker. pic.twitter.com/TCIC0YrCyW

— Daniel Taiki Yazawa (@TaikiChow) May 24, 2022