North West is the eldest daughter of Kim Kardashian and Kanye West and has grown up in a family surrounded by professional celebrities. As her mother and aunt work in the beauty industry, the nine-year-old has acquired some tips and tricks for her makeup magic skills. As with her mother, North West has always been a hit among her fans for her TikTok videos and has been branded as a TikTok celebrity. Kim Kardashian's nine-year-old daughter is also passionate about art, and her parents have shared some of her creations with their fans in the past. However, North West's TikTok account is managed exclusively by her mother. This mother-daughter duo has now teamed up on TikTok with a new mother-daughter duo, Mariah Carey and her daughter. They were a great team and collaborated on a TikTok video in the SKIMS founder's home.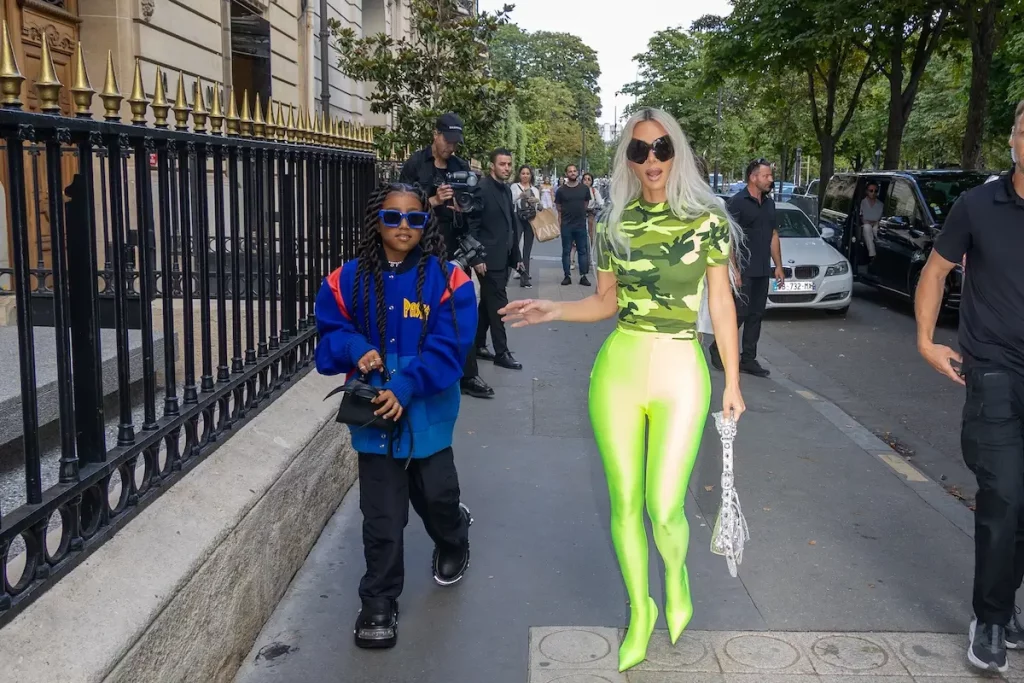 Mariah Carey is an American singer known for her five-octave range, melismatic singing style, and whistle register use. Those who enjoy classic Christmas music will be familiar with her iconic All I Want for Christmas is You. The song is similar to a goose laying golden eggs. Because of this famous song, she is called the "Songbird Supreme" and the "Queen of Christmas." During her relationship with ex-husband Nick Cannon, Mariah Carey gave birth to two children, a son named Moroccan Scott Cannon and a daughter named Monroe Cannon.
Also Read: Kim Kardashian is Literally Banking on America Shooting Down UFOs, Brutally Trolled for Alien Themed SKIMS Campaign After She Makes Models Wear Martian Masks in Their Underwear
Fans Slam Kim Kardashian And Mariah Carey Over Their TikTok Video With Their Daughters
In a recent TikTok video of their daughters dancing, the high-profile proud mothers unexpectedly teamed up for a humorous cameo. On Monday, Kim Kardashian, 42, and her daughter North West, 9, were joined by Mariah Carey, 53, and her daughter Monroe Canon, 11, to make a new fun TikTok video. During the clip, North and Monroe performed a routine to Carey's It's a Wrap when Kardashian and Carey appeared on either side and began singing into their hairbrushes.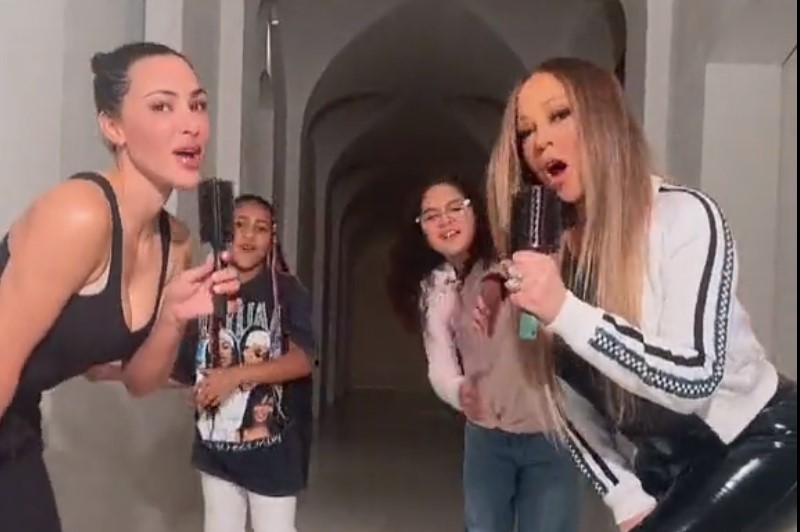 The 15-second clip was shot at Kim K's Hidden Hills mansion and depicted Carey and her daughter allegedly being invited by the reality star. In the clip, after a short while, the children attempted to push their interrupting mothers out of the shot so that they could continue the routine until all four of them started laughing together. While all four enjoyed making TikTok videos together, many fans are allegedly concerned about both mothers involving their children in such social media platforms for doing silly trends. A Twitter handle, Pop Base tweeted about the latest TikTok of Kim K and North West featuring Mariah Carey and her daughter, which reads, "Kim Kardashian and Mariah Carey in new TikTok with their daughters."
Kim Kardashian and Mariah Carey in new TikTok with their daughters. pic.twitter.com/3xPSZIuJpV

— Pop Base (@PopBase) February 21, 2023
Many fans appeared overwhelmed by the little ones' performance; however, many were not pleased to see them following such trends on social media at a young age. Here are some tweets from fans below:
theyre like lets get our nepo babies together in our endless mansion

— Psychic Daydreamer (@PsychicCancer) February 21, 2023
BRO NOBODY CARES

— Wolfie (@wolfiewrldA1) February 21, 2023
— Beyawncé (@bitchiosaurus) February 21, 2023
But I thought Mariah is intolerant to everything that is fake????

— taylor outsold (@outsellyourfave) February 21, 2023
So this is what Mariah does when Xmas is over.. tik toks with the Kardashians

— ☈ (@shadyfenty_) February 21, 2023
This is why most countries hate us

— Double Bacon Cheeseburger (@brandon_risen) February 21, 2023
hallway is so scary as hell 😭 no wonder why kanye went mad

— it's ok to be vulnerable™ (@mysecondglance) February 21, 2023
this is actually the cutest

— giam (@gdgmaf) February 21, 2023
While showing off her moves, North West wore an Aaliyah graphic t-shirt and white pants; Monroe Cannon wore a pink sweater with jeans. On the other hand, North's mother, Kim K, wore a black cami top, black sweatpants, and a dark grey pair of sliders, and Monroe's mother, Mariah Carey, wore black leather pants, black heeled boots, and white patterned jacket. In honor of Rihanna's 35th birthday, the little ones also made another video on the same day that recreated a portion of her Super Bowl halftime performance.
Also Read: "Jesus Christ": Joe Rogan is Speechless After Learning an Obsessed Fan Risked Everything to Smell Kim Kardashian's As*
Kim Kardashian Was Trolled Earlier As Well For Making TikTok With North West
Kim K and her eldest daughter, North West, created a joint TikTok account, which has amassed approximately 14.3 million followers. Aside from their makeup looks, hairstyles, and artwork, the duo always left a lasting impression on their fans. Many fans remain excited with their TikTok videos; however, many have never been pleased with Kim K's daughter performing at such an early age and following silly trends. Kim K's ex-husband also once allegedly showed his displeasure with their making TikTok videos.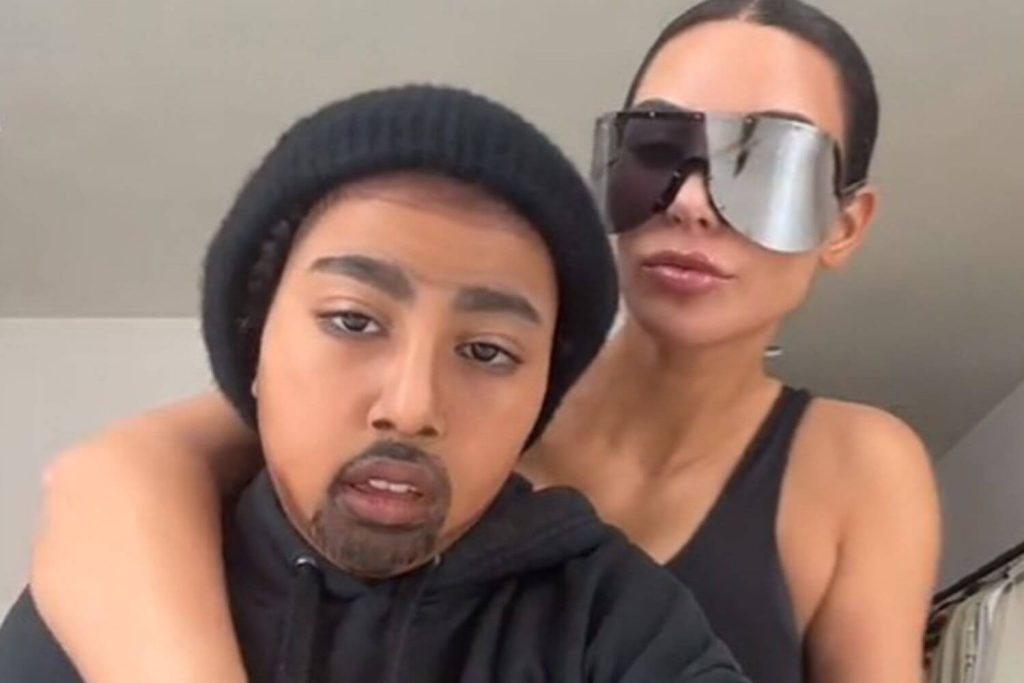 In addition to her makeup skills, Kim Kardashian and Kanye West's daughter, North West, showcased her other talents to her fans, especially her artistic skill. She recently shared her latest artistic and creative piece on her TikTok account, in which she first showed a picture of the American rapper, and then the 9-year-old used a pencil to draw rapper Ice Spice's face. North's unique art TikTok video grabbed much attention, but fans trolled many videos of them.
Among her other TikTok videos, North West posted a makeup tutorial with her mother, Kim K, on November 21. The eight-second video shows North's latest Grinch-inspired unique make-up look on her mother. Nearly two months after that video, North used special effects makeup to resemble her father, Kanye West, while her mother stood behind her. This video also garnered much attention as Kanye West and Kim K were separated during that time, and West was in hot water due to his controversial remarks. Earlier also, the SKIMS founder faced backlash over a TikTok where her pet dogs were spotted in the garage area.
Kim K filed for divorce from the rapper in February 2021, and the divorce was finalized in November 2022. As part of a mutually agreed-upon child custody settlement, the rapper was ordered to pay $200K monthly for child support with no spousal support.
Also Read: "My therapist encouraged me to literally rename my family": Mariah Carey Refused to Pay for Brother's Treatment After Being Used as 'ATM' by Siblings, Reveals She Was Sold to a Pimp by Own Sister
Source: Twitter