When it comes to controversies, the Jenners are no strangers, and it appears that self-made billionaire Kylie Jenner is capturing everyone's attention yet again for her failed sartorial choices. The founder of Kylie Cosmetics recently gained attention by walking in the Schiaparelli Haute Couture Show during Paris Fashion Week. The reality star showed up wearing a black gown and carrying a lifelike lion's head on her shoulders.
Netizens react to Kylie Jenner's lion-headed gown at Paris Fashion Week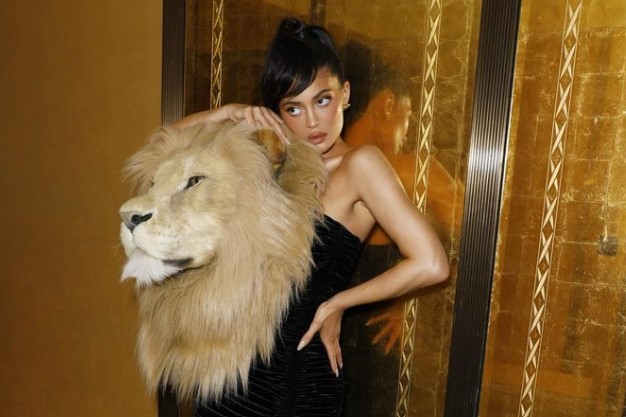 As soon as the outfit drew attention, her designer took to Instagram to explain that it is made of "foam, wool, and silk faux fur, and hand painted to look as lifelike as possible." To further clarify, it added a statement that said, "NO ANIMALS WERE HARMED IN MAKING THIS LOOK."
The Keeping Up With the Kardarshians star also took to Instagram and shared photos from the event, captioning the post, "BEAUTY AND THE BEAST." She expressed gratitude to Daniel Rose Berry, Schiaparelli's creative director and designer, for the opportunity. She also expressed her love for the outfit, which was a handcrafted faux-art piece made of man-made materials.
Read more: Kylie Jenner's Controversial Lion Head Wardrobe Failed Miserably as Doja Cat, Covered in 30,000 Crystals, Crowned The Best Dressed Celeb at Schiaparelli
World Animal Protection US criticized The Socialite's Paris Fashion Week outfit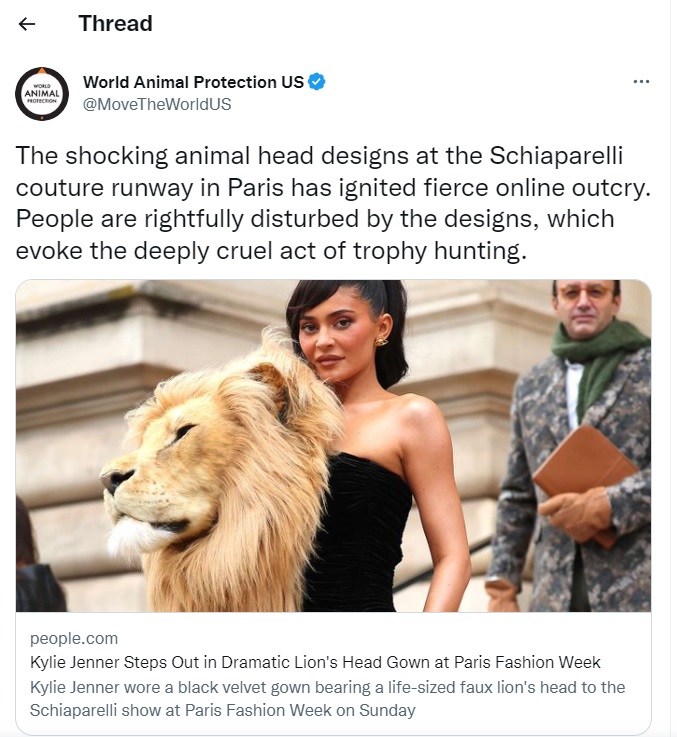 Jenner's outfit evoked a lot of reactions from fans online as soon as pictures from the fashion show surfaced on media platforms, with many criticizing her choice.
"No offense, but you should hire me as your fashion advisor," one wrote.
"I'm very disappointed in you!" "What the hell is this outfit, Kylie?" wrote another.
Her lion outfit stirred controversy around the world, irrespective of the fact that her stylist stated that no animals were harmed in the making of the outfit. Not only did her fans express disappointment, but World Animal Protection was also appalled by her fashion choice. On their Twitter page, the organization mentioned a Poeple's article link, referencing her fake lion head accessory, and wrote,
"The shocking animal head designs at the Schiaparelli couture runway in Paris have ignited a fierce online outcry." "People are rightfully disturbed by the designs, which evoke the deeply cruel act of trophy hunting."
Read more: Kylie Jenner Gets Shocking Support from PETA After Lion Head Dress, Hailed as Statement Against Trophy Hunting to Appease $1B Rich Socialite
Kylie Jenner's latest fashion experiment appears to have backfired, with fans mocking the star and many criticizing her for being unaware of the influence and how her fashion statement may spread false information among the general public.
PETA responds to Kylie Jenner's controversial outfit
PETA's executive director, Ingrid Newkirk, had a different take on her PFW ensemble. In fact, Newkirk praised the 25-year-old appearance, telling TMZ,
"These brilliantly imaginative three-dimensional animal heads prove that where there's a will, there's a way."
Read more: Kylie Jenner Seeks Help From Sister Kendall Jenner, Needs "Shoulder to Cry on" After Saddening Break-up
While things appear to be hot and heavy for the beauty mogul, her massive social media following of more than 379 million has helped her become one of the top-earning Instagram stars. Despite her highly controversial public figure, Jenner has built a cosmetics empire, co-starred in Keeping Up with the Kardashians, and created her own spin-off show, Life of Kylie.
Source: PageSix