Musicals aren't always everyone's favorite genre. The last decade has seen some amazing musicals with some great music and amazing performances.
Some go on to win accolades but are flat out overrated.
Here's a list of some of the most underrated and overrated musicals of the last decade.
Overrated: Les Miserables (2012)
Yes, as hard as it may be to stomach, Les Miserables is overrated.
Make no mistake, the performances are stellar and the movie is technically great.
Its biggest flaw remains some of the live singing and the camera work.
The cast is impressive, boasting of names such as Russell Crowe, Hugh Jackman, Anne Hathaway, and Helena Bonham Carter.
However, critics called the movie jarring, with scenes where the camera was shoved into the actors' faces while they sang their numbers.
Some of the actors were not the best of singers as well.
Underrated: Sing Street (2016)
John Carney's Sing Street is a gloriously underrated coming-of-age musical. 
Known for movies centered around music such as Once and Begin Again, Carney's Sing Street's plot is simple.
Boy likes girl. Boy forms a band to impress a girl. 
Except that's not all. The boy's parents are divorcing, brother is a college dropout, and the boy is persecuted by the strict headmaster.
Amongst this chaos, boy forms a rock band, discovers friends, and eventually comes of age in this poignant, heartwarming tale, filled with great music, including a number by Adam Levine.
Overrated: The Greatest Showman (2017)
Yes, we've established that Hugh Jackman is a fine actor who can act, sing and dance.
The movie had one of the most talented ensemble casts in recent times with wonderfully choreographed numbers and songs. 
The unfortunate part is that the movie can come off as a little soulless. 
There is also the fact that P.T. Barnum was not the nicest of human beings in real life. 
The performances and the emotions can come off as very shallow as well. 
Despite talented actors like Zendaya and Zac Efron's efforts, this movie is ultimately a little soulless and overrated. 
Given its success, a sequel is in the works.
Underrated: Popstar: Never Stop Never Stopping (2016)
Lonely Island is an American comedy trio with a cult following. Akiva Schaffer, Andy Samberg, and Jorma Taccone starred in a mockumentary about a Rap/Pop group called Popstar: Never Stop Never Stopping.
While the film was not commercially successful (it did not get an international release), the mockumentary was critically acclaimed. 
 The movie featured some amazing cameos and numbers by music artists like Adam Levine, Pink, Emma Stone, Akon, Seal, 50 Cent, Justin Bieber, Katy Perry, and Rihanna to name a few.
The songs are funny, the jokes hit the right note but unfortunately, the movie does tend to get overlooked.
Overrated: A Star is Born (2018)
A Star is Born is not a bad film. 
 But here's the thing. It's been remade 4 times now. The first three were 1937, 1954, and 1976. 
 You probably know the story -two star crossed lovers- a washed-up alcoholic and an aspiring starry-eyed debutant cross paths and magic ensues, only for all of it to crash at the end. 
The music might have been amazing. Lady Gaga effortlessly delivered what could be one of her finest performances. However, the emotional depth was found to be lacking. The movie ended up as a modern-day rehash of an established story when it could have been something far greater. Definitely overrated.               
Underrated: Blinded by the Light (2019)
Coming-of-stories are always great. 
But coming-of-age biopic musicals are even better. Gurinder Chadha in Blinded by the Light introduced us to Javed, a talented songwriter in a strict family, trying to survive in England. Javed stumbles upon the work of Bruce Springsteen through his friend Roops and his life changes overnight. 
Suddenly, a boy from England can relate to the songs of the Boss. Songs of pain, disillusionment, growing up, all suddenly become relevant. Javed must now contend with finding himself and his place in the world and doing right by his family. 
 Inspired by the life of real-life journalist Sarfraz Manzoor, featuring music by A.R. Rahman and songs performed by Bruce Springsteen, this movie definitely deserves more love.
Overrated: La La Land (2016)
This is not Damian Chazelle's best work. Period. 
Damian Chazelle's homage to old-school Hollywood musicals and jazz might have an amazing soundtrack. It may also feature stellar performances from Ryan Gosling and Emma Stone. But it does not make it Chazelle's best work. 
 While it is a good movie overall, it does have its flaws- the lag in the middle, the lack of nuance when dealing with all matters Jazz and at the end of all the hype- a weak story. Whiplash was a much better watch.
Underrated: Rock of Ages (2012)
Hear us out: Rock of Ages is actually good. 
We get it. The movie is stereotypical and the story is simplistic. However, the movie does not make itself seem like more than what it is. At the heart of it all, it is a boy-meets-girl love story filled with some amazing music. 
With classic rock numbers by bands such as Bon Jovi, Journey, Twisted Sister, Poison, and more, the movie is an absolute classic rock lover's dream. 
 The ensemble cast definitely helps- Alec Baldwin, Diego Boneta, Julianne Hough, Russell Brand, Catherine Zeta-Jones, Bryan Cranston, Malin Ackerman, Paul Giamatti, Mary J. Blige. Tom Cruise plays Rockstar Stacee Jaxx, who even sings his own parts in the movies and surprisingly well too.

 If nothing, Tom Cruise fans can enjoy their hero belting out numbers by Bon Jovi, Def Leppard, and The Scorpions.  
Overrated: Bohemian Rhapsody (2018)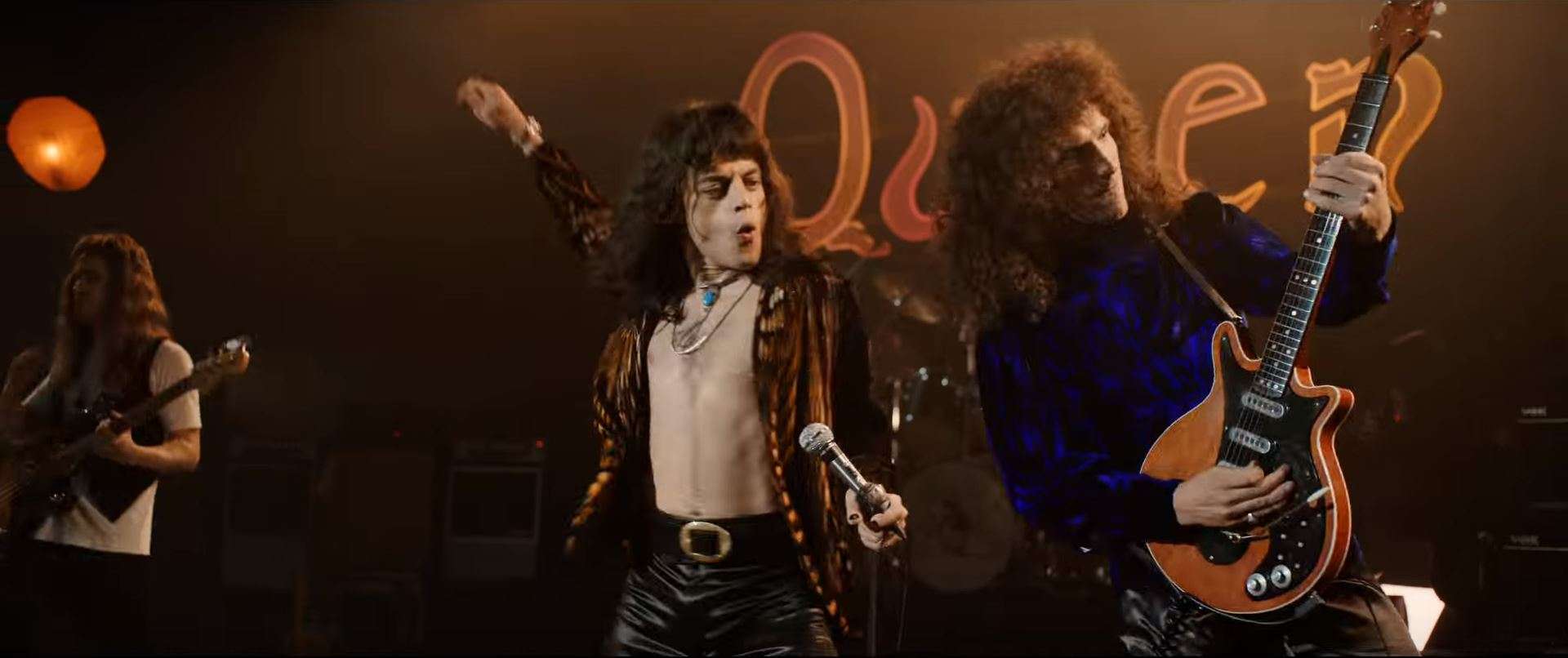 This is something fans may not like: Bohemian Rhapsody is overrated.

Rami Malek's on-screen performance as Freddie Mercury might have stunned moviegoers but not critics. The movie might have had some of the most recognizable songs in the history of popular and rock music.
All of that could not save a movie that was so factually incorrect and ultimately soulless. The film barely scratches on what made the band or the man great, despite Rami Malek's superhuman effort.

 The movie is superficial and generic and gets a lot of the dynamics of the band and the characters wrong. The movie also suffered a change in directors owing to the firing of director Bryan Singer from the movie. Dexter Fletcher was roped in to finish the movie but was unable to do more than gloss over aspects of Freddie Mercury's life that made him great.
Underrated: Rocketman(2019)
Taron Egerton was robbed, at the very least, of an Oscar nomination for his role in Sir Elton John's musical biopic.
In a bit of a meta moment- Taron played Eggsy in Kingsman 2: The Golden Circle, which saw him rescue the music legend, Sir Elton John. 
Taron was cast as Sir Elton John in his biopic, Rocketman a few months later.
Rocketman is still commercially successful but is still overlooked by a lot of moviegoers. 
 The movie wonderfully captures Sir Elton's internal conflicts, his parental issues, his relationships, and his battle with drugs.
The movie does not shy away from showing Elton at his lowest of lows. The film begins with him checking into rehab, seeking help in dealing with his addiction. The cast is also stellar- Richard Madden plays his sleazy manager and Bryce Dallas Howard is unrecognizable as his overbearing and cold mother.
What's cooler is that Egerton sang all of the songs on the movie soundtrack after training with Elton John himself. Way to go Taron.