Smallville largely centered on Clark Kent's adolescence before he became Superman, but it also included a slew of other DC Comics characters. Aside from the Justice League, another prominent DC group portrayed on the program is the Suicide Squad, with the version on the show differing drastically from the ones seen in the DCEU.
Peacemaker and Harley Quinn, for example, never appear or are referenced. That doesn't make this version any less fascinating. Because the Suicide Squad appears just a few times on the program, viewers may have missed some details about the gang.
The Disclosed Six
Throughout the Superman origin series, only six Suicide Squad members appear. Rick Flag, Deadshot, Warp, Plastique, Chloe, and Icicle are among them.
Fans may be wondering why the showrunners were so sparing with the number of Suicide Squad individuals they employed, and alas, no explanation was provided. However, that isn't a significant issue because most of the Suicide Squad members aren't classic Superman enemies. In the comics, most of them have fought Batman more than any other hero.
Why Not Just Emil LaSalle?
Emil LaSalle, the squad's teleporting member, is never addressed by name in the series. The character's name, however, was verified by actor Elias Toufexis' talent agency.
Emil is the least featured Suicide Squad member on the program, therefore it seems logical that he is not discussed. Fortunately, the character, sometimes known as Warp, is not completely ignored in DC media. In Teen Titans, he plays a much larger role and even faces important villains like Darkseid and Doomsday.
Rick Flag's Actual Name
Rick Flag's true name appears on a Checkmate computer screen once and on his uniform at other occasions. Richard Stafford's name is shown.
Rarely do comic adaptations come up with unique names for existing characters, but Rick Flag is one of them. Only Suicide Squad comic book readers are aware that the name Richard Stafford does not appear anywhere on the pages. Rick Flag, Rick Flag Jr., and Rick Flag III are the father, son, and grandson incarnations of the character in the comics.
Ted Whitall's Multiple Roles
Ted Whittall plays more than one role in the CW series, including Rick Flag. In a single episode of Season 8, he also plays Lana Lang's trainer.
Long-running TV programs tend to recast the cast and have a few actors portray both major and one-off characters. It's acceptable that the producers did not recruit a fresh actor for every tiny job. As a result, there are a few Smallville actors that have performed many roles.
Comic Deadshot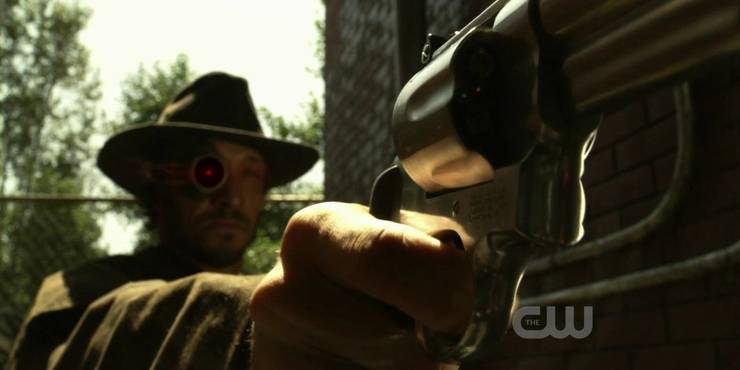 In the comics, Deadshot is a recurrent foe of Batman, but he has appeared as a member of the Suicide Squad a few times. The version on the program is more comically realistic because he wears a hat and is Caucasian.
The habit of changing the look of comic book characters in film adaptations is not new. This is generally done to accommodate a certain character that was sought after for the job. Unfortunately, Deadshot turned out to be one of Will Smith's worst roles. Another significant example of a comic character's look being modified is Wolverine since the Hugh Jackman version rarely wears the comic-book version's tight yellow clothing and mask.