Shortly after midnight tonight, Disney and 21st Century Fox's deal will be official, making 20th Century Fox and other assets a part of Walt Disney. 20th Century Fox issued a press release with regards to Disney Fox Deal.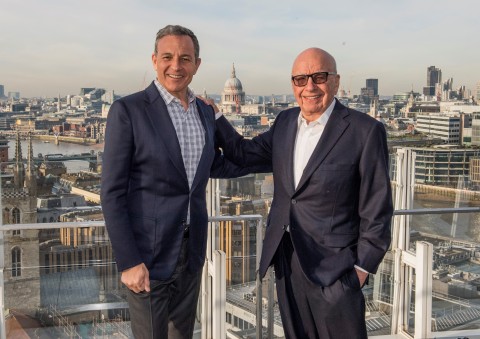 HIGHLIGHTS
Acquisition complements and enhances The Walt Disney Company's ability to provide consumers around the world with more appealing content and entertainment options
Transaction to include 21st Century Fox's film and television studios, cable entertainment networks and international TV businesses
Popular entertainment properties including X-Men, Avatar, The Simpsons, FX Networks and National Geographic to join Disney's portfolio
Expands Disney's direct-to-consumer offerings with addition of 21st Century Fox's entertainment content, capabilities in the Americas, Europe and Asia; Hulu stake becomes a controlling interest
Addition of extensive international properties, including Star in India and Fox's 39% ownership of Sky across Europe, enhances Disney's position as a truly global entertainment company with world-class offerings in key regions
Robert A. Iger to remain Chairman and CEO of The Walt Disney Company through 2021
Also Read: The New 'Dumbo' Sneak Peek carries everybody emotional,with tears rolling down their cheeks.
There are still a great many questions regarding the deal, including if 20th Century Fox will remain its own studio in the long run and if so what projects will be helmed by it and what projects Disney will take over. There will also be some big ramifications from the deal internally as Disney absorbs the 20th Century Fox workforce, as well as other effects on the film industry as a whole from two big fish now going under one umbrella. 21st Century Fox has now released an official press release on the upcoming merger, which you can read below.
An Account Of the Official Press Release of the upcoming Merger


"21ST CENTURY FOX ANNOUNCES COMPLETION OF DISTRIBUTION IN CONNECTION WITH DISNEY ACQUISITION NEW YORK, New York, March 19, 2019 – Twenty-First Century Fox, Inc. ("21CF") (NASDAQ: TFCFA, TFCF) announced that it has today completed the distribution of all issued and outstanding shares of Fox Corporation ("FOX") common stock to 21CF stockholders (other than holders of the shares held by subsidiaries of 21CF) on a pro rata basis (the "Distribution"). 21CF and FOX are now each a standalone, publicly traded company. FOX Class A common stock and FOX Class B common stock are now listed on the Nasdaq Global Select Market ("Nasdaq") under the symbols "FOXA" and "FOX," respectively. 21CF Class A common stock and 21CF Class B common stock, which were formerly listed on Nasdaq under the symbols "FOXA" and "FOX," respectively, are now listed on Nasdaq under the symbols "TFCFA" and "TFCF," respectively.
The Walt Disney Company's ("Disney") acquisition of 21CF will become effective at 12:02 a.m. Eastern Time tomorrow, March 20, 2019.
Cautionary Notes on Forward Looking Statements
This communication contains "forward-looking statements" within the meaning of the federal securities laws, including Section 27A of the Securities Act of 1933, as amended, and Section 21E of the Securities Exchange Act of 1934, as amended. In this context, forward-looking statements often address expected future business and financial performance and financial condition, and often contain words such as "expect," "anticipate," "intend," "plan," "believe," "seek," "see," "will," "would," "target," similar expressions, and variations or negatives of these words. Forward-looking statements by their nature address matters that are, to different degrees, uncertain, such as statements about the consummation of the proposed transaction and the anticipated benefits thereof.
Also Read: Disney Aladdin- Alan Tudyk is said to Voice Iago
These and other forward-looking statements are not guarantees of future results and are subject to risks, uncertainties and assumptions that could cause actual results to differ materially from those expressed in any forward-looking statements, including the failure to consummate the proposed transaction or to make any filing or take other action required to consummate such transaction in a timely matter or at all, are not guarantees of future results and are subject to risks, uncertainties and assumptions that could cause actual results to differ materially from those expressed in any forward-looking statements.
The Disney-21st Century Fox deal: a timeline
AUGUST 2017
Discussions for a merger between the two companies began on August 9th, 2017, when 21st Century executive chairman Rupert Murdoch and Disney CEO Bob Iger met in Los Angeles. (The two have reportedly met "from time to time" to discuss the ups and downs of the media environment and its future.) At some point during this conversation, the idea of a possible "strategic transaction" between the two companies came up.
Days later, 21st Century's executive chairman Lachlan Murdoch and its CEO James Murdoch met with a third party named in the SEC filing as "Party A." Variety and Deadlineboth report Party A was Verizon CEO Lowell McAdam, who also floated the idea of an acquisition. Verizon had already acquired Yahoo the year before, and it has rolled Yahoo and AOL into a new company called Oath.
Two weeks later, Iger and Rupert Murdoch spoke again, and they agreed to begin exploring some sort of acquisition. In early September, 21st Century Fox told Verizon that they weren't interested unless the company could make them an offer in excess of Fox's current market valuation, around $45 billion at the time.
SEPTEMBER 2017
For the rest of September, officials from the two companies began working out which parts Disney would acquire 21st Century Fox — the sum of which would be renamed RemainCo — and which parts would be renamed, aptly, New Fox. Iger informed the Disney board at the end of September of their discussions, and they encouraged him to continue.
OCTOBER 2017
The two companies continued to talk throughout October, covering the tax implications of such a purchase. In one such meeting on October 25th, Murdoch noted the importance of Iger's leadership of Disney, adding that his continued leadership would be "a critical element of a successful integration of [21st Century Fox] into Disney."
Two days later, the companies met once again, this time to discuss the valuation, and Disney said that it was interested in acquiring RemainCo for $60 billion in cash and stock. Unhappy with the quote, Murdoch and 21st Century Fox decided to completely withdraw from acquisition talks.
DECEMBER 2017
On December 2nd, word broke that Fox and Disney were once again discussing an acquisition. Discussions with Comcast dragged on, but by December 7th, Murdoch informed Roberts that they were suspending discussions, and began to focus on Disney. On the same day, Disney's board also began to discuss extending Iger's tenure as CEO of Disney.
Fox's board met on December 13th to go over the proposals, while Disney's board met to discuss the purchase and agreed to extend Iger's position if the purchase went through. The two boards met and agreed to the purchase. Disney would acquire 21st Century's entertainment assets for $67 billion, while New Fox would hold on to its news and sports brands. Disney announced the sale the next morning: it would acquire Fox's entertainment division, with the remainder to be spun off into New Fox, which would focus on live sports and news.
The timeline that the document shows two things: the first is that major companies such as Disney, Verizon, and Comcast are hungry for new intellectual property to add to their holdings. Disney has already acquired major properties by buying up Pixar, Marvel, and Lucasfilm, and 21st Century Fox only adds to their coffers, with franchises like Alien, Marvel's X-Men, and James Cameron's Avatar.
APRIL 2018
Disney filed papers with the Securities and Exchange Commission regarding its acquisition of 21st Century Fox in December. The document highlights the details of the acquisition, as well as a timeline that shows off how the talks began. It also reveals that Disney wasn't the only company interested in acquiring Fox — Verizon and Comcast also came calling.
Also Read: Watch the First Full Length Trailer for Aladdin- Film and TV Disney Releases
The SEC filing makes for a dry but at times fascinating read. As it unfolded in the press last November and December, it was clear that there were some ups and downs behind the scenes. The document shows how the complicated deal came together, and how both companies agonized not only over what parts to acquire, but how to do so while avoiding regulators.
What Disney Buying 21st Century Fox REALLY Means!
References: comicbook , theverge , businesswire