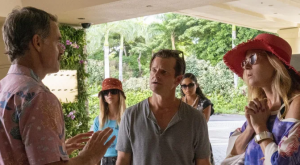 Shane Patton (Jake Lacy) says in the final episode of The White Lotus that "Now, we are starting down a very dark road, and you'd better be sure you really want to go there." While his comments were pointed at Rachel (Alexandra Daddario), his new wife, the words were not the only ones who headed towards the "dark road" in the season finale episode, "Departures", of The White Lotus, directed and written by Mike White.
The episode opened with Mark Mossbacher (Steve Zahn) and Nicole (Connie Britton), two of the most prominent people of the series who managed to balance the kind of happiness throughout. It seems like Mark has been unfaithful in his past. But apparently, he gets an opportunity to redeem himself as a faithful person in the eyes of his wife in the season finale of The White Lotus. This happens when Mark comes to rescue his wife and she walks on a burglary of the hotel room.
Quinn (Fred Hechinger), son of the Mossbachers is also seemed to be in a good position after setting off the technology aside. He falls in love with nature and gets to bond with a local group of canoers. Being 16 years of age, the Mossbachers' son is happy and as a result, he tells his parents that he will not go back home as of now. Instead, he made a choice of staying back in Hawaii. Later, Quinn also decides to go to Hokule with his new friends. But apparently, the Mossbachers reject his plans based on the fact that he is still a minor. Surprisingly, Quinn has made his mind clear on his choices.
The Mossbachers' son has changed as a result of his stay at The White Lotus. Even Olivia (Sydney Sweeney), Quinn's sister finds herself inclining towards darkness along with Paula (Olivia's friend). Olivia thinks that Paula has helped Kai (Kekoa Kekumano) to break into her mother's room to steal the jewelry. Later, Olivia eventually confirms her doubt, and her friend, Paula, suffers from panic attacks thinking of what she has done. Her actions led the bond towards a fight where Paula confronts Olivia and accuses her of using her friend as a "prop".
Well, what actually happened to Kai still remains a suspense but it is highly assumed after watching the season finale that whatever happened to him was not good. Later, Shane (Jake Lacy) shows up breaking the hotel room and using ammunition to get Armond (Murray Bartlett), the resort manager, fired. This happens right before Rachel confronts him that she made a mistake in marrying him and becoming his trophy wife.
As one relationship ends, another one takes off the ground. This happens the morning after Tanya got drunk and as a result, freaked out on Greg. She freaked out demanding that he should throw her mother's ashes in the bin. But that morning, she finds her new lover along with her on the bed. Greg seemed to be happy with her and that is why Tanya (Jennifer Coolidge) decides to rent a home in Aspen. She makes her mind after committing that she will never reveal her health issues to Greg.
As Tanya and Greg board on their flight, Quinn intentionally lags behind. He runs out of the airport and jumps towards freedom. We're yet left to follow the Mossbachers though.
Written and directed by Mike White, The White Lotus got premiered on July 11 on HBO Max. The makers revealed that the next season will be based on a different property at a different location. Whether it will include these characters from the Season 1 or not, is still not clear.
Thanks for your feedback!