Things don't seem to be going very well for the hosts of Live With Kelly and Ryan. Kelly Ripa, who has been hosting the show since 2001, has not been feeling very well lately. After she started to feel better, she was once again back on the set with her co-host, Ryan Seacrest. The Live hosts welcomed The Rookie star Nathan Fillion on the recent episode of their show. While the guest and the hosts enjoyed chatting with each other, there was something that caught the attention of Castle Star. And he made sure to poke fun at the hosts of Live With Kelly and Ryan, as he shared it on his Instagram.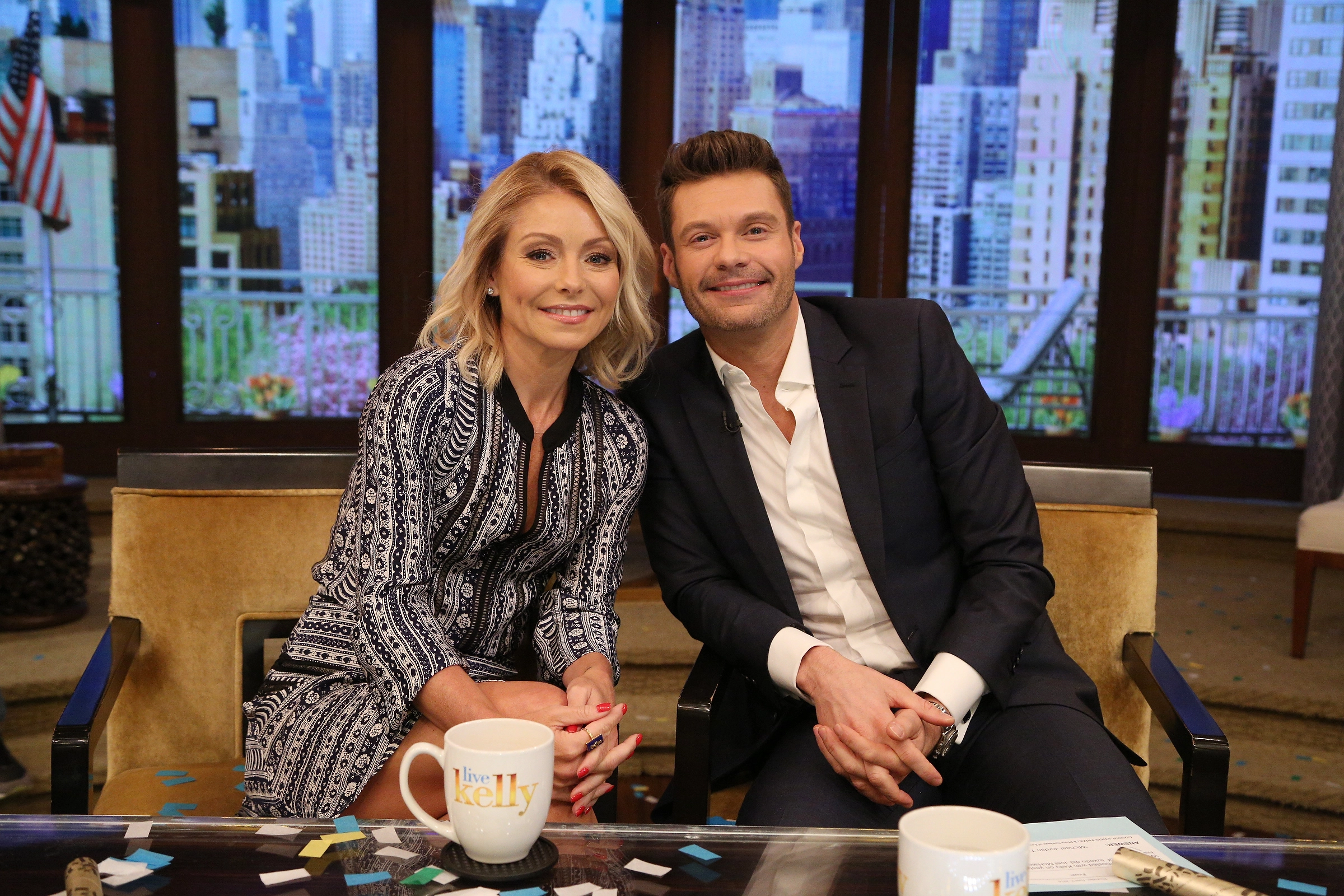 Read More: "We didn't know any other way": Kelly Ripa Reveals Why She's Stuck With Mark Consuelos For 25 Years, Claims It Was Easier to Quit
Nathan Fillion Points Out an Awkward Blunder
Nathan Fillion joined Kelly Ripa and Ryan Seacrest on the recent episode of Live With Kelly and Ryan. As Fillion sat down with the hosts of the show, he talked about the upcoming season of The Rookie. However, before that, he shared the blunder that happened regarding his appearance on the talk show on his Instagram.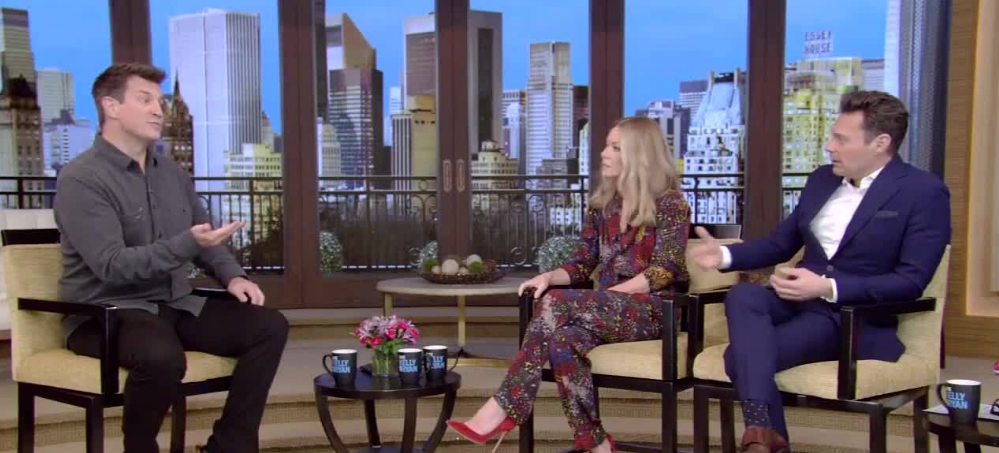 On Monday, the Serenity star shared an image promoting his appearance on Live With Kelly and Ryan. However, his name on the image was spelled as "Nathon Fillion" instead of Nathan Fillion. "Yes, I'm going to be on @livekellyandryan, and yes, they spelled my name wrong," he wrote in the caption.
He further mentioned that he would like to take this opportunity to find out the person named Nathon. "I'd like to take this opportunity to see if there is actually anyone out there who is named Nathon. This is YOUR moment!" he said jokingly.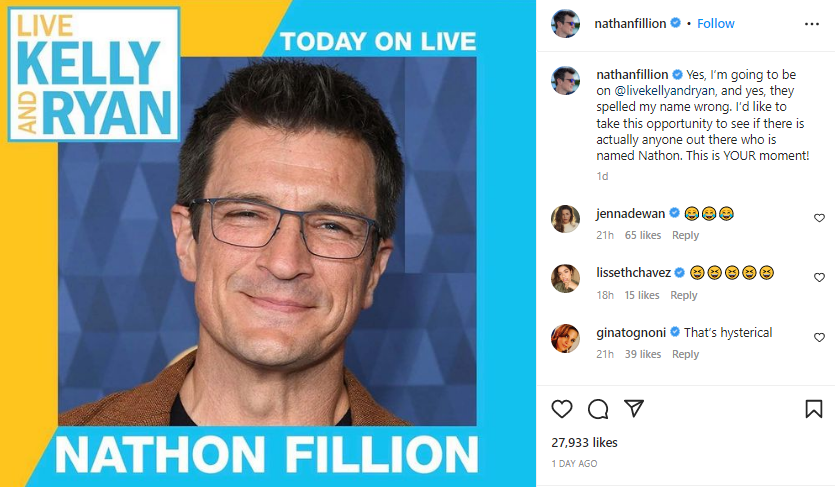 Fans took the opportunity to share hilarious comments. Some fans shared that the intern to misspell The Rookie star's name must have been a rookie himself. While the hosts of the show have not said anything about it, the misspelled name must have been an embarrassing thing for the hosts and showrunners.
Read More: "You've gotten divorced": Kelly Ripa Brought Up Michael Strahan's Failed Marriage to Shame Him, Boasted Her 25 Years Married Life As Co-Host Left Show
Kelly Ripa Was Asked to Take Leave From the Show
After dealing with sickness and sore throat last week, Kelly Ripa returned to the show on Monday. After returning to the show, she shared why she needed to take a few days off from the show. Ripa shared, "Last week, the better I felt, the worse I sounded."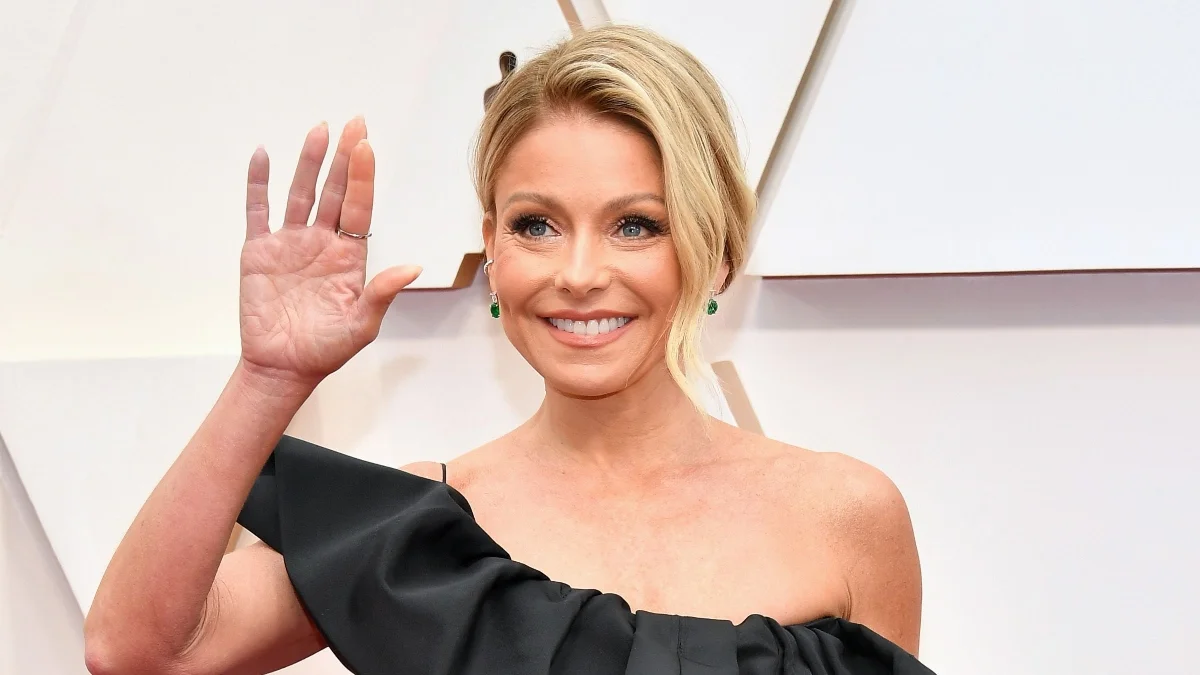 The talk show host then shared that the producer of the show, Michael Gelman asked her to take a leave and get some rest before re-joining the show. "You have to leave. You're a talk show host and you have no voice, and there's no point in you being here," she recalled.
Kelly Ripa shared that after some rest and spending the weekend with her son Joaquin in Michigan, she was feeling much better, and her voice was also better than before.
Read More: "I wasn't desecrating anything": Kelly Ripa's Extreme S*x Drive Left Andy Cohen Fuming After Revealing Where She Did the 'Act' With Mark Consuelos
Source: Instagram