Antonio Brown has been up some unhinged sh*t for quite some time now. The former Tampa Bay Buccaneers Wide Receiver made news some time ago when he tried trolling his former teammate, Tom Brady on his divorce with Gisele Bundchen. His move was widely criticized as insensitive and uncalled for, and Brown gave a really unsatisfactory explanation for making fun of someone who had been so supportive of his career.
Brown himself has now revealed that Brady has been concerned about him for a long time now and it is rather unclear what the intentions behind this revelation are.
Antonio Brown and Tampa Bay Buccaneers: What went down?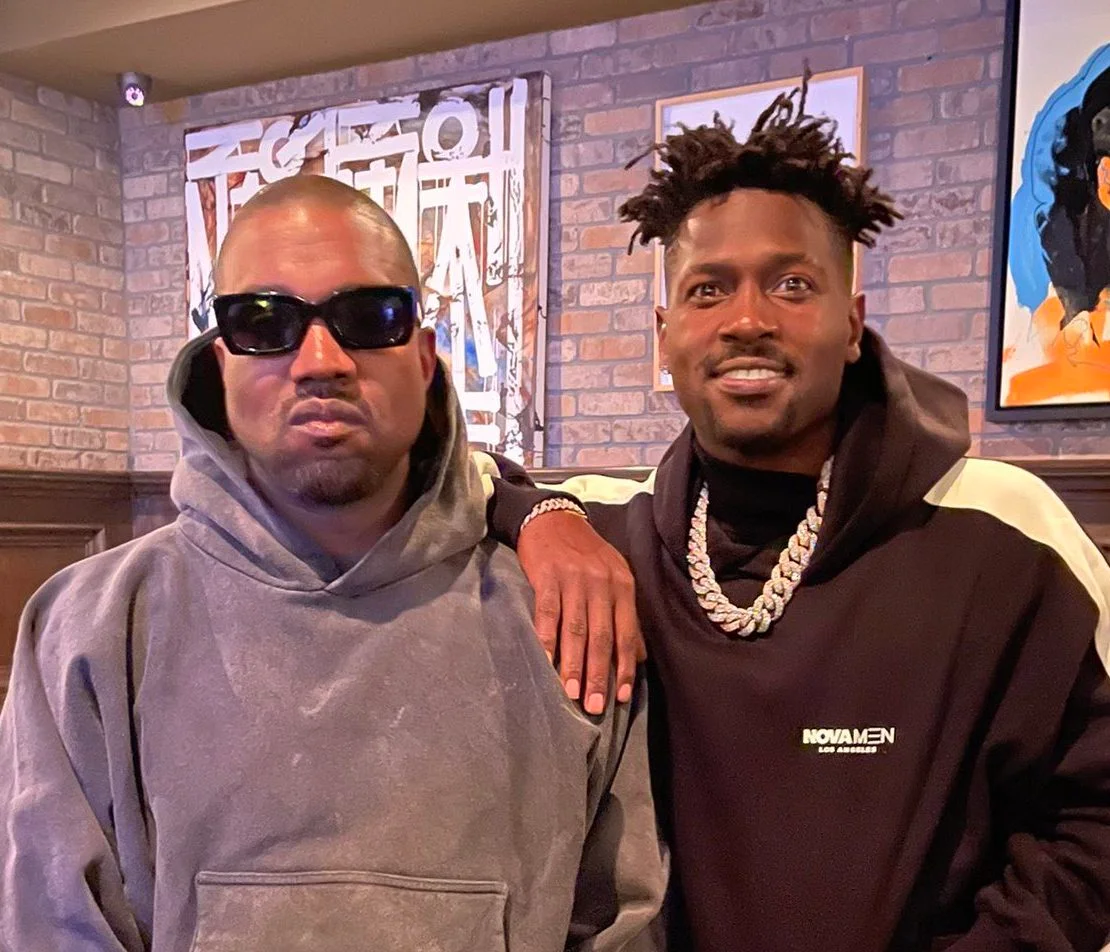 Antonio Brown was once an integral part of the Tampa Bay Buccaneers and even won a Super Bowl with the team in 2020. However, the former Wide Receiver decided to throw it all down the drain in January 2022. During a game against the New York Jets, Brown took off his jersey and walked out of the field after waving to the fans. He directly went to the locker room and did not return to the field. And that was his dramatic and unexplained exit. Eventually, his contract was terminated by the team.
The former NFL champ went on to kickstart a career as a rapper. He also associated with Kanye West and became the President of his Donda Sports Agency. Maybe that is the source of inspiration for his antics but we'll never know.
Also Read: "Dude took you in and you clown him?": Tom Brady Gets Trolled By Former Teammate And Abuser Antonio Brown Amidst Brutal Divorce Proceedings With Gisele Bündchen, Called A Ungrateful Sh-t By Netizens
Antonio Brown shares screenshot of Tom Brady's concerning text message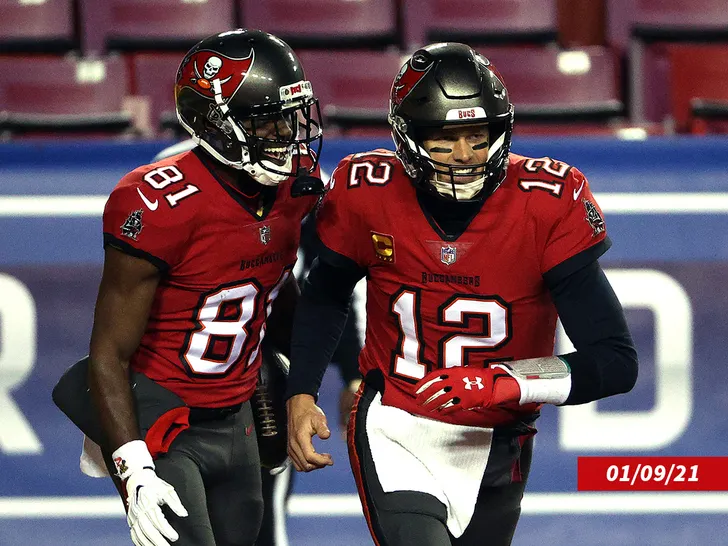 Antonio Brown has been relentlessly trolling Tom Brady for his split with the Brazilian supermodel, Gisele Bundchen via social media. He posted pictures of himself being embraced by the former Victoria's Secret Angel after the Buccaneers' previous Super Bowl win while the rumors of the impending divorce were rife. While this was a clear mockery in itself, AB went on to sell shirts with that picture on them too and that was nothing short of an insult. Ever since he walked out on his team so unpredictably, Brown has been on the receiving end of rightful public ire, but apparently, Brady had seen through his teammate a long time before the world did.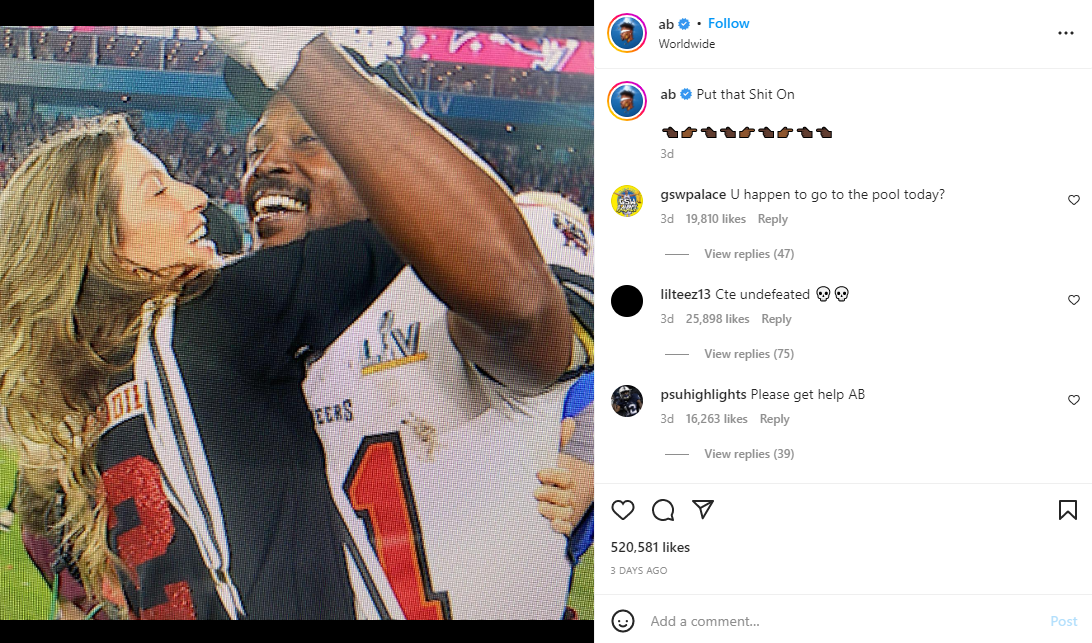 Also Read: "An all time low for an all time clown": Tom Brady Gets Trolled By Former Teammate Antonio Brown Amidst Divorce Proceedings With Gisele Bundchen, Posts Photo With Brazilian Goddess On Instagram
A screenshot of a personal message from Brady was shared by Brown via Snapchat and it has the world confused. Both the timing of the text message and Brown's intentions behind sharing it are a riddle. Part of the message read,
"When I met you, you were humble, willing to learn, and anxious to improve things in your life. In a short period of time, you have done those things and accomplished some great things. And very much on the path to success long term. I, for one, am disappointed in many behaviors over the past few months. You have seemed to have lost that humility and that APG."
The entire message read,
Antonio Brown posts a text from Tom Brady on Snapchat, where Tom is seemingly trying to help @AB84, I'm guessing he's posting it to try and make Tom Brady look bad for caring? 🤷🤦 pic.twitter.com/s5bvqVB34s

— Warry 🐬 (@BarrysOnHere) November 15, 2022
It is clear that Brady's words came from a place of concern and love but for some unfathomable reason, Brown either didn't understand the message or somehow misinterpreted the entire context.
The text is dated May 10, 2021, which was way before the former WR walked out on his team. It seems like the 7-time Super Bowl winner had started catching glimpses of several red flags in his teammate and wanted to make him understand before it got too late, which it eventually did.
Also Read: "People go through stuff every day": Antonio Brown Claims He's Being Unnecessarily Targeted For Taking Digs at Tom Brady Amidst Gisele Bündchen Divorce