Ever since Dwayne Johnson's transformation from a wrestler to an actor has happened, he has been a strong force in Hollywood. Starting his career with an epic hit, The Mummy Returns, Johnson has appeared in many movies and television series throughout all these years. He is also recognized for being one of the highest-paid actors of all time in the industry.
Since he has been in the industry for a long time now, Dwayne Johnson's fan base is a worldwide craze. These 13 Dwayne Johnson scenes make these movies demand a re-watch.
Johnson's Signing In 'Rampage' Alludes To His Real-Life Alter Ego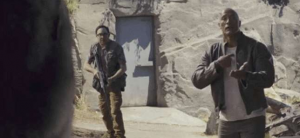 In Rampage, Dwyane Johnson uses sign language to say, "it's me." However, his sign depicts 'rock' in American Sign Language.
'Moana' Pokes Some Fun At Johnson's Nickname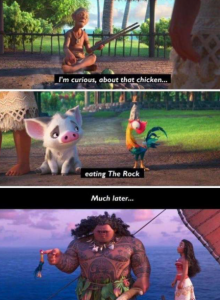 The makers of Moana play a joke on Dwayne Johnson's nickname.
There's A Reason Nobody Has Tattoos While Singing "We Know The Way" In 'Moana'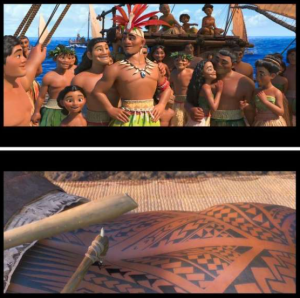 When the song "We Know the Way" plays in Moana, none of the characters had tattoos. However, the tattoos appear when the Island shows up.
Brixton's HUD In 'Hobbs & Shaw' Indicates The Dangers His Enemies Present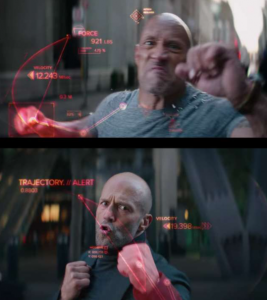 In Hobbs and Shaw, when Hobbs punches Brixton, the exoskeleton displays velocity and trajectory. But when Brixton punches The Rock, it shows velocity and force. This makes clear that Rock's punch is absolute power.
An Ad-Libbed Line In 'F&F 6' Causes Ludacris To Spew His Drink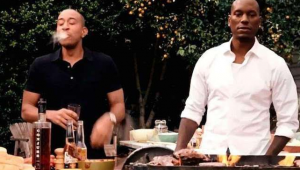 Dwayne Johnson ad-libbed his "forehead" joke in Fast and Furious 6.
The Rock's Real-Life Cousin Plays His Brother in 'Hobbs & Shaw'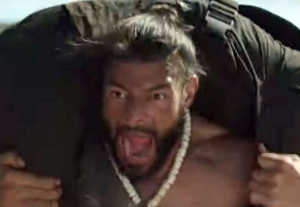 WWE Superstar Roman Reigns, the real-life cousin of Dwayne Johnson, uses Samoan Drop during a fight sequel in Hobbs and Shaw.
A Mountain In The Background Of 'Jumanji: The Next Level' Has A Familiar Shape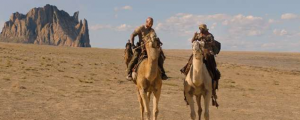 The Rock formation in Jumanji: The Next Level is a Rhino.
Maui's Appearance In 'Moana' Is Modeled After Johnson's Grandfather

Maui's appearance in Moana is partly modeled on Dwayne Johnson's grandfather, Peter Maivia. He was a Samoan-American professional wrestler.
A Photograph In 'Hobbs & Shaw' Is Really Of Johnson & His Dad
When Dwayne Johnson returns home in Hobbs and Shaw, a picture can be seen in the background. It is him as a child with his father.
The Jungle In 'Jumanji: Welcome To The Jungle' Has A Familiar Shape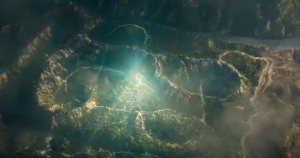 When the camera zooms out to display the full jungle in Jumanji: Welcome to the jungle, it depicts the same layout as the original board game.
In 'Fast & Furious 6,' Hobbs' Contact Name On Tej's Phone Is "Samoan Thor"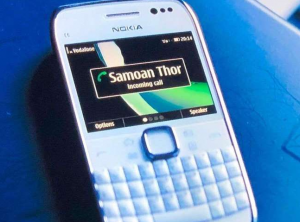 Hob's name in Tej's (Ludacris) phone is saved as 'Samoan Thor' in Fast and Furious 6.
The Arcade Game Makes A Cameo Appearance In 'Rampage'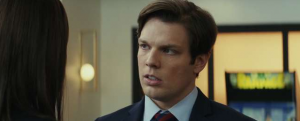 There is a scene in Rampage where the original game is reflected in the background of the movie.
Anubis Makes An Appearance In 'The Mummy Returns'

Fans can briefly see Anubis in The Mummy Returns when he calls the Scorpion King to serve 'for all eternity.'