Without a second thought, Doctor Strange in the Multiverse of Madness is terrifying and full of surprises. Wanda being the bad apple here bags a huge amount of credit and attention. However, with Sam Raimi in the director's seat, we somewhere knew that this movie is going to change a lot of things for Marvel Cinematic Universe.
Sam Raimi very efficiently managed to portray the story's emotional aspects and also happened to make it one of the scariest and most disturbing movies in the history of MCU. Wanda's transformation into the villain is perfectly accompanied by the horror element. Let's now have a look at the scenes that were allegedly the scariest and creepiest of all.
Doctor Strange becomes the Walking Dead
It was painful to watch when America Chavez placed Strange's corpse, with his ponytail, into the present MCU chronology, but it was even more terrible to see the body reanimate and crawl out of its own grave. Strange utilizes the Darkhold to dream walk through the corpse of his variant, who is trapped in his own reality, to help save America from Wanda, as he is unable to stop Wanda in any other manner. Strange had buried his body, and it had begun to deteriorate, being devoured by the dirt around him. The severity of this moment demonstrated that the MCU is moving away from family-friendly fare and toward the universe's potential horrors.
Wanda kills the Illuminati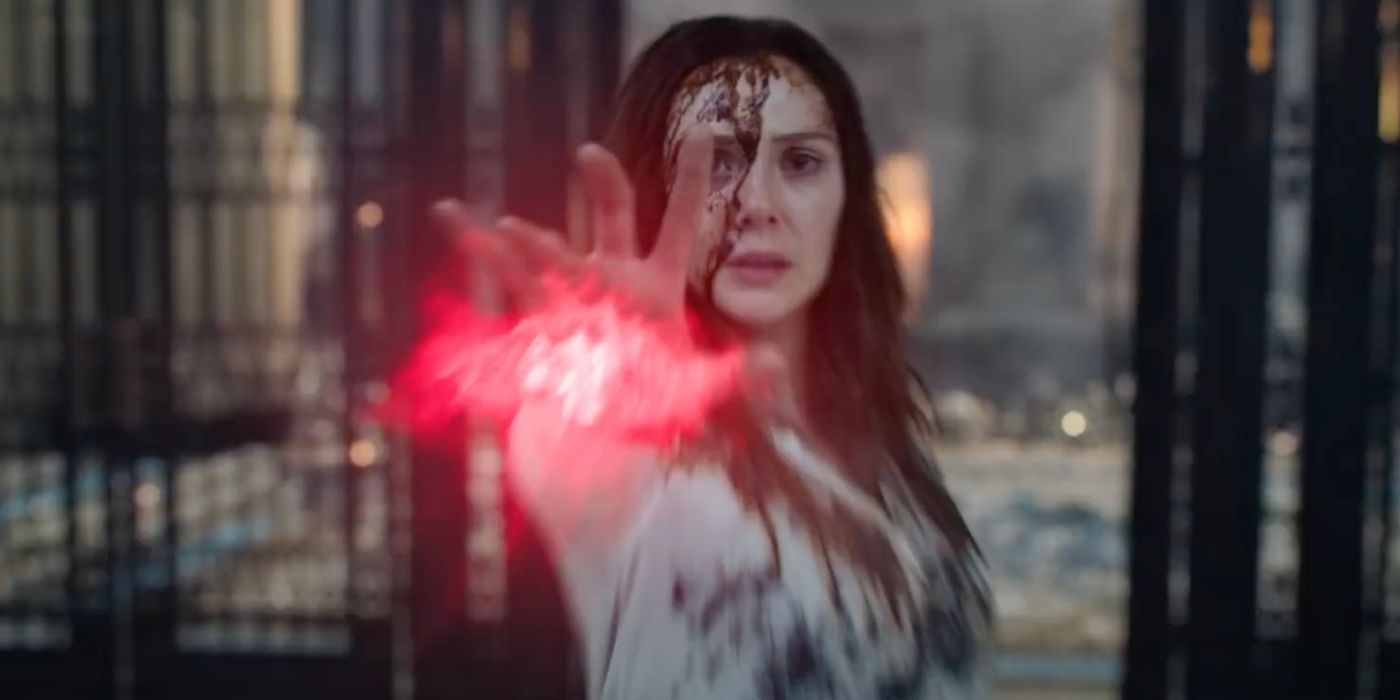 The Illuminati had been the topic of much fan curiosity before the release of Doctor Strange in the Multiverse of Madness, thus it came as little surprise to fans when Wanda slaughtered its members so quickly once she arrived at the Baxter Compound. Wanda appears as a supernatural Jason Voorhees, hunting Strange and America and effortlessly murdering the entire gang. She causes Black Bolt's brain to burst, rips Mr. Fantastic apart, snaps Xavier's neck, dumps a massive statue on Captain Marvel, and splits Captain Carter in half with her own shield. This can be rated as one of the most heartbreaking X violent scenes in Marvel history.
Wanda escapes the Mirror Dimension
When The Scarlet Witch invades Kamar-Taj in order to locate America Chavez and exploit her power, she creates havoc, attacking and murdering anybody who stands in her way. Strange traps her in the mirror dimension in an attempt to halt her or at least slow her down. Wanda utilizes the reflective surfaces in Kamar-Taj to flee the mirror dimension, similar to Samira in The Ring. Wanda manipulates her body and limbs, digging her way out and back into her own realm, attempting to snap her body back into place when she gets through, while Strange, America, and Wong try to cover every reflected surface.
America Chavez chased by Wanda
Wanda is at her most devastating in this scene, drenched in blood and killing everyone in her path. While being followed by Wanda, Christine manages to take America and Strange into an underground tunnel. Wanda seems to cease her pursuit by closing a bunker door on her, allowing the trio to stay and monitor any signs that she still poses harm to America. Wanda emerges in the bunker, more restless than ever, and chases Strange, America, and Christine between realms as they quest for the Book of Vishanti. 
The Third Eye
Strange meets an avatar of himself who used the Darkhold to defeat Thanos in a universe that has been devastated. As he faces Doctor Strange, Sinister Strange displays the third eye and his transformation to evil after being utterly corrupted by the power of black magic and effectively shattering his whole universe.  To complicate things, Strange continues to employ the Darkhold and is shown bending over in misery in the middle of the street as the third eye appears on his forehead at the end of Multiverse of Madness.