27-year-old American rapper Amala Ratna Zandile Dlamini, known professionally as Doja Cat, whose alien-inspired blue lips, shaved eyebrows, shaved head, eyes, and a different makeup look have drawn attention. The rapper recently posted a few close-up selfies on her Instagram account displaying her distinctive makeup style.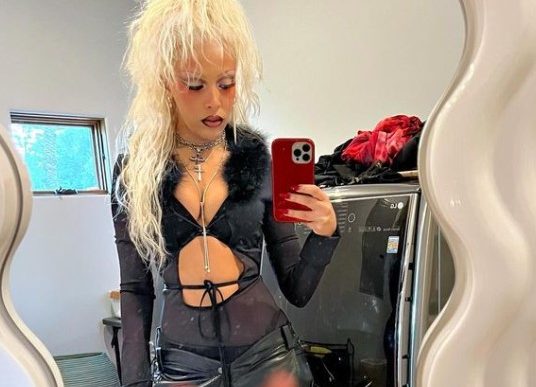 Her music and fashion are known for taking risks, and her new Instagram selfies indeed demonstrate this. The Kiss Me More singer wore a bold hairstyle and makeup reminiscent of the style of the character 'Wednesday Addams,' and some have compared her new look to Pamela Anderson's 1990s-style updo. There is no denying that fans continue to troll her for her new and unique style, regardless of whether they feel it is fair or unfair. A few months ago, the rapper stunned everyone by revealing that she had shaved her entire head live on Instagram.
Also Read: 'I Won a Grammy… You All Want Me To Look F**kable?': Doja Cat Blasts Fans After They Troll Her Shaved Head Look, Orders Them To 'Go F**k' Themselves
Doja Cat Revealed Her New Look
American rapper Doja Cat posted a series of photos to her Instagram account with the short caption, a dog emoji that had fans in awe. The rapper looked gorgeous in a black cut-out top, a net skirt, and a leather jacket. She wore high heels and had blonde hair styled in a messy bun. Her hair was an ideal platinum blonde but also in iconic style.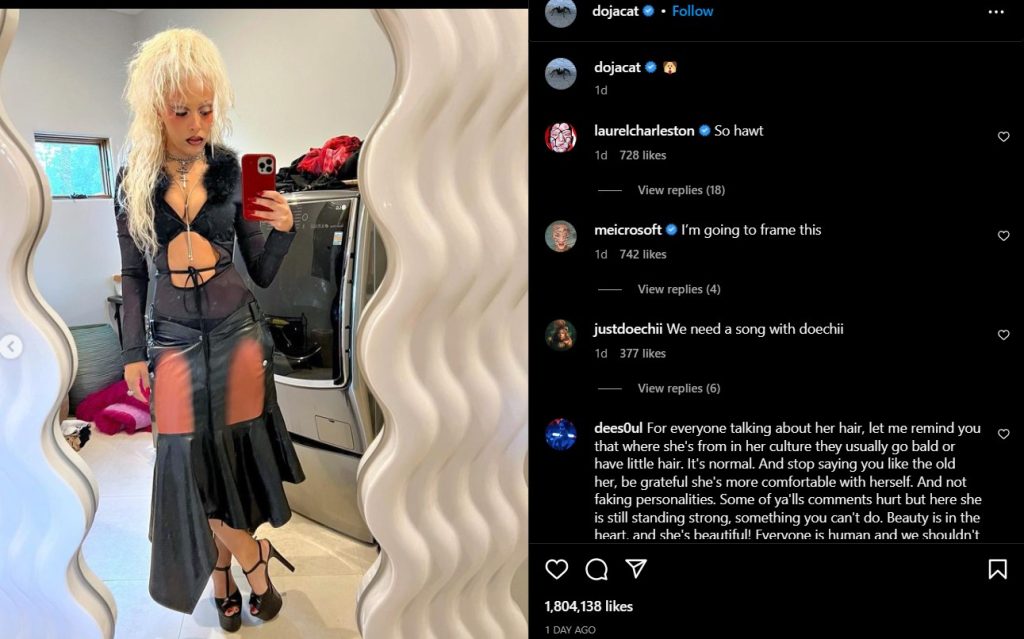 It was a half-up, half-down version of Pamela Anderson's iconic messy bun, with the pieces left out curled into loose, beachy waves. The rest of the look was completed with her signature eyebrow art, a grunge ombré lip, and a cut-crease eyeshadow accompanied by heavy under-eye blush. A mirror image of herself was captured in the previous photo, showing red nail polish on her hands and toes. She finished her look with silver cross chains, round earrings, and rings.
Also Read: "Is she cosplaying as Eleven?": Doja Cat Reveals Bald Look in Latest Selfie, Fans Say She's Imitating Millie Bobby Brown's Eleven To Get Close To Stranger Things Heartthrob Joseph Quinn
Fans Trolled Doja Cat For Her New Style
After posting her pictures on Instagram, the rapper received mixed reactions from stylists, celebrities, and fans. Despite that, more people just missed Doja Cat's old look and talked about it mainly. Some still remember her shaved head incident, even after she changed her hair look.
A Twitter handle named Pop Base tweeted along with Doja Cat's new look pictures, which reads, "Doja Cat looks incredible in new photos."
Doja Cat looks incredible in new photos. pic.twitter.com/6somcdJVg1

— Pop Base (@PopBase) December 21, 2022
There was much trolling around the tweet caption and the rapper's new look. They found the tweet caption unjustifiable in light of the rapper's appearance and started commenting.  Here are some comments from fans:
Define incredible

— SWIFTBARDI🧣👠 (FAN) (@cleverlycardi2) December 21, 2022
JUMPSCARE

— v🦎. (@FREAKCARDI) December 21, 2022
incredible = cringe

— Mohamad Moghrbi (@MohamadMoghrbi) December 21, 2022
Also Read: "When Britney Spears Shaved Her Head the World Wouldn't Stop Calling her Crazy"- Fans Are Tired of Hypocrisy After Doja Cat gets Praised For Shaving her Head and Eyebrows
Jeez all these hater comments…. Why are people so quick to hate on women, judge them for their looks, and compare them to other female artists? They're all incredible and accomplished in their own way, leave them alone

— Ahnastasia Rose (@AhnastasiaRose) December 21, 2022
I wouldn't say "incredible", but better than the last few times I saw her. It's OK, this is the way she wants to look right now for whatever reason, let her get it out of her system. It's cool.

— Nadine 🌷#TimeForShadamYr (@Rosannasfriend) December 21, 2022
halloween was 3 month ago

— v🦎. (@FREAKCARDI) December 21, 2022
Her rock era is coming

— C 🌊 (@BejeweledAmala) December 21, 2022
She achieved many honors as a successful rapper at a very young age. As a result of her achievements, she has received awards from the American Music Awards, Billboard Music Awards, and MTV Europe Music Awards, among others. Nevertheless, her makeup look and style make her more talkable in the industry.
Doja Cat Was Trolled For Her Head Shave Earlier
The Kiss Me More singer shocked everyone when she revealed she had shaved her head live on Instagram. The singer explained that she felt like she "was never supposed to have hair anyway" as the reason for her decision.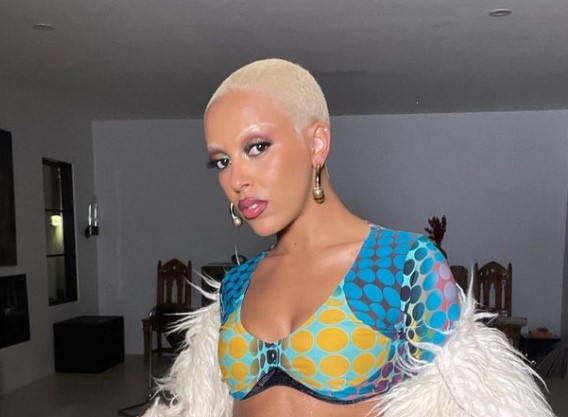 She revealed,
"I don't like having hair. I never liked having hair. I cannot tell you one time since the beginning of my life that I've ever been like, 'This is cool.' I just do not like to have hair."
According to the 27-year-old, having gorgeous hair is pointless if she doesn't wear them out. She said,
"What is the use of having hair if you're not going to wear it out? I don't even sport it, so I'm shaving it off. There's no point. I've never felt so happy, like…it's very funny how much of an effect taking my hair off my head has positively influenced me."
She was also frustrated by wigs because she felt uncomfortable wearing them. While shaving, the wigs started sliding off her head, and it was often difficult for her to keep them on. Some backed the rapper's decision to shave off her head and eyebrows, but others expressed concern about her decision.
Source: Twitter