It was announced on Monday by James Gunn that the start of the production on the widely anticipated Guardians of the Galaxy Vol. 3 is now finally underway. Gunn shared a photo of the film's cast on social media, acknowledging the long, strange, and challenging journey to reach that moment. Now, Guardians of the Galaxy star is also sharing his thoughts, telling fans that the upcoming film will certainly be worth the wait.
Guardians of the Galaxy Vol. 3's Filming Is About To Kickstart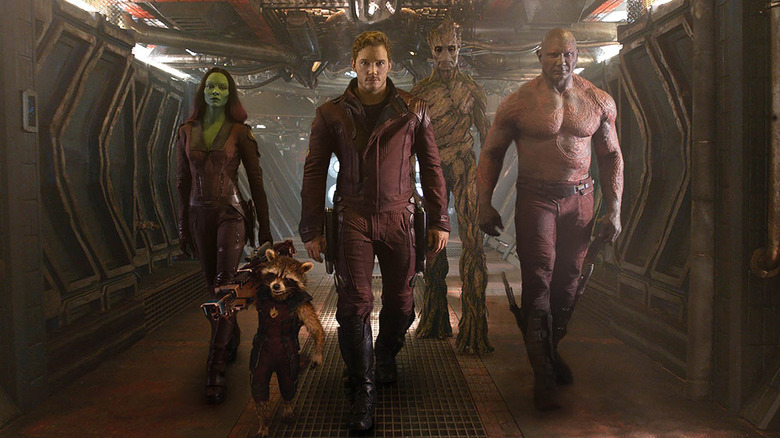 Pratt posted on Instagram, sharing the post by Gunn, writing in the caption that his first day at work "could not have started better", also calling Gunn a "mad genius."
"Day 1 in the can. Honestly could not have started off better," Pratt wrote. Hit the ground running with a delicate, emotional, funny, wild, complicated scene and everyone absolutely killed. So grateful to be puppeteered by my friend and brother the made genius @jamesgunn Oh My God I promise you… this movie will be worth the wait."
Here's the post by Chris Pratt:
View this post on Instagram
Pratt isn't the only Guardians star that has noted the start of the film's production. Dave Bautista who plays Drax in the film, also marked the start of the production, although having a slightly different take on things, especially the early start time.
"Good morning, everyone. It's day one on Guardians of the Galaxy Vol. 3," Bautista told followers during an Instagram Stories video. "This will be my sixth appearance as Drax. My sixth Marvel film and at this point, 20-something films under my belt."
Bautista then commented on the early hour.
"I'm still trying to find out why the f-ck do films start so early? It's still dark outside!"
For now, there hasn't been much that's revealed about what to expect from the third installment of the Guardians of the Galaxy film. However, a new piece of information was revealed on Monday as a part of the announcement regarding the film's production that Peacemaker star Chukwudi Iwuji had been brought on the role that mostly "every big actor in Hollywood would have wanted" although there's been no confirmation on this yet as to what character will he be playing. Iwuji also featured in the photo shared by Gunn, as was Will Poulter, who was earlier announced to play Adam Warlock in the film.
Thanks for your feedback!