Kylie Jenner welcomed her second child with longtime boyfriend Travis Scott. The couple started dating in 2017 and had an on-off relationship. The reality star announced her pregnancy with her boyfriend the same year they started dating. They were blessed with a beautiful baby girl in 2018. Jenner had many ups and downs in her relationship with Scott. They took a break in 2019 and rekindled their romance in 2020.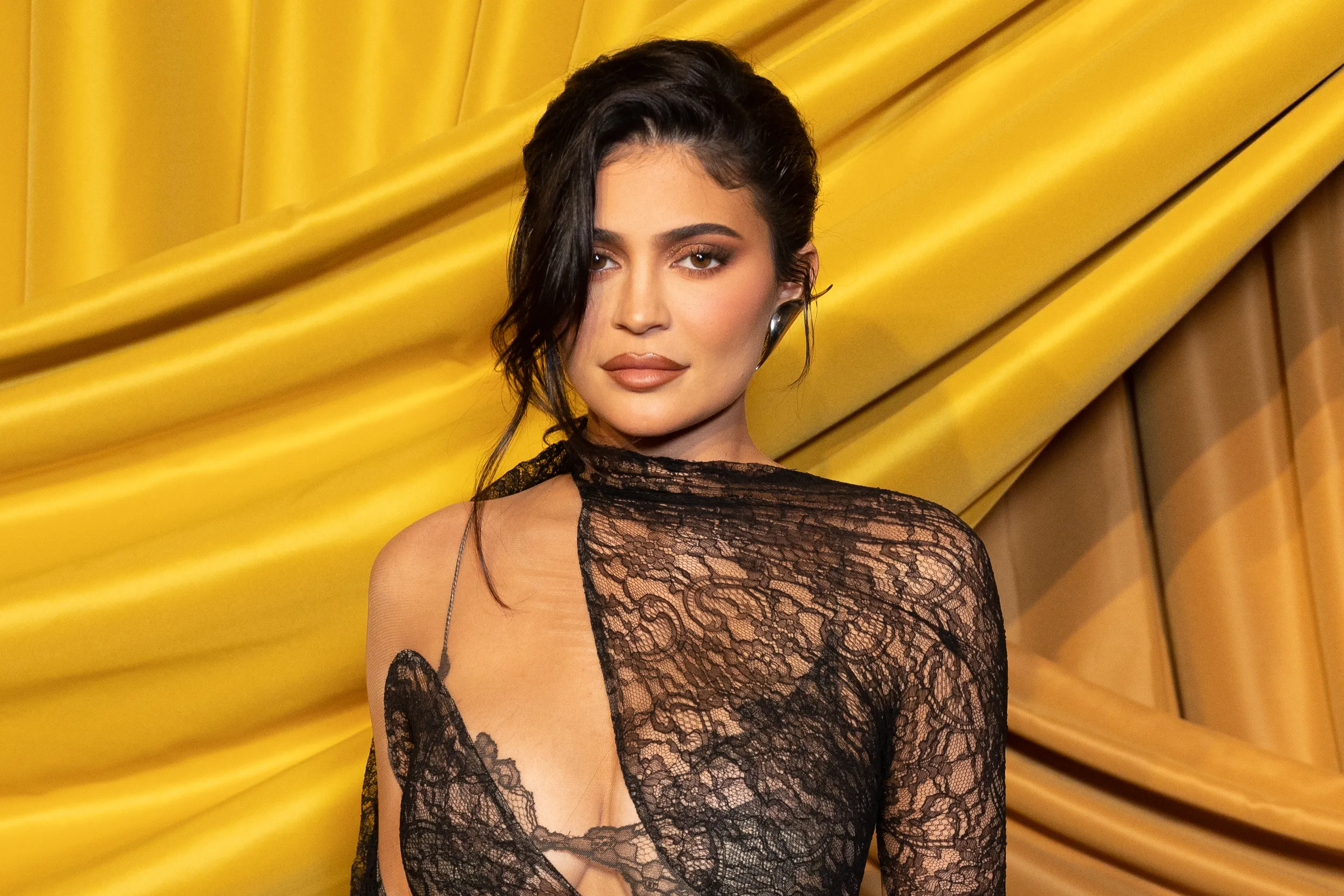 The Hulu star was pregnant again with her second child with her rapper boyfriend. She gave birth to a baby boy in 2022. Since then, the fans have been waiting to see a glimpse of her baby boy. Jenner graced the fans by posting an adorable picture of her son and also revealing his name. Now, the new name of her son has led to many revelations and a long debate on Twitter.
Read More: 'She's the key to exposing Kylie and Travis': Travis Scott Reportedly Dated Mega Influencer Yungsweetro Behind Kylie Jenner's Back
Kylie Jenner's son's new name has a naughty meaning
The media personality welcomed her second child with the rapper in February 2022. Kylie Jenner recently shared pictures of her baby boy and revealed his new name. She took to Instagram and shared some adorable pictures of her little one.
The baby boy was previously named Wolf Jacques Webster. It seems like that was a temporary name until the couple settled on a permanent one. They finally decided to name their child Aire, as the reality star shared on her social media.
A few fans were confused regarding the pronunciation of Jenner's new moniker's name. She replied in the comments section to the fans, saying it's the same as air. The mother of two with the name shared its meaning. She said Aire means lion of God in Hebrew.  When a journalist named Antoinette Lattouf pointed out the meaning of the name in Arabic, fans went crazy. He revealed the name, which in Arabic means man's genitals.
Fans took to Twitter to warn the beauty mogul of her son's new name and what it meant in Arabic.
Umm should someone tell Kylie Jenner she renamed her son Aire which is a common Arabic expression for 'my penis' or nah?

— Antoinette Lattouf (@antoinette_news) January 22, 2023
kylie named her son "aire" and it means something real nasty in arabic lmaoooo

— Zeytswift (@zeyzeyspotted) January 21, 2023
Kylie Jenner named her son "AIRE" only if she knows what the means in Arabic 😂😂😂😂😂

— ali (@alisaleh682) January 21, 2023
Let her be. I'm waiting for the episode where one of her sisters says "little Aire is getting so big"

— Tazz (@Tazaa90) January 22, 2023
omgggggg!!! FR?! 😆😅😂 In Spanish it means air & I thought that was bad enough 🤣

— Suspiro (@Alejandra_Tica) January 22, 2023
That was my first reaction…she named her kid what?!?

— LouiseG (@LouiseGeee) January 22, 2023
The fans urged the businesswoman to change her baby boy's name. Some even requested shifting it back to Wolf. There were some fans who questioned the couple about running the name Aire from someone before finalizing it.
Read More: "That's why it's dangerous, What she is doing is bonkers": Joe Rogan's Brutal Response to Kylie Jenner's Insane Transformation Over the Years
 The Kardashian clan supports Kylie Jenner's decision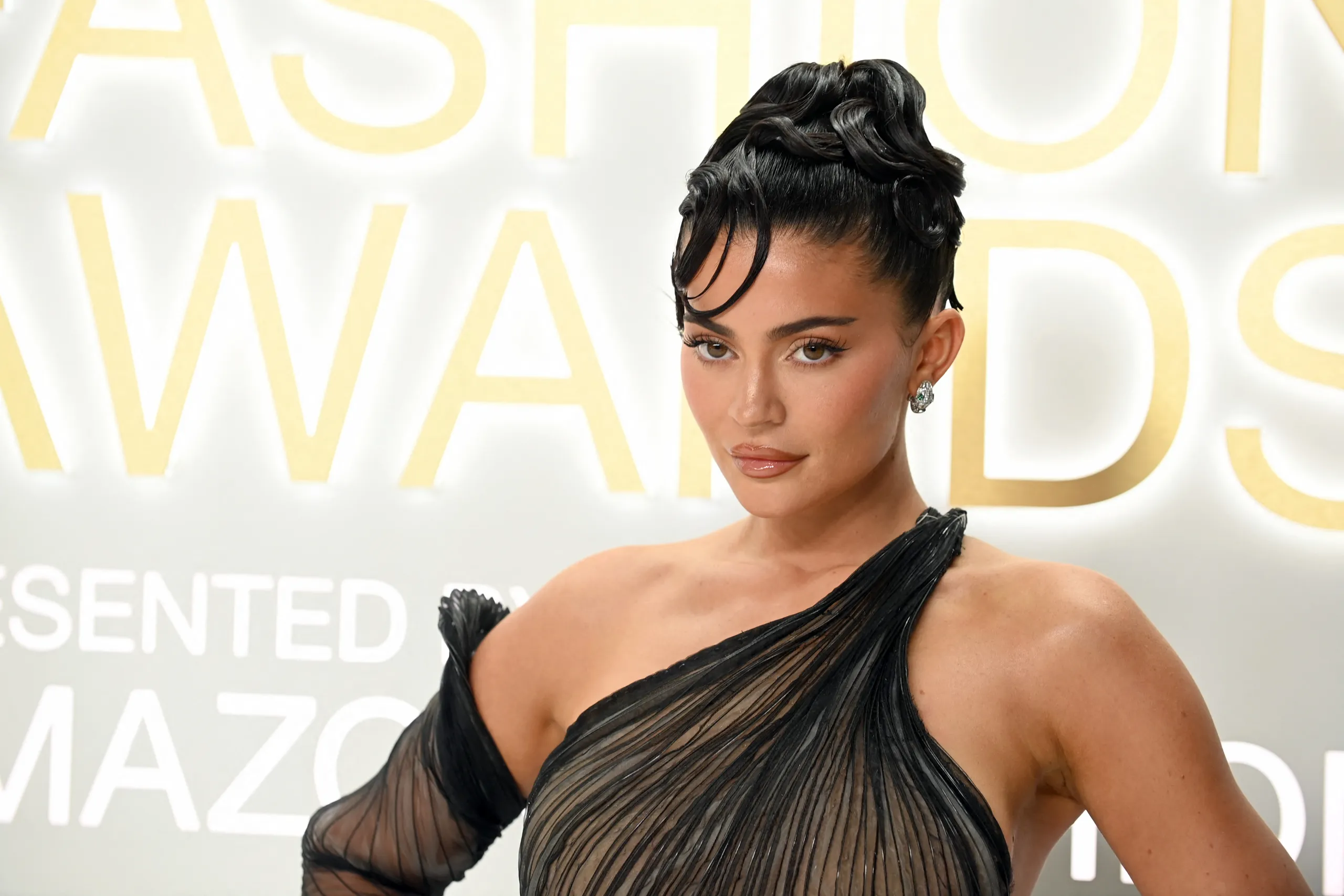 The Kylie Cosmetics founder shared on Instagram the face of her child and captioned it with his new name. The series of pictures included adorable photos of the baby boy. The first photograph was of the mother-son duo as she held her 11-month-old child. Another picture included the child sitting on a cream-colored couch while sporting a stylish, black beanie on top of his curly locks.
One photo that caught fans' attention was the reality star cuddling her baby boy, who flashed a happy smile. The final image in the series was a close-up of her child, who was seated in a high chair with food on his face and bib and bright sunlight streaming in through a window nearby.
The Kardashian clan and other celebrities reacted to the post and commented on Jenner's decision to name her child Aire. Khloe Kardashian wrote, "The king!!! Young king!!!!!!'"  The mother of the make-up mogul wrote, "I love you, Aire Webster." One of the close friends of the 25-year-old Hailey Bieber called the baby an angel.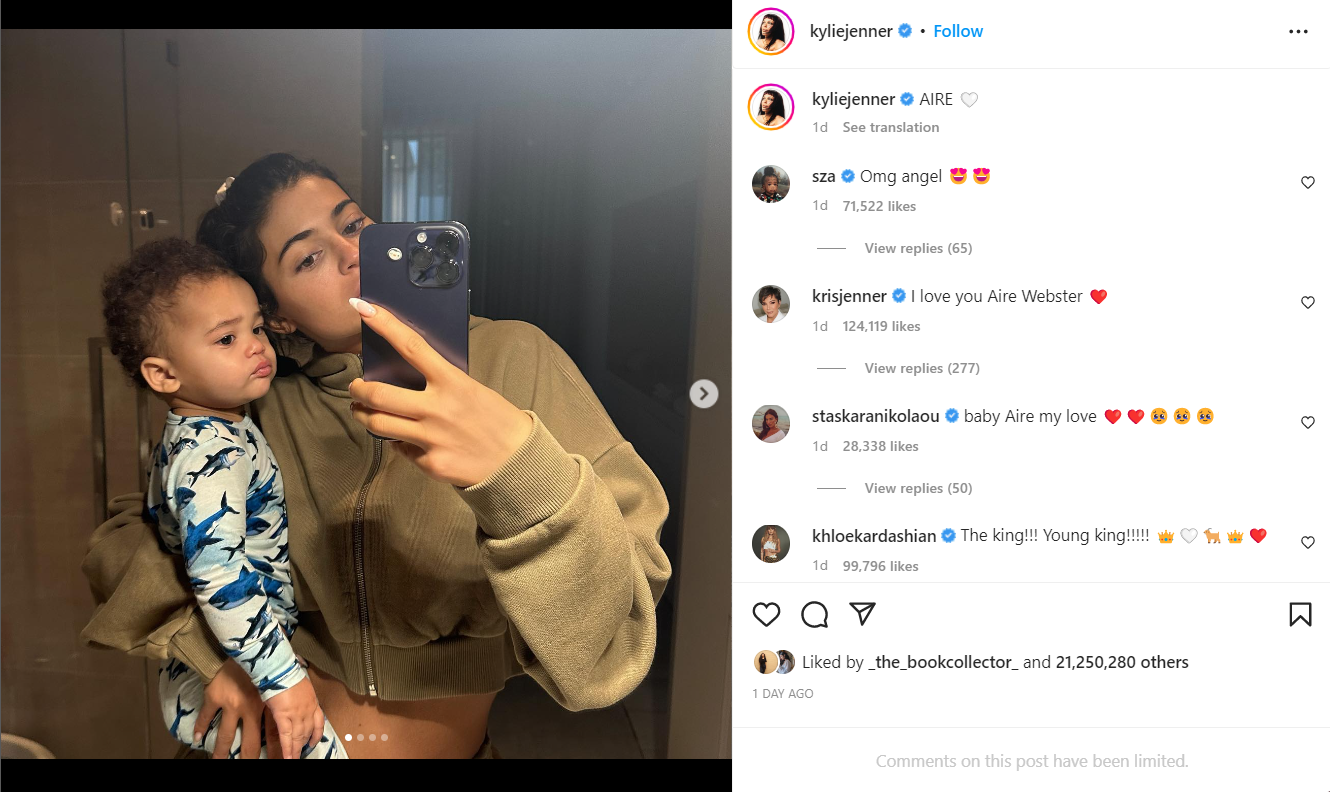 The revelation of the face of her baby boy comes two weeks after the news of Scott and Jenner taking another break from their relationship and co-parenting their children.
Read More: 'He got tired of begging for romantic time': Travis Scott Reportedly Fed Up of 'Diva' Kylie Jenner Making Him Feel Like Her 'Glorified Assistant'
Source: Metro.co.uk